Three simple ingredients and 30 active minutes of cooking are all it takes to prepare this Easy Plum Jam Recipe (Without Pectin). At the first sight of juicy plums in grocery stores, I take out my mother's classic recipe and make a batch of this delicious, Easy Plum Jam Recipe.
In Pakistan, plums are known as Aloo Bukhara. Mainly red plums, Aloo Bukhara, grows in huge quantities in certain parts of Pakistan during the summer. Too many to consume, the plums are preserved in assorted different ways.
Dried plums are used in many popular recipes, such as my Kashmiri great-grandmother's gosht-aloo-bukhara (beef-curry-with-plums), chana dal gosht (meat & lentils curry), and best mutton biryani recipe.
In my family, making this homemade plum jam, or preserve, is a summer tradition started by my mother.
Jump to:
Why you'll love this recipe
Only 3 Ingredients - Who doesn't love a recipe with just three ingredients?
Just 30 minutes of active cooking time - This recipe involves very little prep and cooking. Your plum preserves will be ready for you to enjoy in no time!
No preservatives - The natural pectin in plums and lemon juice means no artificial pectin is necessary for this recipe.
So many different ways to enjoy this recipe - I enjoy my plum jam with toast for breakfast, on pancakes, crepes, cottage cheese, plain yogurt, french toast, ice cream, and as a tart filling. It also works great as part of a Charcuterie Board, especially around the holidays, and in a Ricotta Breakfast Parfait.
Vegan, Gluten Free & Dairy Free - This recipe works with all diet restrictions, making it perfect to serve guests or gift jars to your family, friends, and neighbors!
The ingredients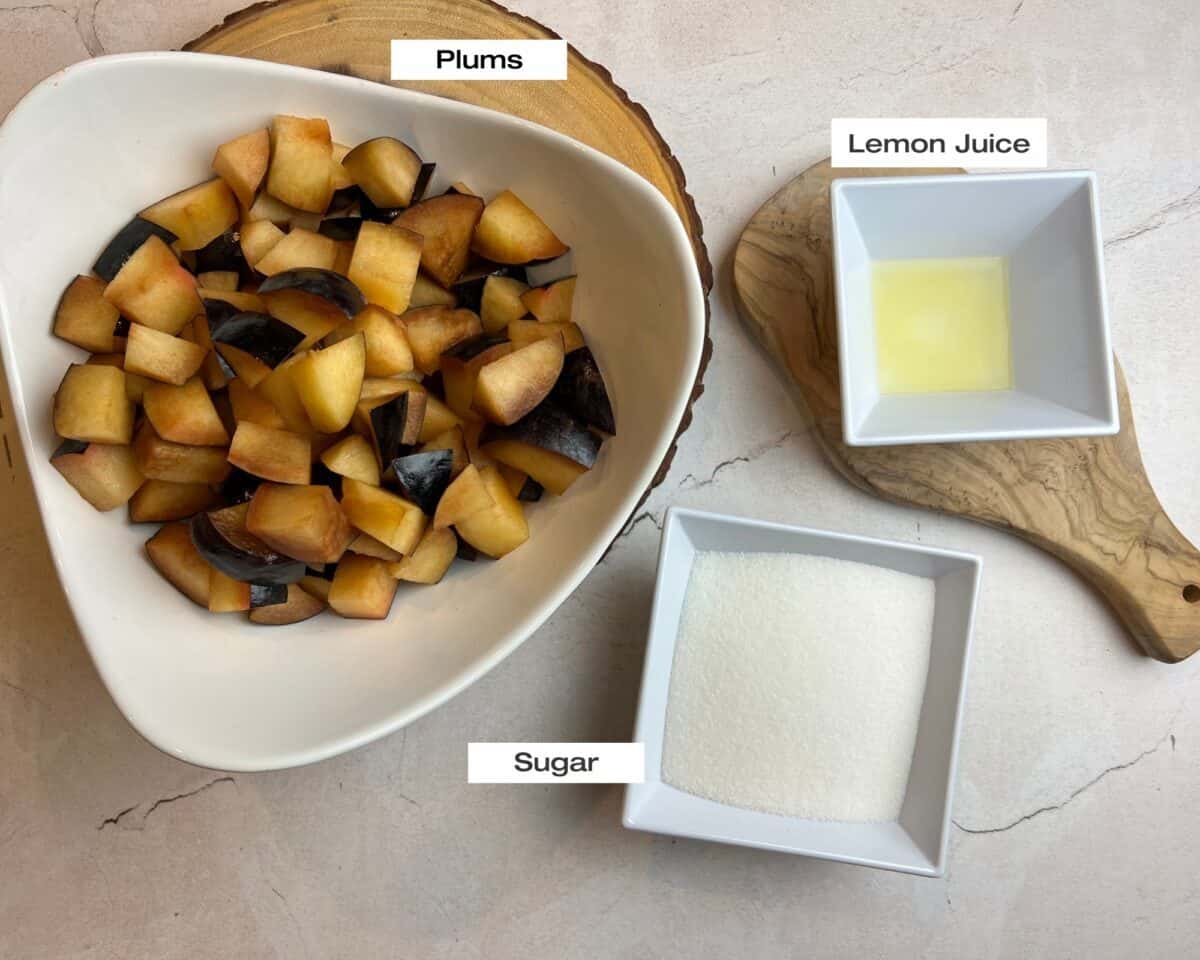 Plums - During the summer, there is a wide variety of plums in all supermarkets and farmer's markets. Some of the more well-known and popular ones are Red Plums, Yellow Plums, Black Plums, Italian Plums, and Wild Plums. I made this recipe using Black Plums, but I have used red and yellow plums, which all work well for this recipe.
Sugar - Adding the right amount of sugar is key to the taste and consistency of this recipe. But how much sugar you decide to add depends on your personal preference. I like my jam a little sweet and sour, so I only add 1 cup of regular granulated sugar to about 2.5 lbs of plums. Most recipes call for 1 cup of sugar per pound of plums. Although I personally find that too sweet, you can try this ratio if you prefer.
Lemon Juice - lemon juice contains so much pectin that desserts such as lemon posset can be made using zero gelatin yet set beautifully. Even though plums also contain pectin, a small amount of fresh lemon juice ensures that your jam will set quickly and perfectly.
Please see the recipe card at the bottom of this post for the complete list of ingredients with measurements plus recipe instructions.
Substitutions & variations
Make a smoother jam - If you prefer a smoother jam, use an immersion blender to make it puree. I like my jam slightly chunky, so I use a handheld masher instead.
Infuse extra flavor - Infuse your preserves with some cinnamon, ginger, or cardamom for a slight change in flavor.
Try the recipe with frozen plums - Frozen plums work great for this recipe. Use store-bought frozen plums or cut and freeze your own to make the jam later.
Use another stone fruit - Try this recipe with peaches, apricots, or any other summer stone fruit.
Make sugar-free plum jam - For a sugar-free version, substitute 1 cup of sugar with 1 cup of lantanko monk fruit sweetener.
Step-by-step instructions
The cooking technique for this recipe is as simple as the list of ingredients. Sterilize your jars, cook the jam, test for perfect consistency, and then bottle to use as needed.
Sterilize the jars
Before cooking your jam, use one of the following four methods to sterilize your jars.
The Boiling Method - Wash the half-pint jars in hot soapy water and boil them with the lids for 10 minutes. Turn the stove off and leave the jars as your jam cooks in the water. Remove the hot jars and fill them using a metal spoon once your jam is ready.
The Oven Method - Wash the jars as with the other method, and then place the wet jars on a baking sheet in the oven. Bake at 275 degrees Fahrenheit for 10 minutes. Remove using oven mitts, and place on a cooling mat. Make sure to fill the jars while they are still warm.
The Dishwasher - This is an easy way to sterilize jars if your dishwasher has a high heat setting. Run a short wash cycle at the highest temperature setting and keep the dishwasher closed to keep the jars warm till it's time to fill them.
Microwave - A less common and efficient method of sterilization is the microwave. Wash your jars and microwave them for 30 seconds to 1 minute. Make sure the jars are metal-free, and boil the lids separately.
Leave ½ inch of space when you fill the jars, seal them with the metal lids immediately, and bring the finished jam to room temperature before refrigerating.
Cook the jam
Start with perfectly ripe plums, wash them well, and cut them into small pieces, discarding the pits.
Step 1 - Add plums, water, sugar, and lemon juice to a large pot. Bring the mixture to a full rolling boil on high heat.
Step 2 - Cook on medium heat for 15-30 minutes until the plums soften and change color.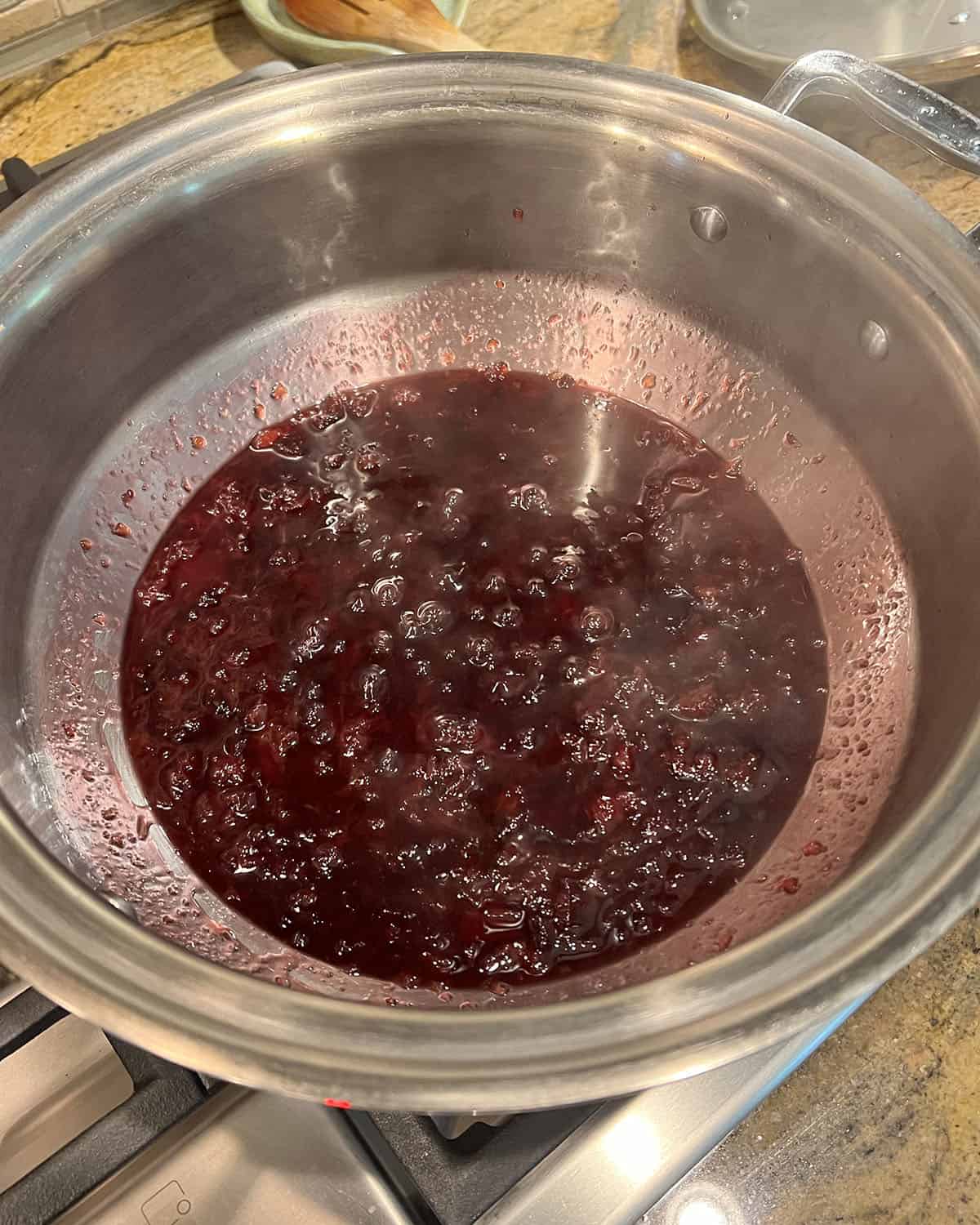 Step 3 - Continue to cook for another 5 minutes, stirring occasionally to help mash the plums. If necessary, use a potato masher to blend the pieces.
Step 4 - Make sure to test the jam using one of the methods listed below before you pour it into your sterilized jars.
Test the jam
Finger Down the Spoon Test - I personally use this age-old technique! Once the jam is thick enough to coat my spoon, I run a finger down the middle to create a line. If it doesn't fill back up with liquid, I consider the jam ready!
Cold Plate Test - Many people like to use the cold plate test! For this, when you start cooking your jam, put a plate in your fridge to chill. Once you think your jam is thick enough to be done, take the plate out and put a teaspoon of the jam on it. The jam will instantly cool and thicken to the actual consistency it will be once cold. This will help you determine if it's as thick as you want.
Candy Thermometer - The 3rd and foolproof method is to use a candy thermometer. A regular thermometer such as this one from thermoworks.com will also work since it goes up to 220 degrees Fahrenheit. If you have a traditional meat thermometer, you must invest in a candy thermometer.
Expert tips
Always bottle the jam while the jars are warm - Make sure your cans are slightly warm when you pour the jam in. If the jars are cold, they may crack due to the high temperatures of the hot jam.
For best results, check the latest canning guidelines - These always contain the best methods and latest techniques for sterilizing your jars.
Use a candy thermometer - This will help you determine when your jam is at the perfect setting temperature of 220 degrees Fahrenheit.
Prevent contamination - Use one spoon to scoop out the jam and a separate spreader for your toast to prevent the jam from spoiling.
Recipe FAQS
Does the jam have to be refrigerated?
With proper canning in a water bath canner, the jam can be stored in a dry place like your pantry for up to a year if left unopened.
How do I store my plum jam after I've opened a jar?
Once opened, the jam will last in the fridge for 4-6 weeks maximum since it contains no preservatives.
Is there a way to store the jam without canning it?
Homemade jam without preservatives will last in the freezer for up to six months in an airtight container, even without proper canning.
What is the difference between jam, preserve, and jelly?
If the fruit is well pureed without any chunks, it's a jam. If there are large pieces of fruit set in a thick syrup then it's a preserve. If strained fruit juice and sugar are combined to make a transparent and thick gel, then it's jelly.
Other recipes you may like
Tried the recipe? Please leave a rating below or take a picture and tag me on Instagram! Thank You!
Easy Plum Jam Recipe (Without Pectin)
This Easy Plum Jam Recipe (Without Pectin), made with just three ingredients, is a great way to preserve seasonal plums and enjoy them later!
Ingredients
5

cups

plums

1

cup

sugar

(see notes)

2

tbsp

lemon juice

(see notes)

2

cups

water
Instructions
Dice the plums with the skin on, and discard all the pits.

Measure the sugar, lemon, and water and mix with the plums in a large pot.

Bring the mixture to a rolling boil.

Reduce the heat to medium, cover, and cook for 20 minutes.

Uncover and cook on high to thicken.

Stir every few minutes to prevent the mixture from sticking to the bottom of the pan.

You can use a potato masher, if needed, to mash the plums. (see notes)

After 10 minutes, you can test the jam to see if it's done. (see notes)

Once ready, spoon the hot jam into the prepared, sterilized jars to cool down.
Notes
Sugar - Many recipes use a ratio of 1 cup of sugar to 1 lb. of fruit. Any more than 1 cup of sugar for the 5 cups (about 2.5 lbs.) of plums is perfect for me, as too much sugar detracts from the taste of the fruit. You can adjust the sugar to your taste.
Lemon Juice - Lemon juice is high in Pectin, and I add this to my recipe for the taste and to help the jam set more quickly.
Mash The Plums - The plums soften very quickly, and using a masher to help break them down helps the jam come together more quickly.
Testing The Jam - There are several ways to check and see if your jam is ready.
I make the jam so often that I let the preserves coat my cooking spoon to see if the jam is ready.
A candy thermometer is another great foolproof option. Once the temperature reaches 200 degrees Fahrenheit, your jam is ready.
The last method is to put a small clean plate in the fridge and let it chill. Once the jam is ready, place a small amount on the cold plate. The consistency of the jam, as it cools, will be the final product. You can use the plate test to gauge whether you want to cook longer or jar the jam.
Nutrition
Serving:
1
tablespoon
Calories:
24
kcal
Carbohydrates:
6
g
Protein:
0.1
g
Fat:
0.1
g
Saturated Fat:
0.003
g
Polyunsaturated Fat:
0.01
g
Monounsaturated Fat:
0.02
g
Sodium:
1
mg
Potassium:
28
mg
Fiber:
0.2
g
Sugar:
6
g
Vitamin A:
59
IU
Vitamin C:
2
mg
Calcium:
1
mg
Iron:
0.03
mg