This Mixed Berry Ricotta Breakfast Parfait is delicious enough to trick you into thinking that you're eating a healthy dessert. Add to that the fact that it takes only 5 ingredients and 10 minutes to prepare it and you have a winner on your hands!
What started as a low-carb breakfast, is now also an easy dessert I can't wait to dig into.
I usually rotate between this ricotta parfait recipe, my yogurt custard toast, and my cottage cheese grapefruit bowl recipe for breakfast throughout the year. All three are healthy and easy to make, making them great options for the day's most important meal.
Jump to:
Why you'll love this recipe
Quick & easy to make - This is one of the most simple recipes you will come across. You can't beat 5 ingredients and a 10-minute prep time!
Perfect for any diet - With a combination of protein and complex carbs this is a perfectly balanced breakfast on any type of diet plan!
Virtually a dessert - This is so delicious it literally tastes like dessert and the best part is it's guilt-free!
Creative serving options - Delicious breakfast or healthy dessert option, there are so many possibilities when it comes to serving this recipe! Layer your ricotta yogurt parfaits in a tall glass with red white and blue for a holiday-themed party. Serve it in a parfait glass in a single layer topped with fresh blueberries, or use mason jars, with a layer of ricotta at the bottom of each glass and topped with layers of fruit, sliced almonds, and a garnish of mint leaves.
The ingredients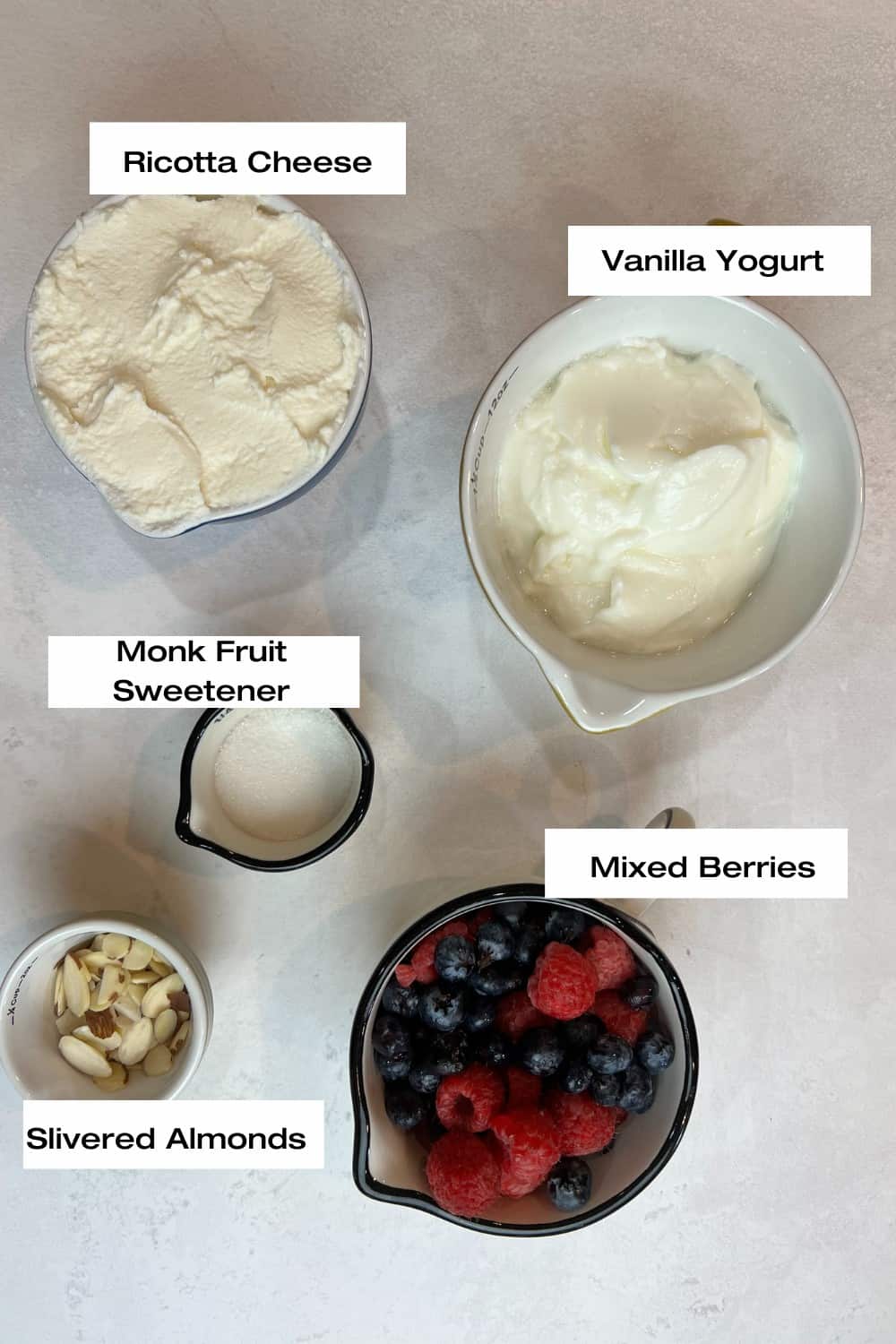 Ricotta - I like to use full-fat creamy ricotta cheese for best results.
Vanilla yogurt - Using Vanilla flavored plain yogurt eliminates the need to add any additional flavoring and is my go-to.
Mixed berries - Mixed seasonal berries make the parfait delicious and colorful.
Monk fruit sweetener - I use monk fruit sweetener as my preferred sweetener. Feel free to swap this out for plain sugar.
Almonds - The slivered almonds add a nice crunch and some texture to the parfait.
For the complete list of ingredients with measurements plus recipe instructions, please see the recipe card at the bottom of this post.
Substitutions & Variations
Swap out the fruit - Use seasonal fresh fruit other than berries, or try adding in a tablespoon of my plum jam, raspberry sauce, or some homemade lemon curd to switch things up a little bit.
Add a different sweetener - Try using honey, or maple syrup instead of the monk fruit sweetener or sugar.
Try a different flavoring - Try the parfait cups with plain Greek yogurt and add in a tablespoon of lemon juice and lemon zest to try a different flavor.
Change up the garnishes - Add some crunchy granola, try pistachios instead of almonds, add some orange zest, and maybe even some shaved chocolate as a garnish.
Step-by-step instructions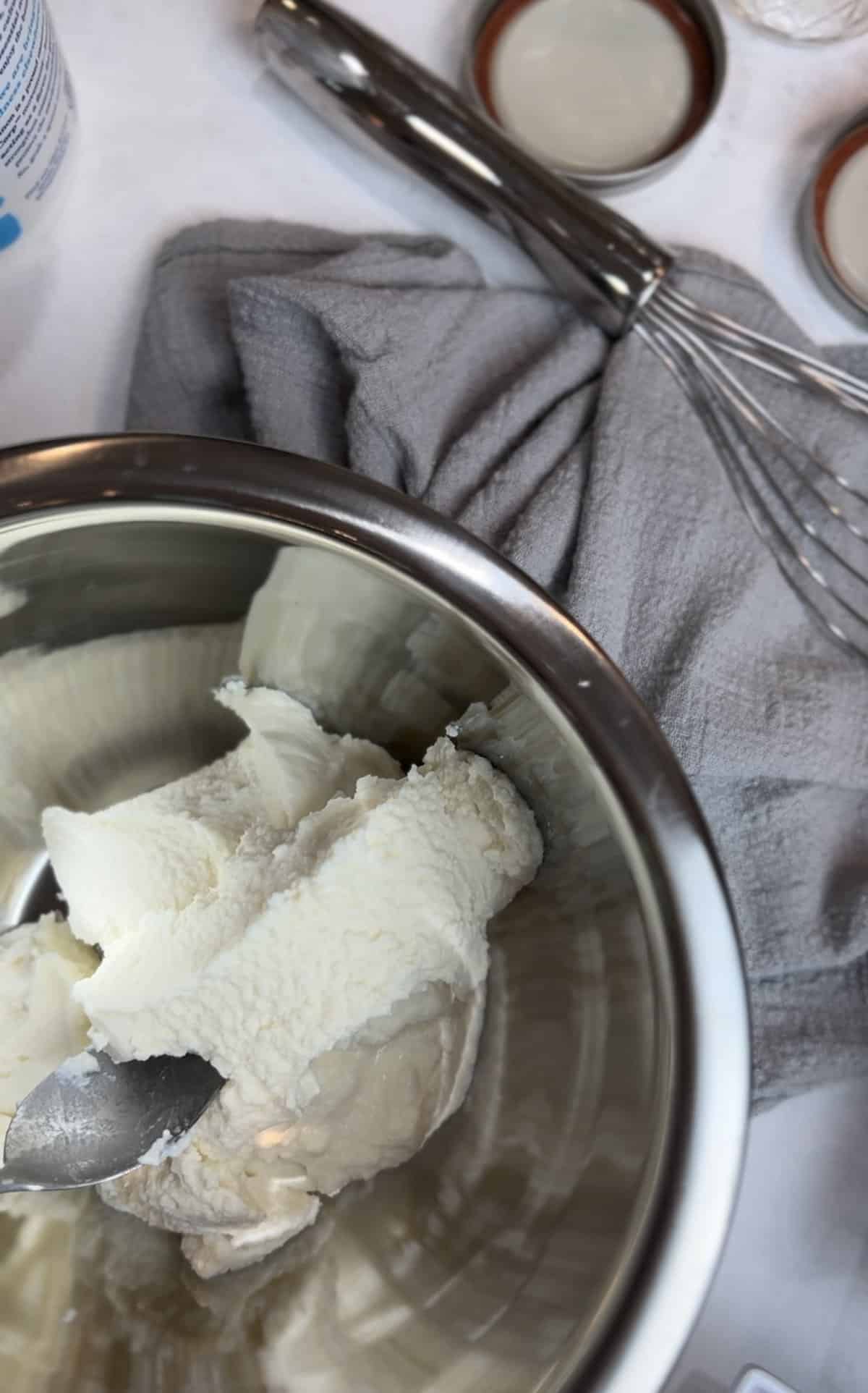 Step 1 - Scoop out the whole milk ricotta in a mixing bowl.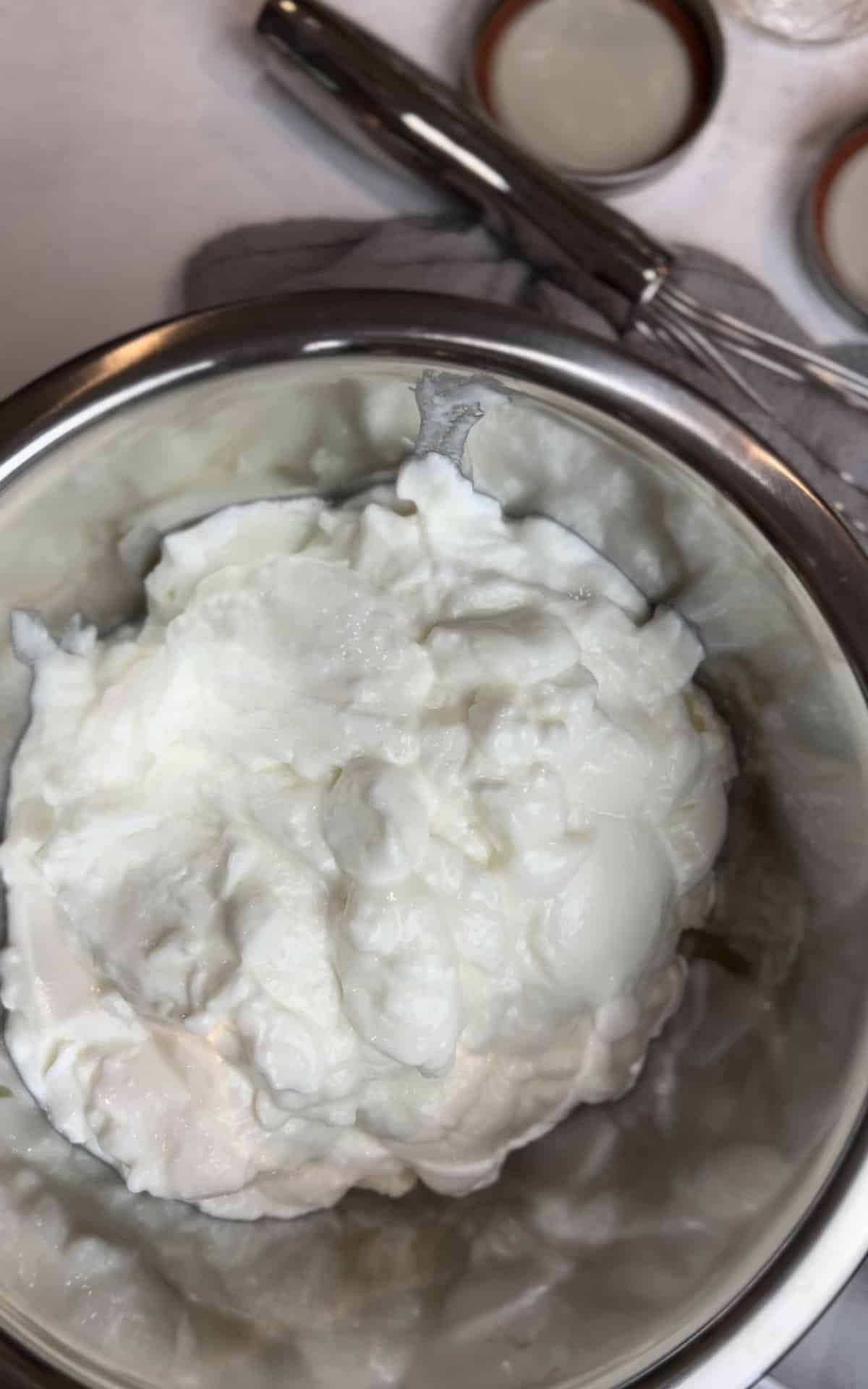 Step 2 - Add the vanilla yogurt on top of the 1 cup ricotta cheese.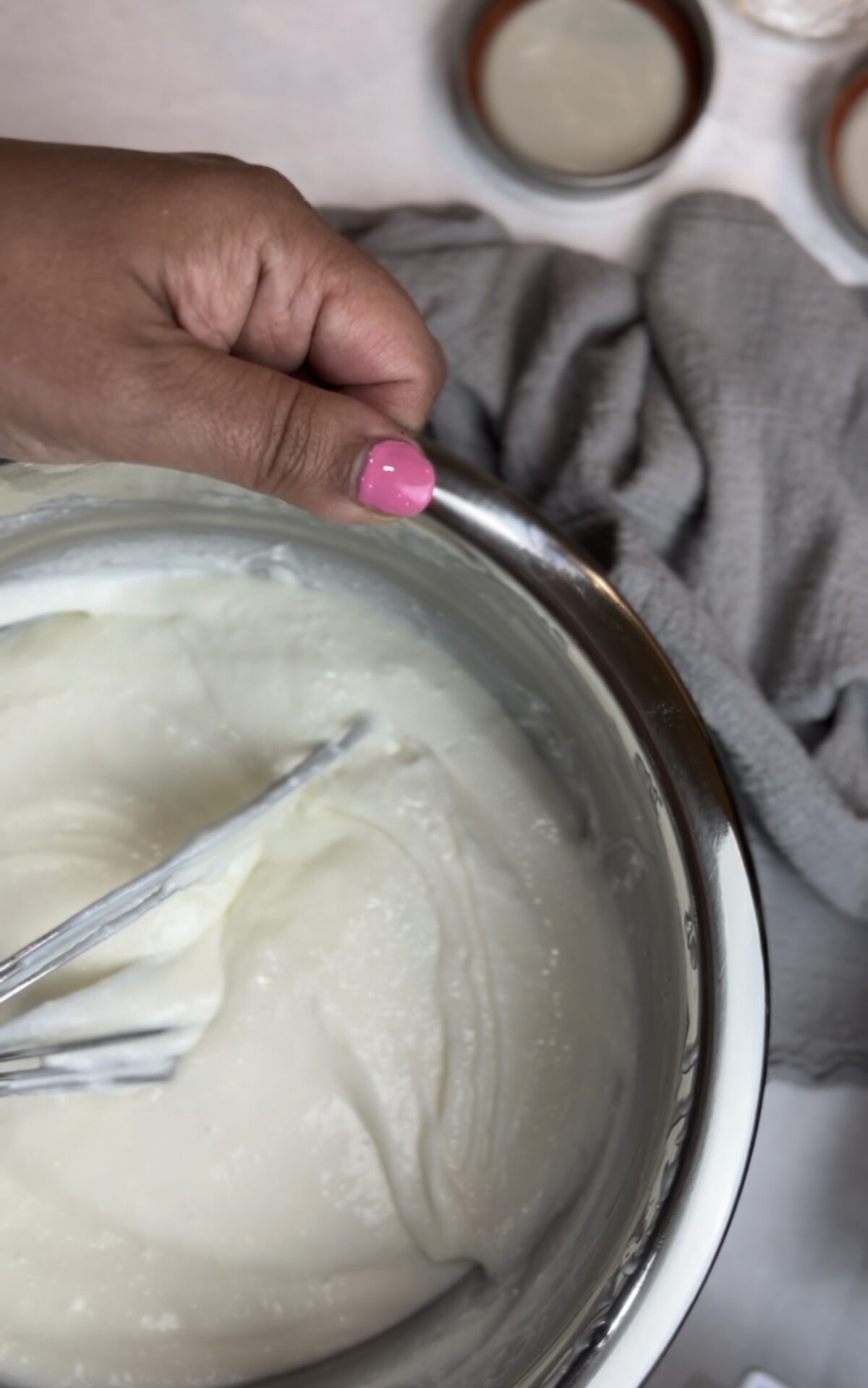 Step 3 - Whisk the ricotta and yogurt till they are blended together. You can use a food processor or electric mixer to speed things up.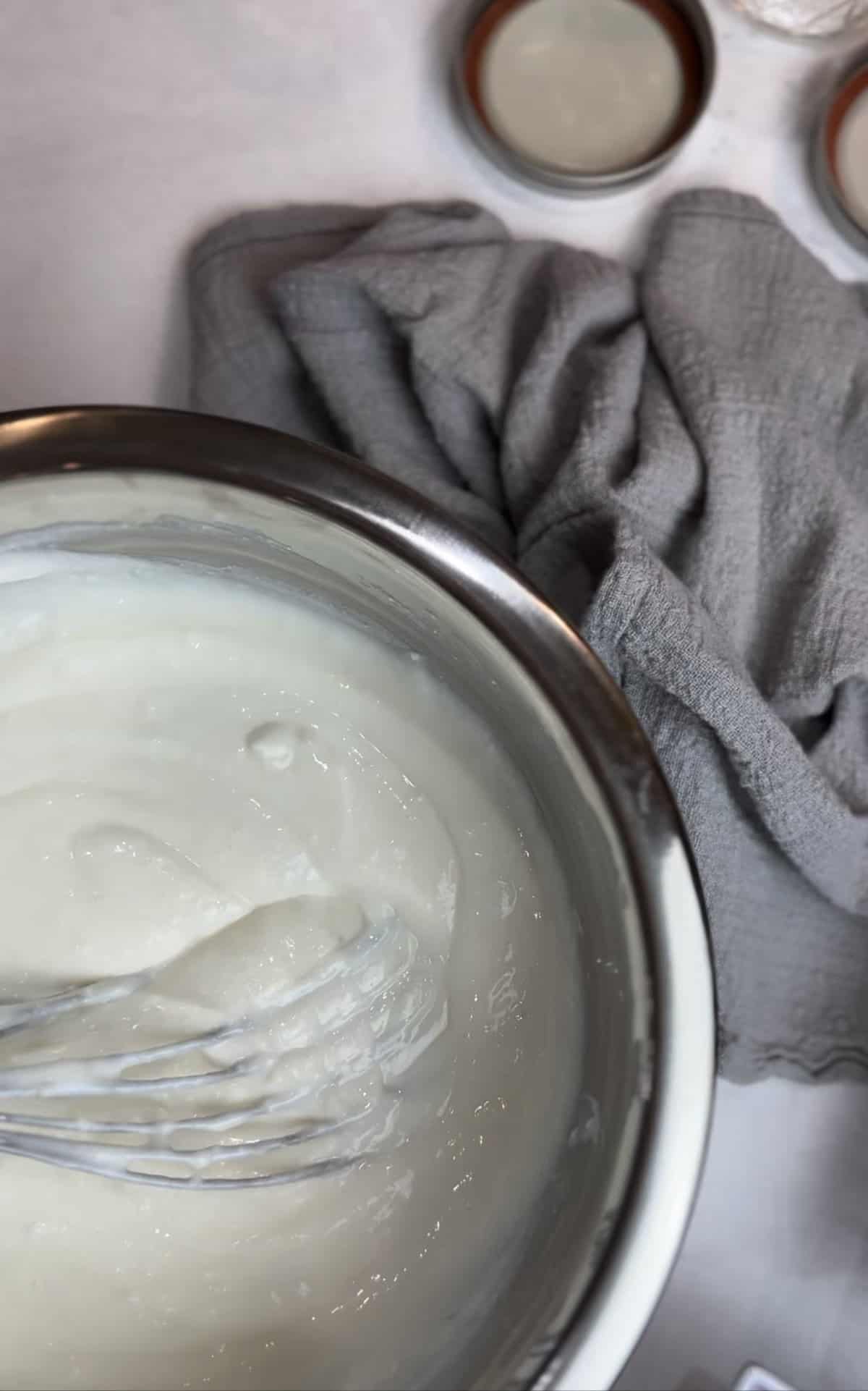 Step 4 - Add in the monk fruit sweetener and continue to mix until you have a smooth and creamy mixture.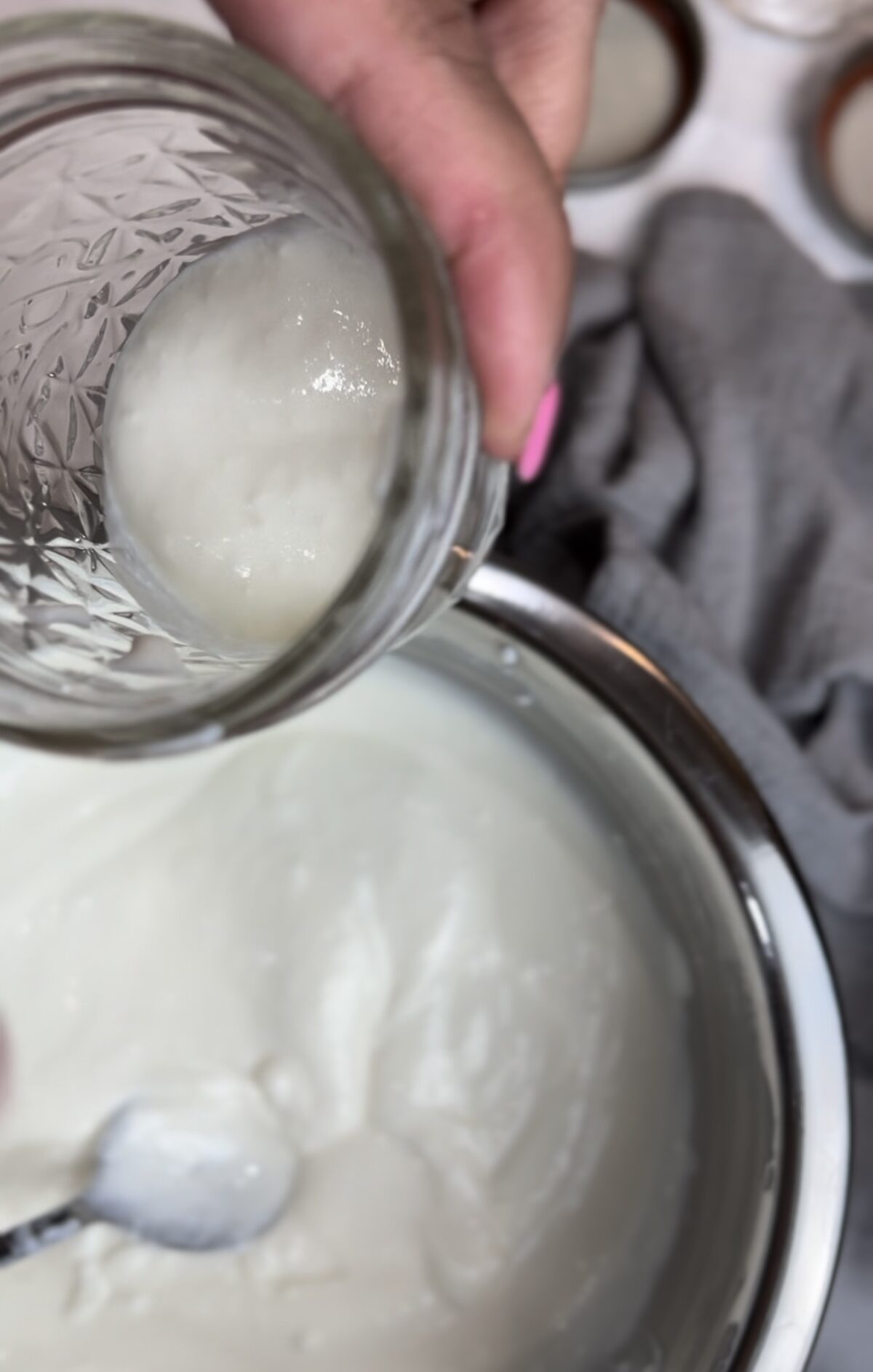 Step 5 - Start scooping out the whipped ricotta into a small jar or your serving container.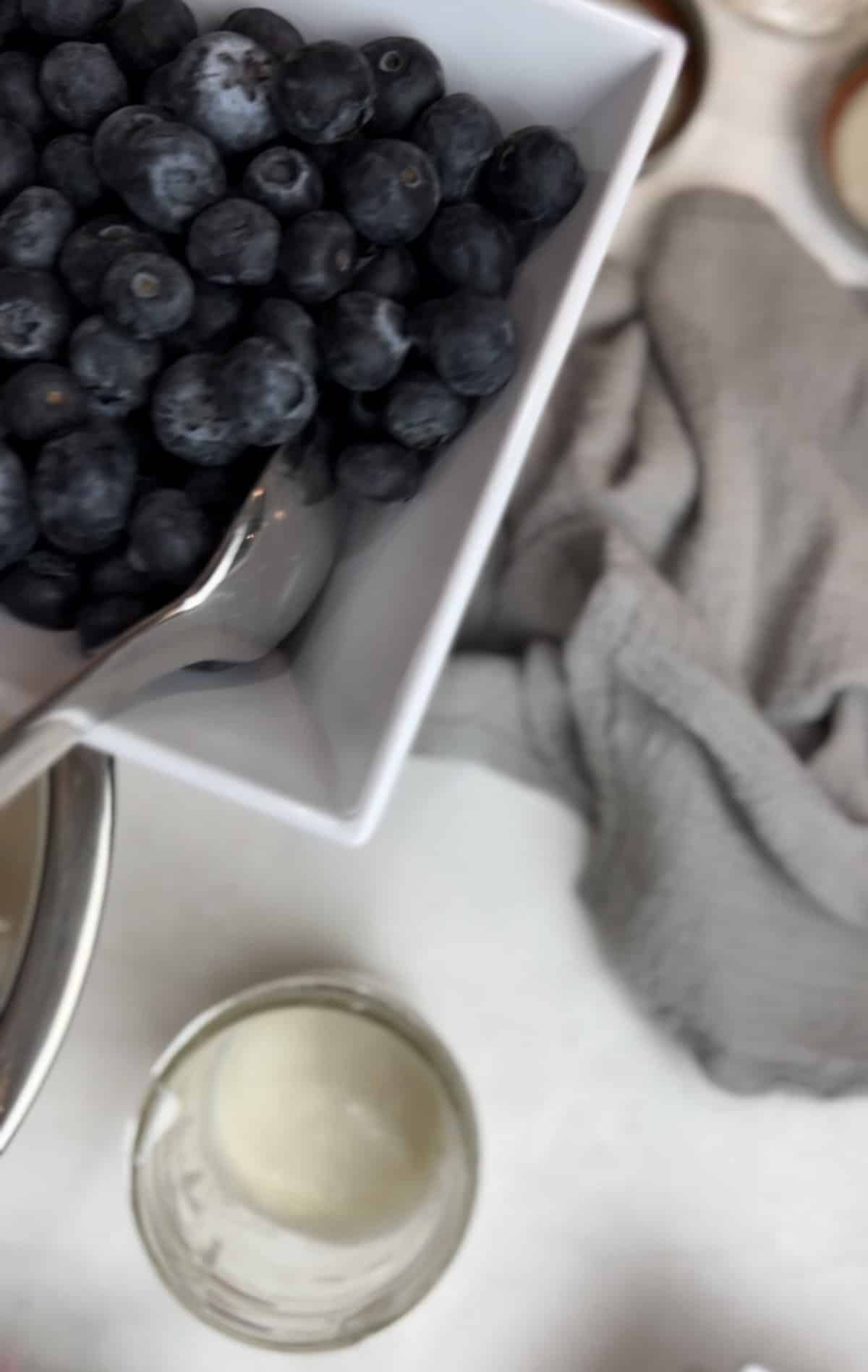 Step 6 - Wash your berries in a medium bowl, pat them completely dry, and start layering them with the tablespoons of ricotta.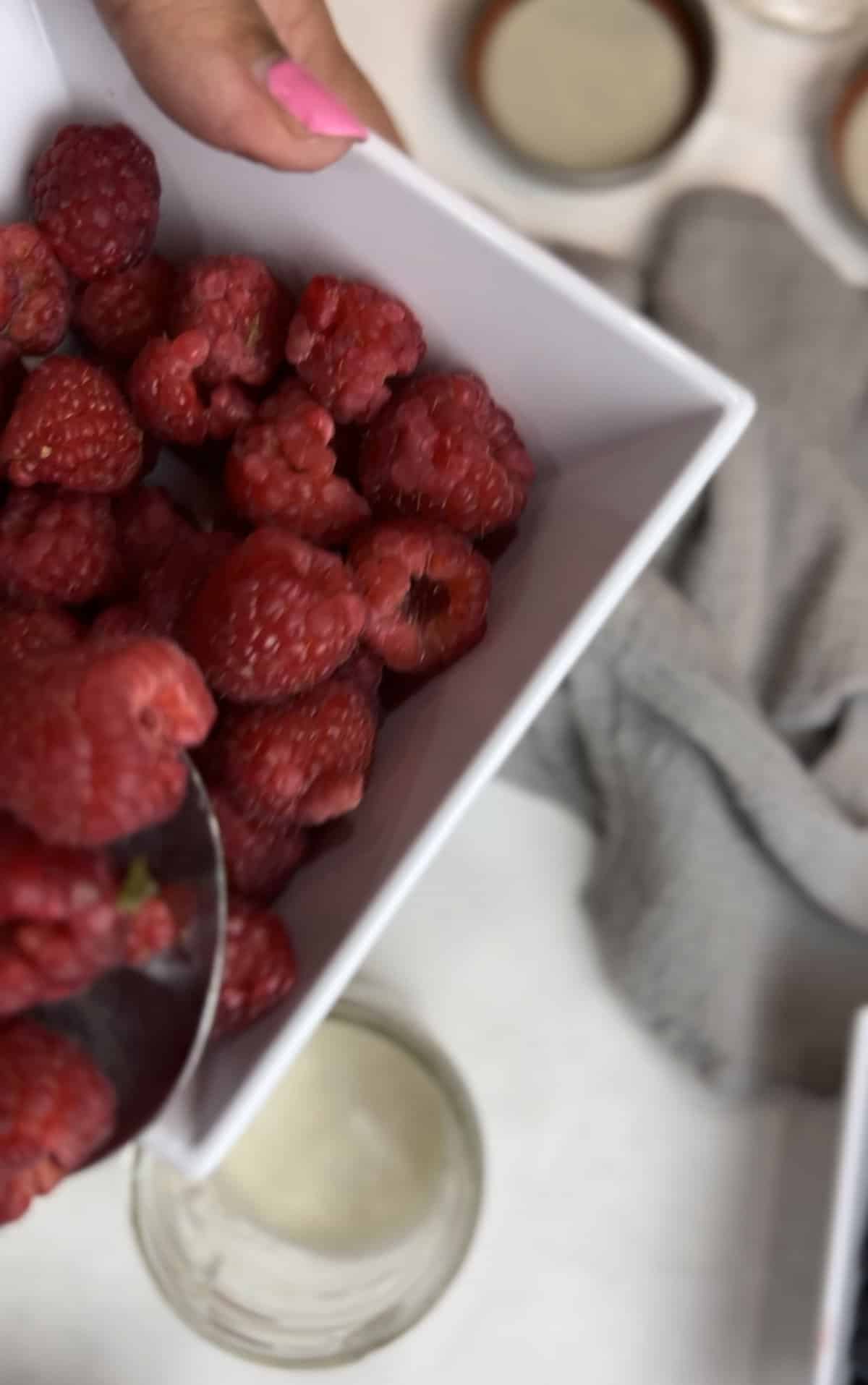 Step 7 - Layer the berries with the remaining ricotta mixture till you have full mason jars or sundae glasses.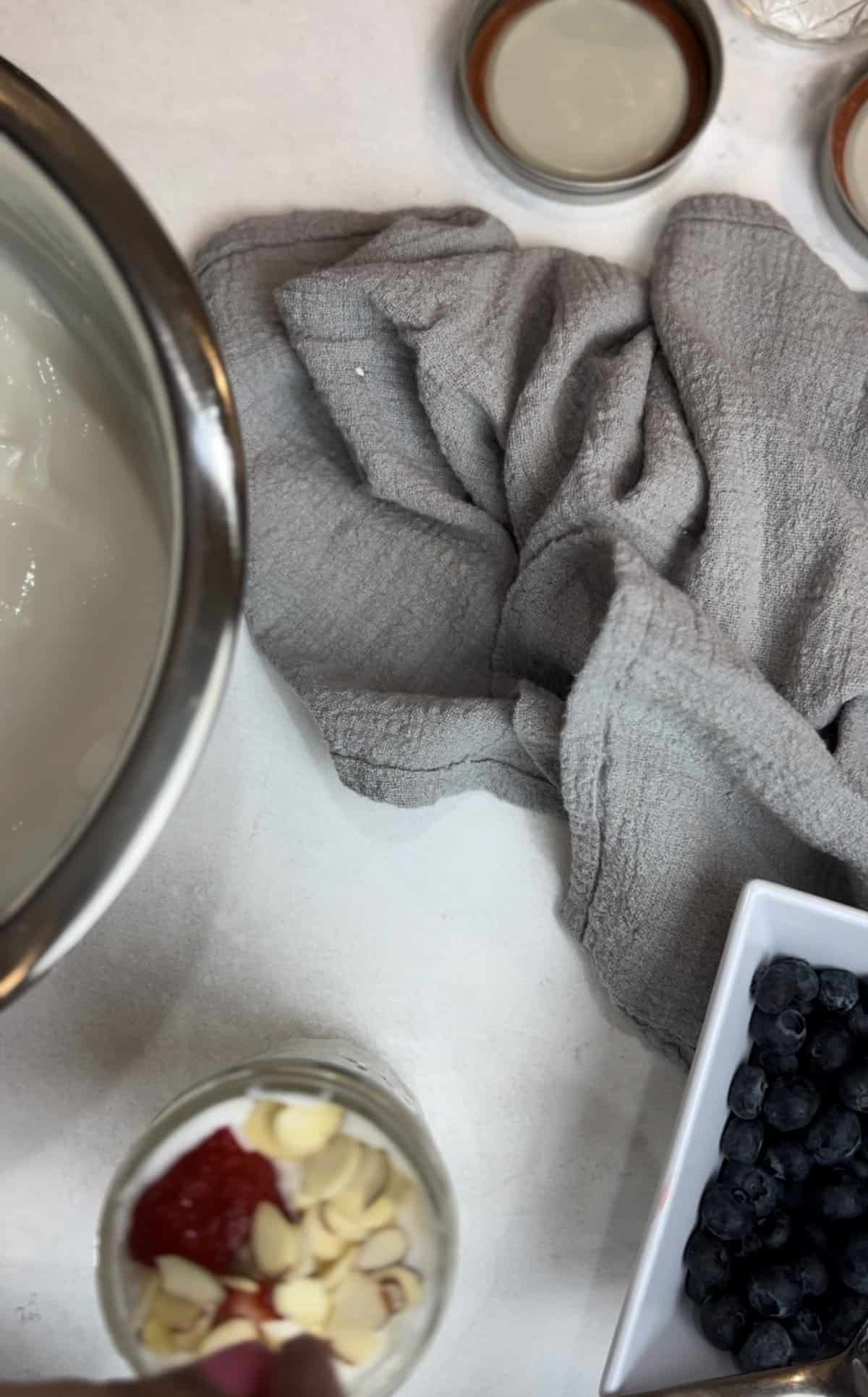 Step 8 - End with a layer of berries and a garnish of sliced almonds.
Expert Tips
Dry the berries well - Make sure to pat the berries dry before adding them to the ricotta so they don't make your breakfast parfait too liquidy.
Use a blender or food processor - If you're making a large batch or want a creamier consistency, then use a food processor, electric mixer, or immersion blender.
Strain any liquid in the ricotta & yogurt - Make sure to remove any residual liquid in the ricotta and yogurt before mixing them. This yields a perfect consistency for the breakfast parfait.
Keep extra almonds on hand - Make sure to keep a small bowl filled with the sliced almonds on hand. I like to keep adding some to my layers as I work my way through my parfait layers.
Recipe FAQS
Is a parfait supposed to be frozen?

The word Parfait means perfect and was used to reference a frozen layered dessert made of cream, ice cream, nuts, and fruits in 1894.
How long does parfait last in the refrigerator?

I prepare a few jars of the parfait at a time and keep them in my refrigerator for 2-3 days. After that, they start to get watery.
Why is my parfait watery?

When stored overnight, the parfait can become watery due to the liquid being released from the fruit.
Is ricotta cheese healthier than regular cheese?

Compared to most cheeses, ricotta is a healthier choice because it contains less salt and fat.
How long can a parfait sit on your counter before you refrigerate it?

Don't let your parfait sit out more than 2 hours before refrigerating it.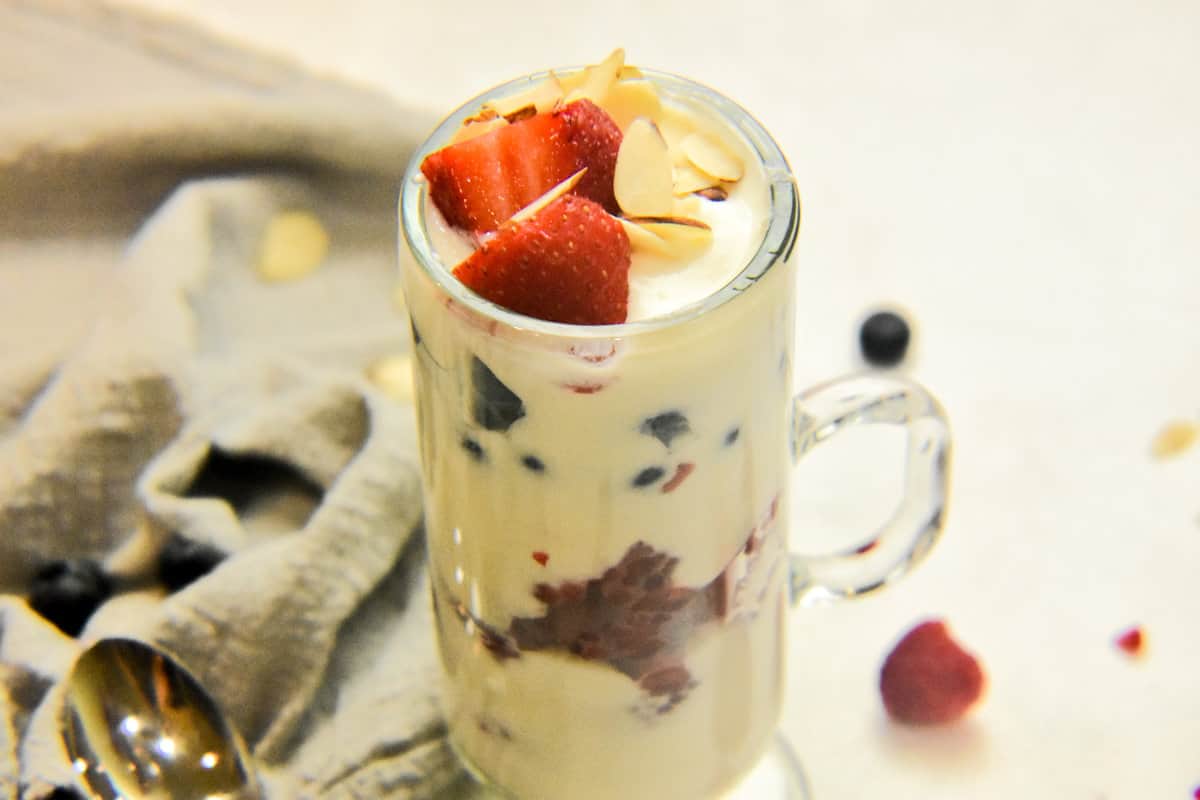 Other recipes you may like
Hope you decide to try this recipe! Please don't forget to leave a rating and comment below! If you take a picture then tag me on Instagram! Thank You!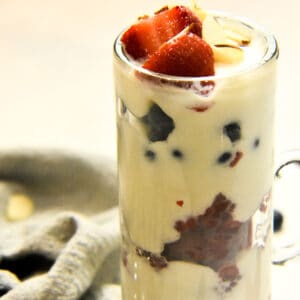 Mixed Berry Ricotta Breakfast Parfait
This Mixed Berry Ricotta Breakfast Parfait is a quick, easy, and delicious breakfast that takes only 10 minutes and 5 ingredients to make!
Ingredients
1

cup

ricotta

1

cup

vanilla yogurt

⅓

cup

blueberries

⅓

cup

raspberries

⅓

cup

strawberries

2

tbsp

almonds
Instructions
Stir together the ricotta, yogurt, and sweetener till the mixture is smooth and creamy. (see notes)

Wash all the berries and pat them dry. (see notes)

Layer the berries and the ricotta mixture and the berries in a tall clear glass or jar.

Top with the almonds and the sprig of mint and serve.
Notes
The ricotta & yogurt - Make sure to drain any water from the yogurt and ricotta before whipping them. This ensures a perfectly creamy texture.
The berries - Wash your berries and make sure to pat them dry. This will prevent your parfait from becoming watery.
Storage - Don't leave your parfait sitting out on the counter any longer than 2 hours before refrigerating it. After that, you can store the parfait in your fridge for 2-3 days maximum. After that, it will start to get watery.
Nutrition
Serving:
2
servings
Calories:
293
kcal
Carbohydrates:
37
g
Protein:
19
g
Fat:
7
g
Saturated Fat:
1
g
Polyunsaturated Fat:
1
g
Monounsaturated Fat:
4
g
Cholesterol:
26
mg
Sodium:
211
mg
Potassium:
427
mg
Fiber:
4
g
Sugar:
26
g
Vitamin A:
76
IU
Vitamin C:
23
mg
Calcium:
443
mg
Iron:
1
mg