This Easy Scrumptious Pumpkin Bread Recipe is all it's title claims it to be! It's super easy to make, as all quick breads are and has all the those fragrant fall vibes that are my favorite! An adaptation of a recipe by www.nordicware.com, the addition of hazelnuts and heath toffee bits add a rich decadence to what is a very traditional fall comfort food. Perfect with a cup of tea or coffee as the cooler weather descends on us!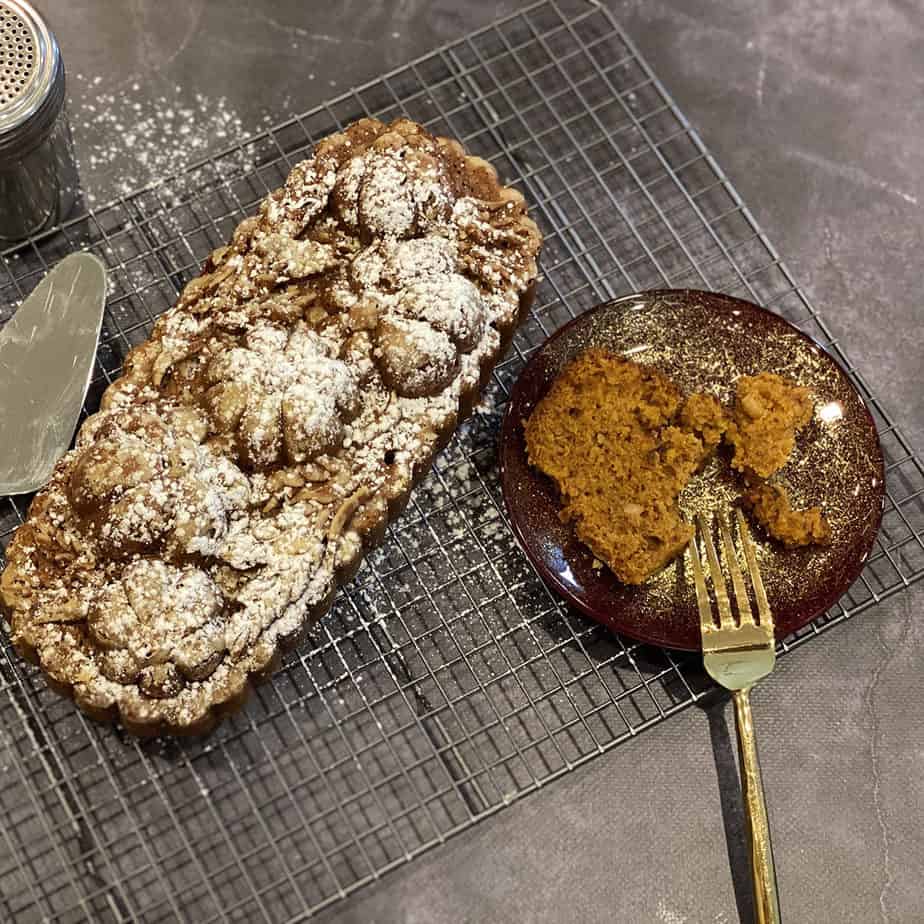 The History
Original Pumpkin bread is as far removed from what we eat today as we can imagine. The first pumpkins were discovered in the Oaxaca Highlands of Mexico approximately 7500 years ago. Hard and bitter, the fruit (botanically speaking it's a fruit) was very useful as it could be stored for long periods.
In pre-Columbian times the flesh of the fruit was dried and ground into meal which was then used in cooking. A bread called Pumpkin Cakes is featured in "The Kentucky Housewife" cookbook in 1839. The texture of this is probably similar to that of cornbread.
As time passed, people started experimenting with roasting pumpkin flesh and creating unique recipes with sugar added to them.
Once canning gained popularity, the flesh was steamed, pureed and stored in a can, making it even easier to cook with this delicious fruit.
Then came the biggest discovery, quick breads! Leavening agents forever changed the process of breadmaking and pumpkin bread as we know it was born!
My Story
I love anything and everything Pumpkin Spice. I think my first taste of anything with the fruit was pumpkin pie as a child. Then from there it was a taste of pumpkin bread and of course ever since it was invented, the Starbucks famous pumpkin spice latte! lets just say I'm a committed fan!
The flavor of pumpkin mixed with the assorted spices just has a comforting cozy feel that I love. Baking this bread fills the house with the best smells and feels of fall, winter and the holidays approaching.
Not only is it easy and delicious, but to me it's a definite mood lifter! So I bake it often, all the way from October through December along with my deconstructed-pumpkin-pie and my individual-pumpkin-pies.
The Easy Scrumptious Pumpkin Bread Recipe
Mixing The Batter
Mixing all quick breads is fairly simple and straightforward. Measure the dry ingredients in one bowl and the wet in another. Then mix them together, stirring just enough to blend them together.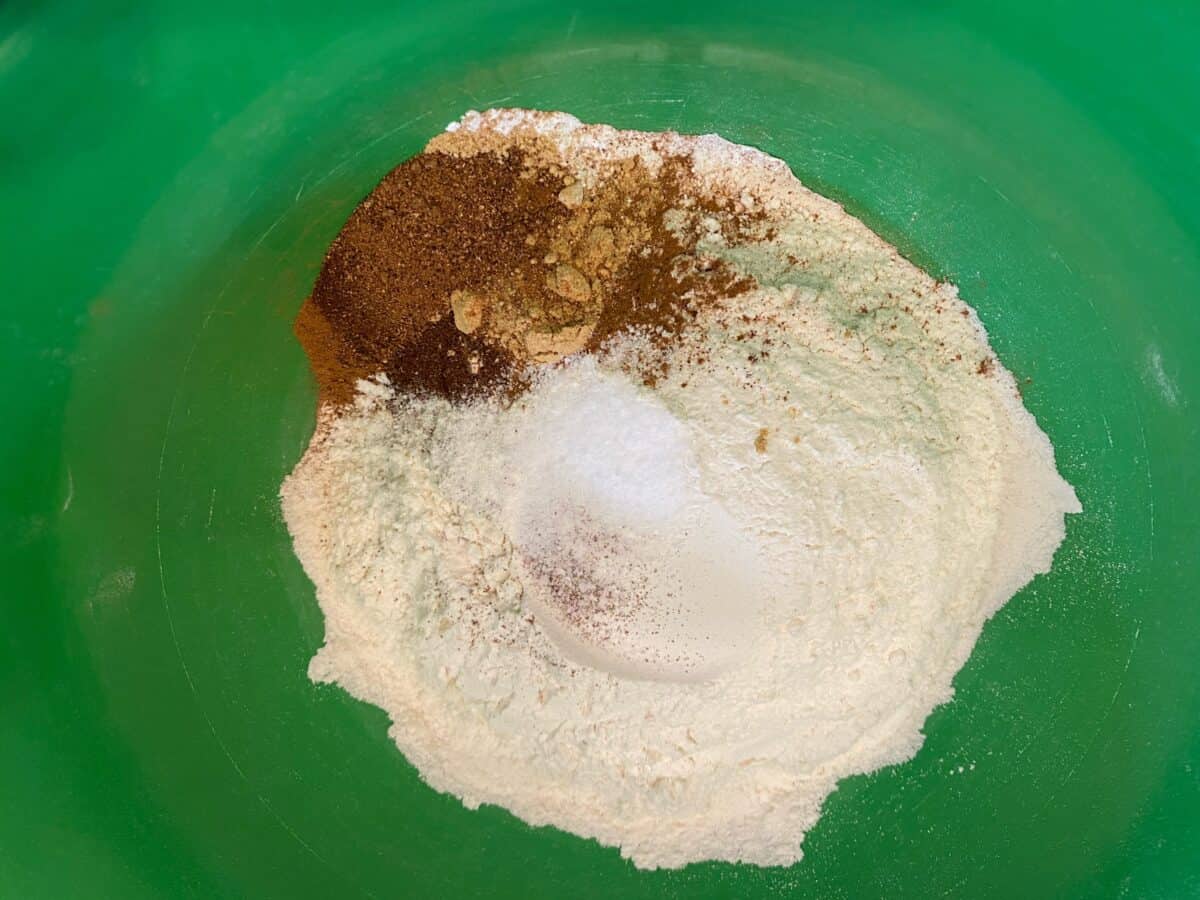 Over stirring can lead to gluten being released and this makes the bread dense and heavy. I chose to give mine a whirl in my mixer but you can easily mix a quick bread by hand.
Adding The Mix Ins
Gently fold in the mix ins. I opted for hazelnuts and heath toffee bits (added later on top) but some other options are:
Chocolate Chips
Butterscotch Chips
Caramel Chips
Raisins
Nuts of a different variety
Lightly crush the hazelnuts as the whole nut is rather large.
Greasing The Pan
When greasing a pan, it's better to use shortening versus butter. Butter is part water and part fat so can actually cause the bread to stick to the pan.
In order for the bread to rise better, grease the bottom and only halfway up the sides.
Baking The Bread
Baking Tips!
Always bake on the center rack for the most even heat distribution.
Use a thermometer for best results. Ideal temperature for a bread is 200 degrees fahrenheit.
If you don't have a thermometer, stick a cake tester or toothpick in the center of the bread to see if it comes out clean. Do this about 10 minutes before the cooking time is up to make sure you don't over bake the bread. Since ovens, altitude and baking equipment vary, cooking times in a recipe can be off by about 10 minutes or so on average.
If the bread is not cooked in the center and the top seems too brown, loosely cover it with foil.
If you're baking in a non stick or glass baking dish versus aluminum pan, reduce the baking temperature by 25 degrees.
Tips & Solutions
No matter how good a baker you are or how many times you've made the same recipe, some days you need a little help! Here are some fun tips that you may not know about and some solutions to problems that you may encounter!
Cutting Your Bread
Don't cut your bread until it has cooled properly. Let it rest in the baking tin for 10-15 minutes and then gently remove it. Place it on a cooling rack and wait till it's a t room temperature. For best results, use a serrated knife.
Help! My Bread Is Sinking!
There are 3 possible reasons why this may have happened:
You added too much liquid
Measurements are key in baking. A fraction too much or too little of one thing throws the chemistry off. Be very precise at this point.
The baking soda/powder wasn't enough
Stick to the measurements in the recipe and don't alter anything. This includes the type of flour recommended. For example, if the recipe suggests self rising flour and you use all purpose, you would need to adjust the amount of baking soda/powder or else your bread may not rise properly.
You took your bread out of the oven too soon
This is a rookie mistake many of us have made. The best way to insure this doesn't happen is to use a good thermometer. My favorite is the Thermapen by thermoworks.com which I use for all my cooking and baking due to its precision!
In the event that this happens, if the center is cooked through (your tester is clean) you can fix the bread by adding some kind of icing. If the bread seems to be undercooked and your oven is still hot, put it back in and bake it for a bit longer. If neither of these options is possible you may just have to start over.
The batter was left sitting for a while before you put the bread in the oven to bake
As soon as the batter for a bread is mixed pop it in the oven. Quick breads have a considerable amount of leavening agent in them. The soda/baking powder starts to act immediately when mixed with a liquid. If left to sit on the counter for a while that reaction is lost and the center of the bread may not get that beautiful rise.
Problems With The Texture & Taste
You want that perfectly moist and fluffy bread, with a nice orange brown hue and perfect pumpkin spice flavor. But something is off! What could some of the fails be and why? Once again, precise measurement is key! Here's what you may be doing wrong!
Coarse Texture - Too much fat
Dark Color - Too much sugar
Strange Soapy Taste - Too much leavening agent
Storing Your Bread
Now you've baked your bread! How long can you store it?
Room Temperature - 2-3 days
Fridge - 3-4 days
Freezer- 1 month (to freshen up, reheat for 5-10 minutes after defrosting at 400 degrees)
Now that we've covered the ABC's of baking the perfect quick bread you're armed with all you need to know to make your first loaf of this Easy Scrumptious Pumpkin Bread Recipe! Try it and drop a comment to let me know what you thought of it!
Easy Scrumptious Pumpkin Bread Recipe
This Easy Scrumptious Pumpkin Bread Recipe with Hazelnuts and melted Heath English Toffee Bits is comfort food and decadence combined!
Ingredients
1½

cups

flour

1

tsp

baking soda

1

tsp

baking powder

1

tsp

ground cinnamon

SEE NOTES

1

tsp

ground cloves

SEE NOTES

1

tsp

ground nutmeg

SEE NOTES

1

tsp

ground ginger

SEE NOTES

½

tsp

salt

1

cup

sugar

½

cup

brown sugar

¾

cup

vegetable oil

1

cup

canned pumpkin

2

eggs

½

cup

milk

½

cup

hazelnuts

¼

cup

heath toffee bits

powdered sugar

(OPTIONAL)
Instructions
Preheat the oven to 350 degrees.

Grease an 8x4x2 inch loaf tin or a decorative tin by nordicware (pictured above) with shortening.

Combine flour, baking soda, baking powder, all the spices and salt and set aside.

Using a mixer blend the oil, two sugars and pumpkin.

Add in the eggs, one at a time, mixing well.

Slowly add in the flour mixture and the milk, mixing till everything is incorporated.

Place the hazelnuts in a ziploc bag and lightly beat with a rolling pin to break into pieces.

Fold the nuts into the bread mixture and pour into the baking tin.

Crush the heath toffee bits in a ziploc bag using a rolling pin.

Sprinkle the bits on top of the bread batter.

Bake in the oven for 55 minutes or until your thermometer reads 200 degrees fahrenheit, or your cake tester comes out clean

Cool completely and dust with powdered sugar for a finish.
Notes
SPICES - I like to add the individual spices and make my own blend but if you prefer, for convenience, you can add 1 tablespoon + 1 teaspoon of allspice instead of 1 tsp of each specific spice. (3 teaspoons = 1 tablespoon)
Nutrition
Serving:
1
g
Calories:
429
kcal
Carbohydrates:
53
g
Protein:
5
g
Fat:
24
g
Saturated Fat:
15
g
Polyunsaturated Fat:
1
g
Monounsaturated Fat:
5
g
Trans Fat:
1
g
Cholesterol:
35
mg
Sodium:
312
mg
Potassium:
161
mg
Fiber:
2
g
Sugar:
36
g
Vitamin A:
3883
IU
Vitamin C:
1
mg
Calcium:
72
mg
Iron:
2
mg