These Individual Pumpkin Pies are perfectly portioned to feed each guest at your table. No messy cutting and serving this Thanksgiving! Plus if you have a picky bunch (like I do) you can make a variety of mini pies. This way you won't have a bunch of half eaten ones leftover!
The History
The pumpkin is a squash variety native to North America and has been a symbol of harvest season for centuries. It's name has been derived from the Greek word "peon" which means large melon. For years the British called it "pompion" which eventually became pumpkin in the United States of America.
Pie pumpkins are typically 6-8 inches in diameter and smaller than the ones we carve at Halloween. The famous Libby Brand actually breeds its own small smooth skinned pumpkins to insure quality. The original settlers cooked their pies a little differently than we do today. Early cookbooks feature recipes that describe stewed pumpkin mixed with milk, honey and spices served in its own shell.
European influence eventually led to the custard style filling baked in a pastry that we eat today. The pumpkin in a pie is actually twice cooked. The first step in the process is deseeding the fruit. Next, the prepped pumpkin is baked or steamed and pureed. This puree is then added to the custard filling and baked once again in the pie crust.
Of course today we have to thank libbys.com for taking care of the most tedious part of the process. Their canned pumpkin is 100 % fruit with no additives and I've used it for all my pumpkin related baking needs for years.
Individual Pumpkin Pie Recipe
Once the crust is ready, per my never-fail-flaky-pie-crust recipe, the actual pie filling is very easy.
The Crust
The crust is time consuming but again a homemade crust tastes so much better if done right. My never-fail-flaky-pie-crust has tons of tips to help you through the process and the crust can actually be made a day or so ahead of time and stored in the fridge.
If, however, you do decide to buy a store bought crust, Epicurious has a wonderful article on which brands are best.
If you want to go a completely different route, try my Deconstructed Pumpkin Pie and eliminate the crust all together!
Blind Baking The Crust
Blind baking is a technique popularly used to make pies with a liquid filling. The crust is par baked before the filling is added to prevent the base from getting soggy.
A few tips when blind baking your crust:
Chill The Dough - Chilling the dough solidifies the butter and this reduces shrinkage as the crust bakes.
Roll Out A Little Extra Dough - This also helps when shrinkage occurs.
Line The Crust - When lining the crust, whether using parchment or foil, use enough to hang over the edges a bit so they don't over cook. Be gentle so you don't end up breaking the crust.
Pie Weights - Using pie weights is essential as the base will want to puff up as it cooks, since there's no filling weighing it down.
The Filling
It is possible to occasionally find actual filling in a can, where you just have to pour it in your crust and bake it. But honestly, the mixture for the pumpkin custard can be put together in such little time, that I would highly recommend making it from scratch.
The taste is phenomenally better and for years this is the one thing my kids and I have enjoyed making together over the years.
After blind baking the crust, it's important to bake the pies using pie shields. This prevents the edges of the crust from overcooking. If you don't have pie shields, just loosely cover the edges with foil.
The filling is done when an inserted knife comes out clean. Cool completely, chill and serve with whipped cream on the day of Thanksgiving!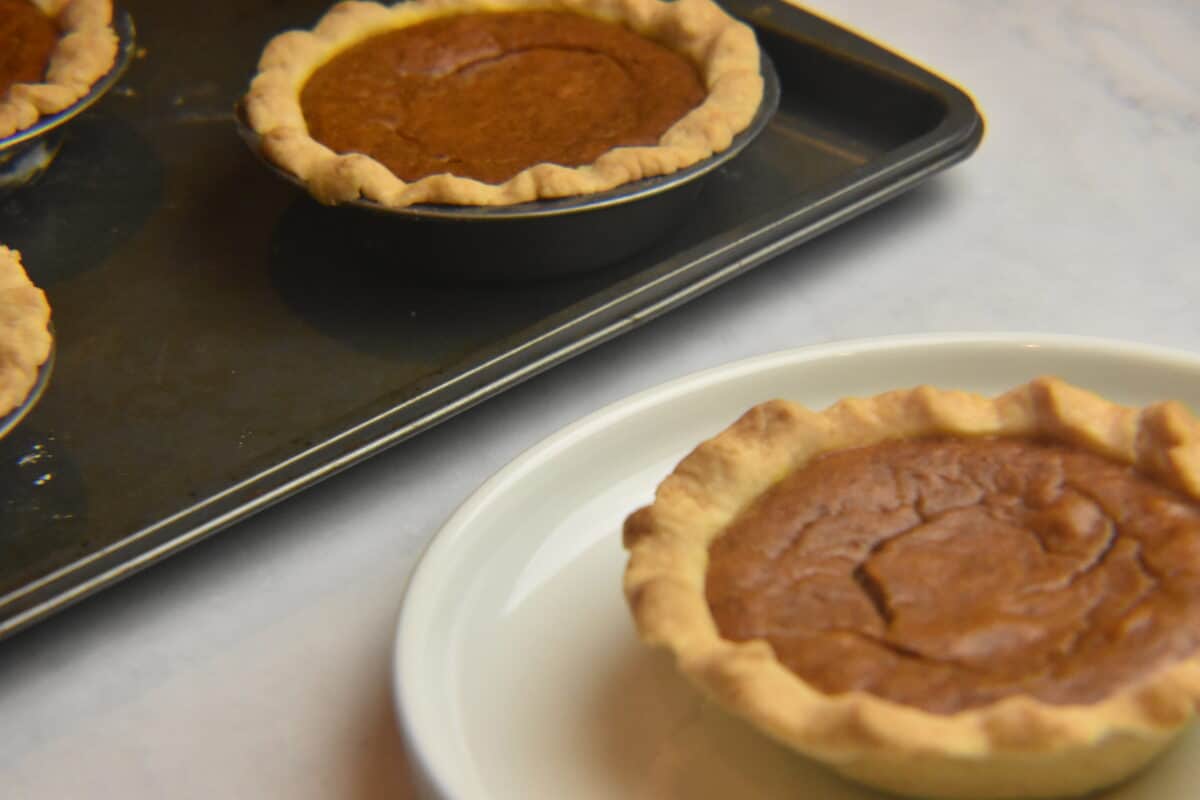 Note: Crimping the edges can be a bit difficult in these small pies at times. An alternate method is to use a knife to make diagonal slits or X's. This gives the pies a slightly more rustic look, but the crust will still have a decorative edges and look pretty at your table.
If you end up with some extra filling, just pour it in a glass pie dish and baked it as a crustless pie. It can be used later to make the Deconstructed Pumpkin Pie or other recipes.
Storing Your Pies
The pies must be completely cooled before being stored. This is important in order to prevent the crust from getting soggy. Other than that the pumpkin pie, due to it's high fat content is something you can easily make a day or two ahead of time. Storage instructions are as follows:
Refrigerator - The pies can be stored in the fridge for upto 3-4 days in an airtight container or wrapped completely in plastic.
Freezer - The pies can be frozen for upto two weeks in an airtight container or wrapped completely in plastic.
Individual Pumpkin Pies
These Individual Pumpkin Pies are my personal favorite! Easy to make and serve, no messy cutting involved and pretty as well!
Ingredients
3

eggs

¾

cups

dark brown sugar

1½

cups

heavy whipping cream

15

oz

canned pumpkin puree

2

tsps

cinnamon

1

tsp

ground ginger

¼

tsp

ground nutmeg

¼

tsp

ground cloves

¼

tsp

salt
Instructions
Preheat your oven to 375 Degrees.

Blind Bake your pie crust for 15 minutes (SEE NOTE)

Add the sugar and hand mix till it is well incorporated with the eggs.

Pour the cream and the pumpkin puree and mix well.

Add all the spices and the salt and stir to mix well (SEE NOTE)

Pour the mixture into your warm blind baked crust, cover the edges with a pie shield or foil and bake at 375 degrees for 50-60 minutes (SEE NOTE)
Notes
Blind Baking - Once your crust is in the pie tin, put some foil or parchment and add pie weights or dry beans to add weight so the pastry doesn't puff up. Bake for 15 minutes and then pour in the filling and continue baking. This will prevent the crust from getting soggy. Spices - If you want you can substitute 3 teaspoons pumpkin pie spice instead of using the individual spices listed above. Allspice can also be used but it typically doesn't have ginger in it and I would recommend using the ginger in this recipe. Baking Time - Since ovens vary, keep a close watch on the pie after about 40 minutes so the filling doesn't overbake. Once the sides are set, even if the center is a little jiggly you may want to test the center with a knife as the custard will continue to thicken as it cools and you don't want a dry and cracked pie.
Nutrition
Serving:
1
g
Calories:
553
kcal
Carbohydrates:
53
g
Protein:
7
g
Fat:
37
g
Saturated Fat:
22
g
Polyunsaturated Fat:
2
g
Monounsaturated Fat:
11
g
Trans Fat:
1
g
Cholesterol:
245
mg
Sodium:
389
mg
Potassium:
399
mg
Fiber:
4
g
Sugar:
44
g
Vitamin A:
18039
IU
Vitamin C:
5
mg
Calcium:
150
mg
Iron:
3
mg