This Easy Mango Kulfi (Pakistani Ice Cream) recipe will delight you with its explosion of flavors. Sweet mango puree, rich, heavy whipping cream, and condensed milk combine to create one of Pakistan's most popular summer desserts. This easy five-ingredient recipe takes just 5 minutes to prepare and is perfect for seasoned cooks and beginners alike.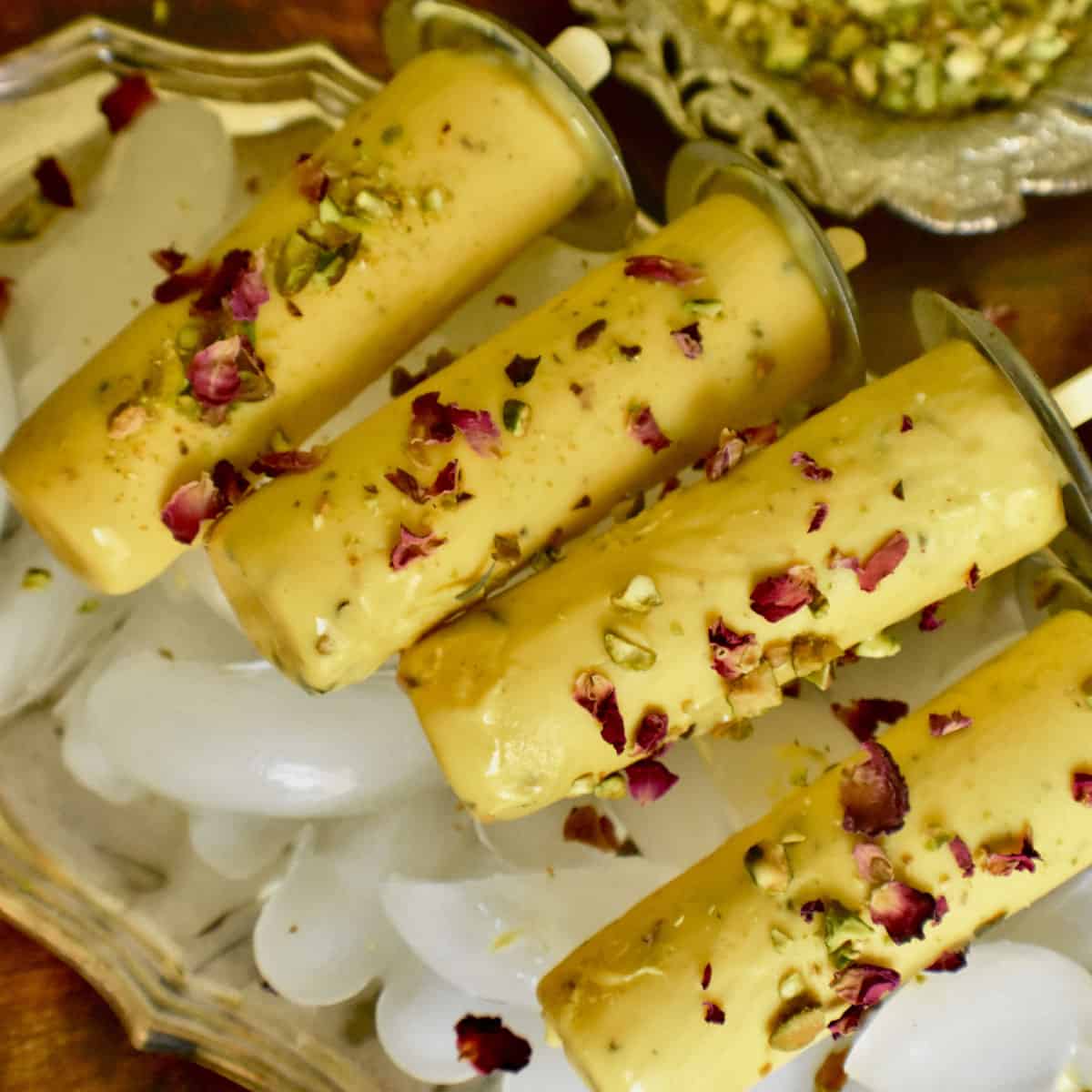 Impress all your family and friends with this delightful summer dessert that is as scrumptious as it is visually appealing. Whole milk, heavy cream, nuts, and cardamom powder are common ingredients in this Pakistani and Indian version of ice cream as well as most South Asian desserts. Some personal favorites are easy milk barfi, carrot halwa, gulab jamun recipe, and pumpkin halwa.
Jump to:
Why you'll love this recipe
Make ahead dessert -Make your mango kulfi ahead of time and store it in the freezer for up to a month. This makes it a convenient dessert to make and store for a future event.
Easy recipe - Five simple ingredients and 5 minutes of active prep make this the easiest dessert you'll ever make.
The perfect summer dessert - As a frozen dessert, mango kulfi is a great way to beat the heat during summer.
A crowd-pleaser - Kulfi on ice cream sticks make for the perfect summer treats, for kids and adults alike. Its vibrant color and delicious taste make it a popular dessert at any gathering.
No ice cream maker necessary - A large rectangular container and a spoon to mix with are all you need to make this delicious Recipe! No need to own an ice cream machine for this easy no-cook recipe.
Ingredient notes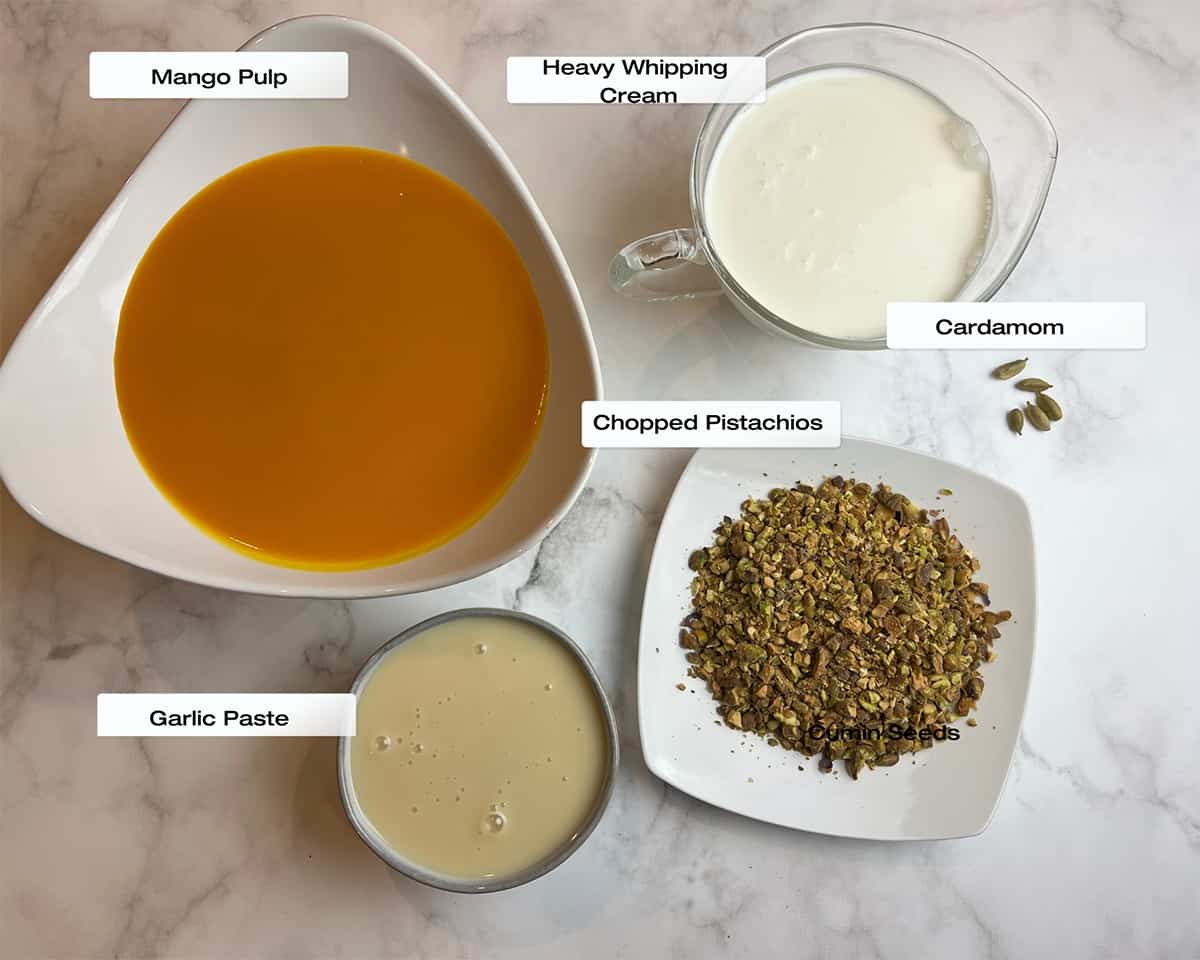 Mangoes - Indian and Pakistani mangoes are so sweet and have such an intense aroma that it's difficult to match them with any other variety. This is why I use canned Kesar or Alphonso puree for this recipe. Using the already-sweetened puree also eliminates an extra ingredient (sugar) from my list.
Heavy cream - Mango Kulfi recipes vary, with some suggesting full-fat milk, full-fat milk powder, and evaporated milk. I like to use heavy whipping cream as it gives the dessert a rich and creamy texture.
Condensed milk - Condensed Milk is the most important ingredient in this delicious mango kulfi as it eliminates the need to cook the milk mixture on low heat for hours.
Pistachios - I always use shelled, salted pistachios for my desserts. A little salt in a dessert helps balance the flavor of the other rich ingredients.
Cardamom - For best results, use fresh cardamom or whole cardamom seeds to make your own ground cardamom if you can. If you use store-bought cardamom powder, the aroma won't be very strong.
Please see the recipe card at the bottom of this post for the complete list of ingredients with measurements plus recipe instructions.
Substitutions & variations
Use fresh mangoes - If you opt for fresh mango chunks, use very ripe mangoes and add some mango essence to the recipe.
Try different flavors - Add some rose water, saffron, or paan flavoring. These are all delicious and popular flavors of kulfi.
Try the traditional recipe - Making this recipe using the traditional method requires a long time. Still, if you want to try it, combine whole milk, milk solids, sugar, nuts, and cardamom powder and cook everything on low heat. Cook and stir until you have a thick, dense texture (often a 6-8 hours process). For more details, check out this recipe by CookwithManali.
Add bread crumbs - Traditional mango kulfi has a grainy texture. If you want to emulate this, you can make crumbs from a slice of plain white bread and add them to the kulfi.
Serve the Kulfi differently - If you don't have authentic Kulfi molds, you can use popsicle molds, small paper cups, or even shot glasses. I also sometimes set my mango kulfi in a slab and cut it into cubes; top it with some falooda, and a drizzle of rose syrup for a delightful variation.
Step-by-step instructions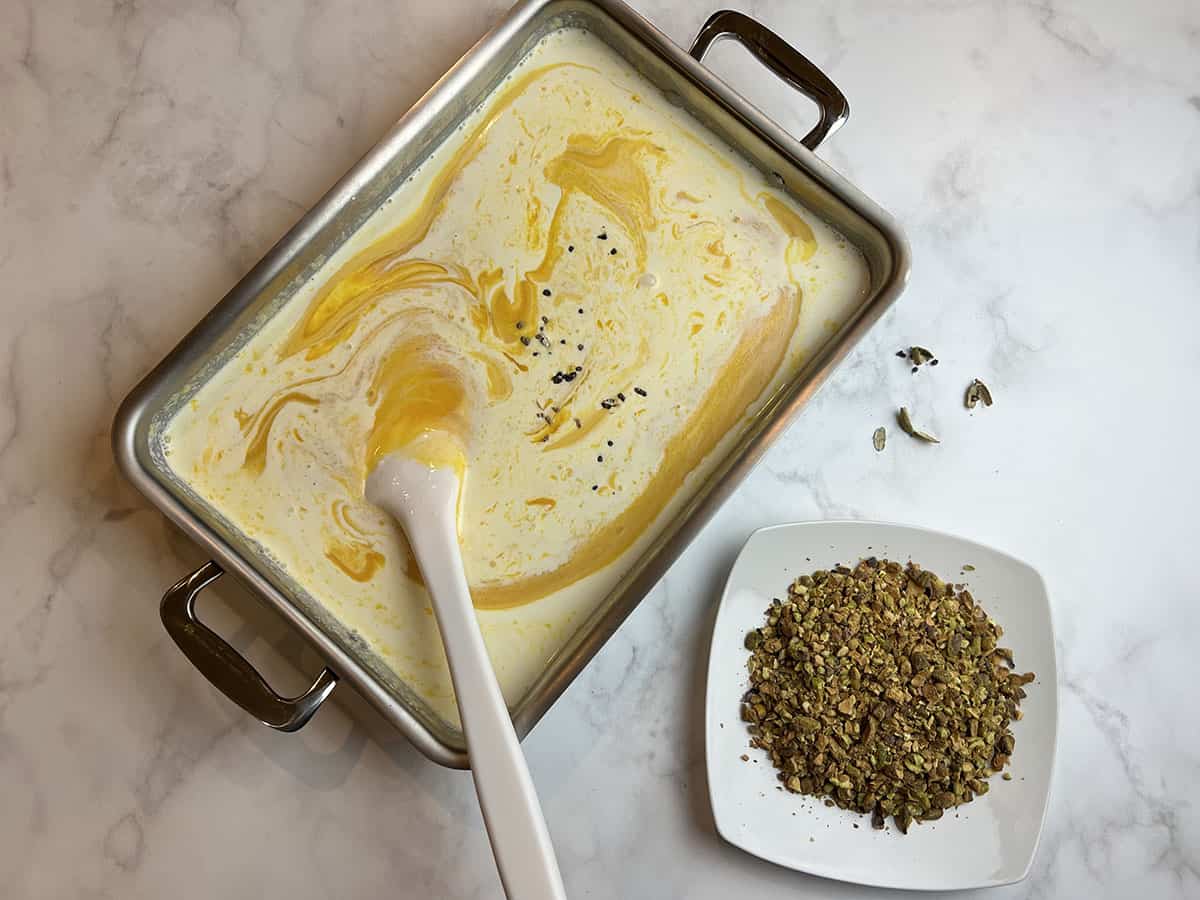 Step 1 - Mix the ready-made mango pulp, heavy whipping cream, condensed milk, and crushed cardamom seeds in a large bowl or rectangular metal tray.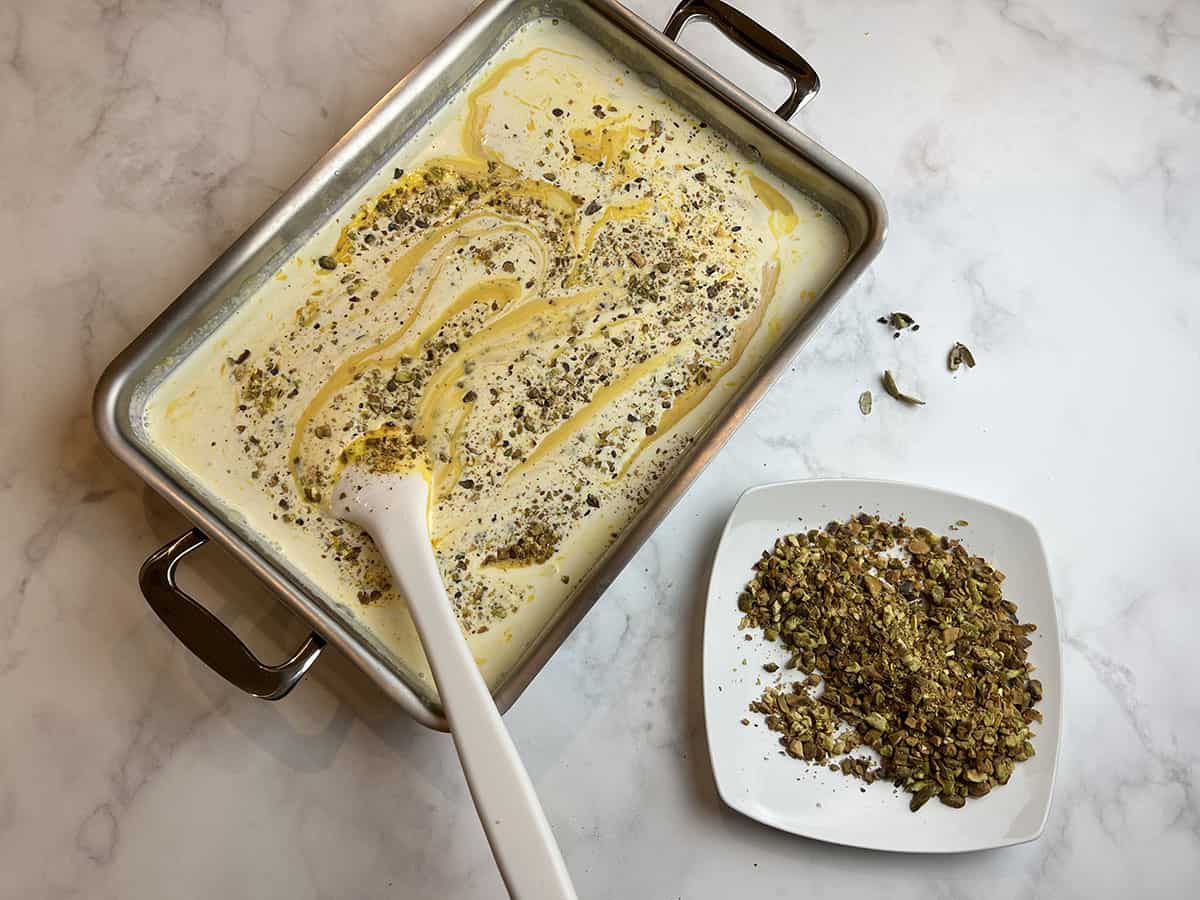 Step 2 - Mix the chopped pistachios in a little at a time.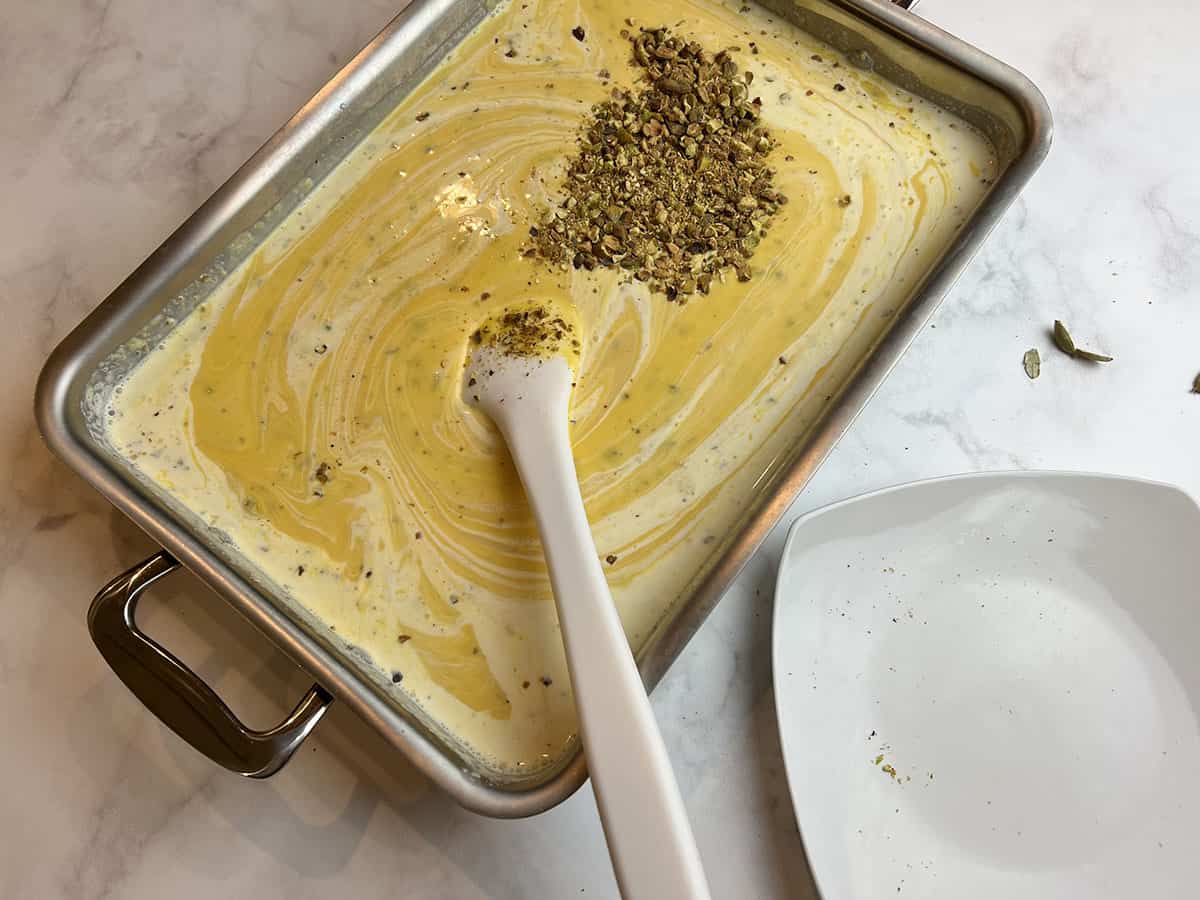 Step 3 - Stir the mango kulfi mixture until all the nuts and mango puree are well incorporated.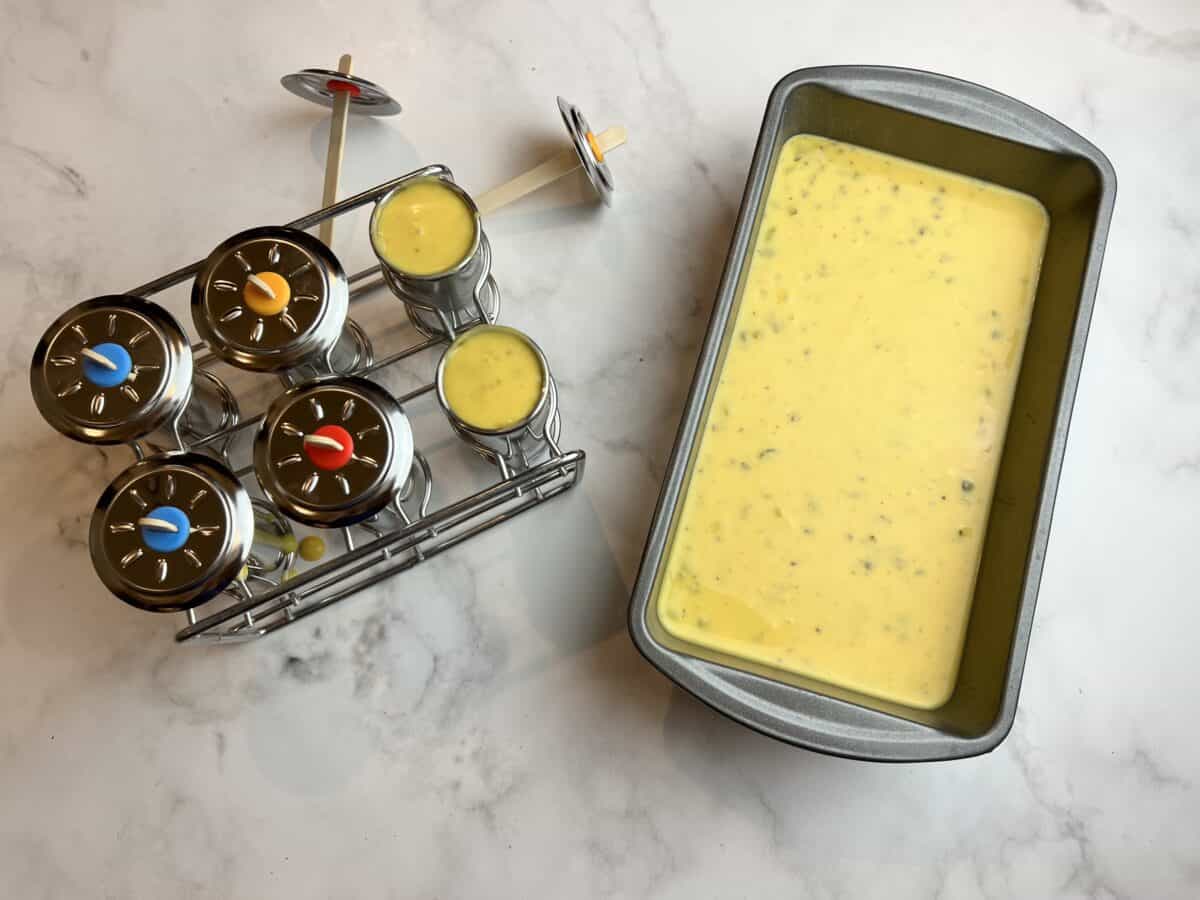 Step 4 - I use store-bought metal Kulfi or popsicle molds for a traditional mango Kulfi look. However, if I'm serving mango ice cream to a large group, I freeze it in a freezer-safe container and cut it into small blocks.
Expert Tips
Use canned mango puree - Canned Kesar or Alphonso mangoes make the best puree. The result is a smooth, creamy mango kulfi that is aromatic and needs no added sweetener. Unless you can source fresh and ripe mangoes from Pakistani or India, such as Chaunsa, Kesar, or Alphonso, I would stick to the canned puree.
Stir after a few hours - The nuts will settle to the bottom of the pan or molds when the prepared mango kulfi is first poured in. As the kulfi starts to solidify, stir it every 2 hours to help disburse the nuts evenly. This stirring helps freeze the kulfi faster and reduces any ice crystals, resulting in a creamy mango kulfi.
Don't grind the nuts - Manually break the nuts into small pieces for best results. Using a grinder creates a powder, so your mango Kulfi won't have the right consistency.
Don't use milk - Although many recipes say to use milk, this can cause the ice cream to crystalize. Use heavy whipping cream for the best results.
Batch and freeze - Since Kulfi lasts for six weeks in the freezer, it's best to batch it so you can have a delicious dessert at your fingertips should you need it.
Use salted pistachios - If you've tried my quick kulfi recipe and sooji ka halwa, you know that I always use salted pistachios in my desserts. Using a tiny amount of salt in desserts gives them a depth of flavor and helps enhance the taste of the other ingredients.
Recipe FAQS
What is the best way to remove the kulfi from the molds?
Grab the molds from the freezer and run some hot water on them. This should loosen the kulfi enough for you to pull out of the mold without any resistance. Use a butter knife to help pry the kulfi loose from the mold if needed.
If the Kulfi was frozen as a slab, soak a towel in hot water and wrap it around the bottom and sides of the container it's in to loosen it. Then, dip a butter knife in hot water and cut it into blocks.
What do I serve the kulfi with?
Garnish the ice cream with pistachios and rose petals before serving, or add a drizzle of rose syrup, popularly known as Rooh Afza.
How long can I store the kulfi in my freezer?
The mango Kulfi can stay in your freezer for up to six weeks maximum. Since it has no preservatives, I don't suggest eating it after that period.
How is Kulfi Different from Ice Cream?
Unlike ice cream, which has an airy, whipped texture, traditional Kulfi is made by slow cooking its ingredients. Milk, sugar, and sometimes cream are cooked for a long time until the mixture is reduced to a thickened consistency. Added flavorings such as saffron, rose water, nuts, and cardamom are added to complete the dessert. As the mixture thickens, it caramelizes, so it must be constantly stirred to prevent it from sticking to the bottom of the pan. This is why Kulfi has a dense texture.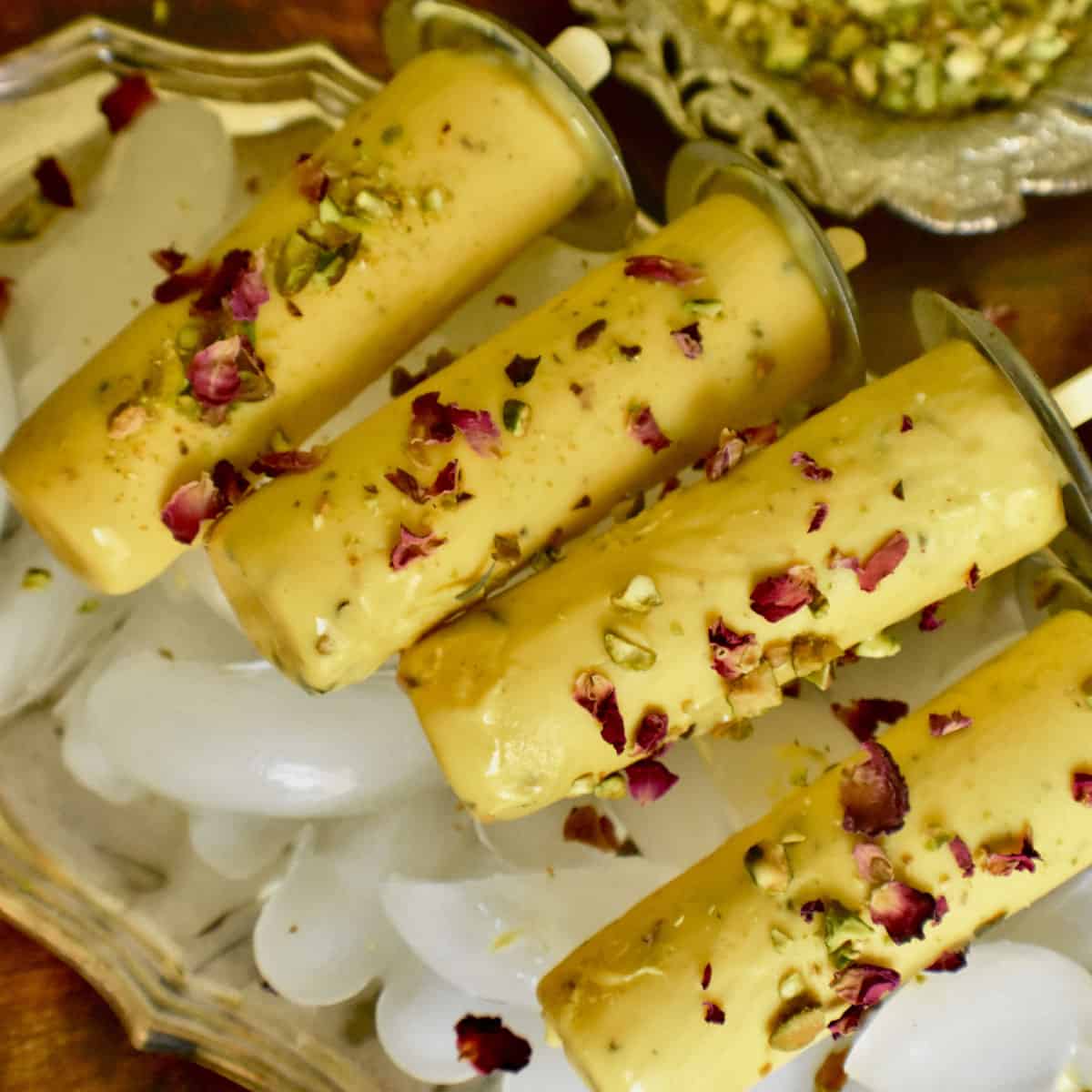 Other recipes you may like
I hope you decide to try this recipe! Please don't forget to leave a rating and comment below! If you take a picture, then tag me on Instagram! Thank You!
Easy Mango Kulfi (Pakistani Ice Cream)
This Easy Mango Kulfi (Pakistani Ice Cream) is a delicious summer treat that comes together in 5 minutes with five simple ingredients.
Ingredients
1

pint

heavy whipping cream

1

can

sweetened condensed milk

(14 oz.) (see notes)

1

can

mango pulp

(30 oz.)

5

cardamom pods

½

cup

chopped pistachios
Instructions
Crush the cardamom in a mortar and pestle, remove the husk and throw it away, retaining the crushed seeds to add to your mixture later. (see notes)

Break the pistachios into small pieces and set them aside. (see notes)

Mix the heavy whipping cream, condensed milk and mango pulp, stirring till you have a uniform mixture with no streaks in it.

Fold in the pistachios and cardamom till well mixed.

Pour the Kulfi into your molds or rectangular metal tin. Cover tightly with foil to seal and place in the freezer overnight.
Notes
Condensed Milk - This gives the kulfi its density and adds sweetness. If, for some reason, you add unsweetened condensed milk, you will need to adjust the sugar.
Cardamom - If you don't have a mortar and pestle, remove the seeds from the pod and crush them in your grinder. I highly recommend using cardamom seeds as crushing them releases their essential oils, making for a more aromatic Kulfi.
Pistachios -
I use a small nut grinder for this, but if you don't have one, put the nuts in a Ziploc bag and use a rolling pin to roughly crush the pieces. You don't want them to be too large. I like to use salted Pistachios as the salt helps enhance all the other flavors in the mixture.
Nutrition
Serving:
1
person
Calories:
408
kcal
Carbohydrates:
45
g
Protein:
6
g
Fat:
24
g
Saturated Fat:
13
g
Polyunsaturated Fat:
2
g
Monounsaturated Fat:
7
g
Cholesterol:
67
mg
Sodium:
83
mg
Potassium:
266
mg
Fiber:
1
g
Sugar:
41
g
Vitamin A:
2867
IU
Vitamin C:
14
mg
Calcium:
162
mg
Iron:
11
mg