This Quick Kulfi Recipe (Pakistani Ice Cream) takes only six ingredients and 10 minutes to assemble. The decadent dessert, traditionally made by cooking and reducing a mixture of milk, milk solids, and sugar, is infused with cardamom. Additions like saffron, rose water, nuts, and seasonal fruit are often added to create a variety of flavors.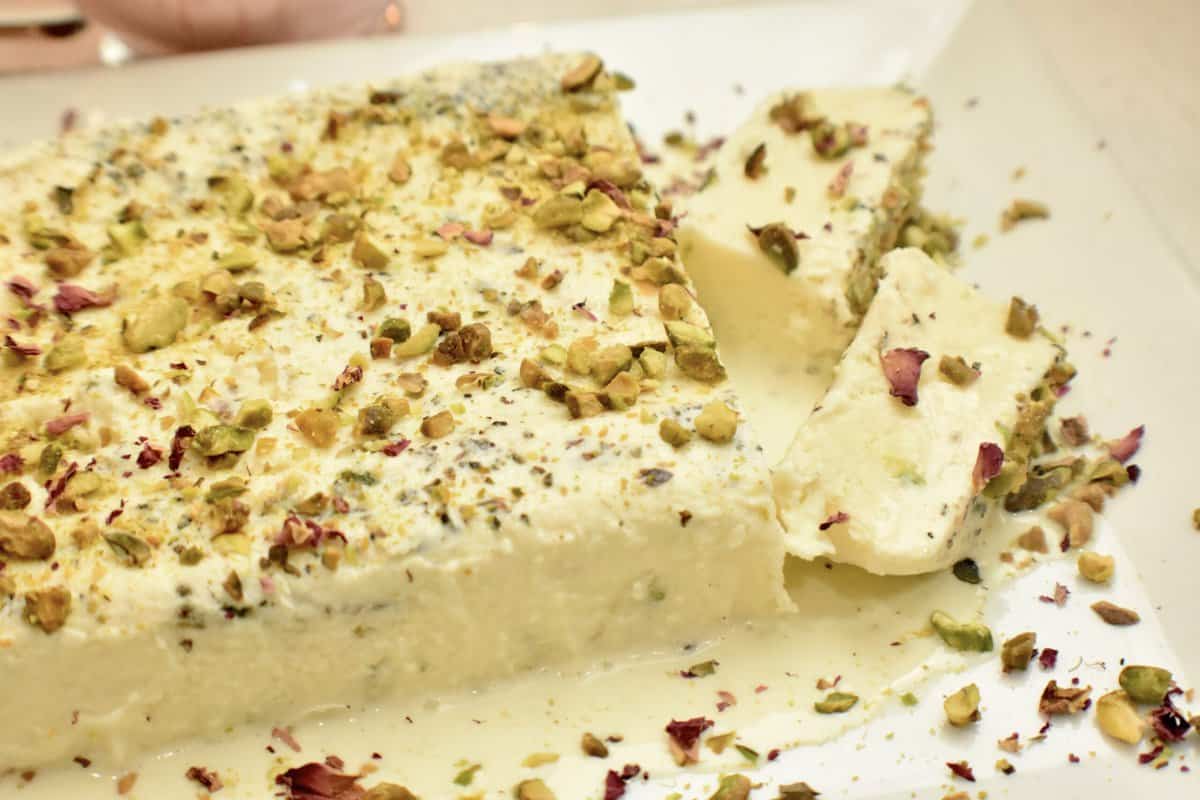 This Kulfi recipe is an ancient Mughal-era recipe from the 16th Century court of the emperor Akbar. Mughal-era recipes, both savory and sweet, are made with rich ingredients, lots of aromatics, added nuts and dried fruit. Desserts like gulab jamun, milk barfi, and sheer khurma clearly illustrate the use of these ingredients.
Jump to:
Why you'll love this recipe
Just 10 minutes of Prep time - Just like my no-churn vanilla bean ice cream, this Quick Kulfi Recipe has a prep time of just 10 minutes.
No cooking is involved - No cooking means less cleanup. That's a win in my books.
Egg-free ice cream - This Quick Pakistani ice cream is perfect for people who have an allergy to eggs.
Make-ahead dessert- This is an ideal dessert for a summer BBQ or a special occasion like Eid.
The ingredients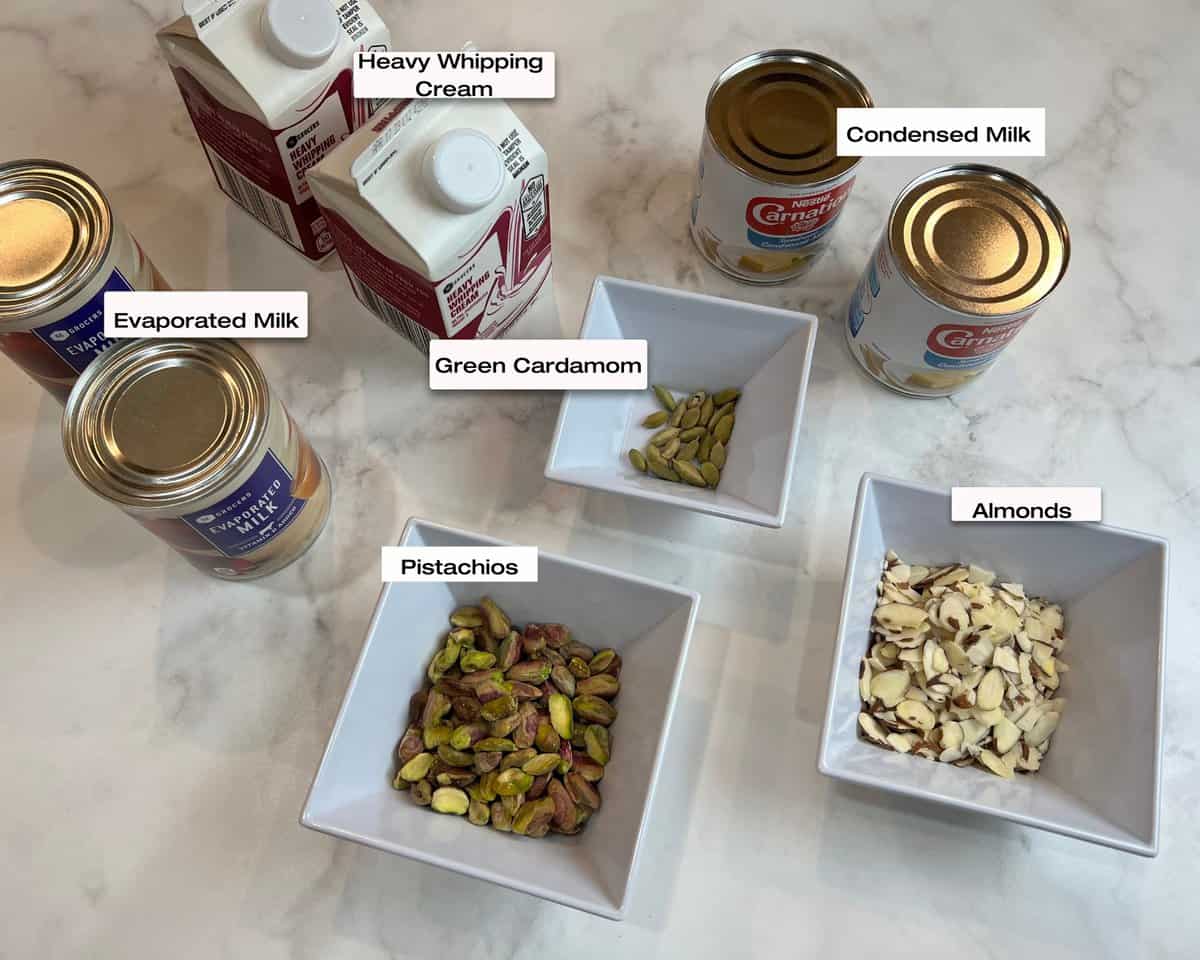 Evaporated milk - This is simply whole milk that has been cooked and reduced till it reaches a concentrated and creamy consistency. Using this saves a lot of time and trouble when making this Kulfi recipe as I don't have to boil and reduce the milk myself.
Heavy whipping cream - Heavy whipping cream is the key ingredient in this recipe and in any no-churn ice cream.
Condensed milk - This is the most concentrated form of cooked milk and has had all the water content removed from it. It's the perfect substitute for milk solids (khoya) that are traditionally added to the cooked version of Kulfi. I use the sweetened version to avoid having to buy an extra ingredient (sugar) and simplify the recipe.
Cardamom - I always like to use fresh cardamom and crush the seeds myself for all my Pakistani recipes. This is far more aromatic than store-bought cardamom powder. But feel free to use what's more convenient for you.
Pistachios - Roasted and chopped, salted pistachios, create the perfect balance in the sweet and rich Kulfi.
Almonds - I love lots of nuts in my Quick Kulfi recipe so I add roasted, sliced almonds in addition to the pistachios.
For the complete list of ingredients with measurements plus recipe instructions, please see the recipe card at the bottom of this post.
Substitutions & variations
Add a slice of bread to the mix - Remove the crust from a slice of bread and make bread crumbs out of it. Add these crumbs to the kulfi mixture to replicate the texture of authentic kulfi. Authentic Pakistani Kulfi is cooked and reduced with added milk solids and has a grainy texture.
Try a different flavor of kulfi - Pureed fruit like mango and flavorings like saffron and rose are some traditional and popular Pakistani flavors of kulfi. My Quick & Easy Mango Kulfi is one of the most popular varieties. You can add any seasonal fruit to your mixture and create your own unique Kulfi flavor.
Freeze it in popsicle molds - I like to use these stainless steel kulfi molds to make kulfi on a stick, just like the one that's sold in Pakistan as a popular street food.
Try it with a drizzle of rose syrup - Cut a block of the kulfi and then drizzle some traditional rose syrup on it for added flavor and a beautiful presentation.
Step-by-step instructions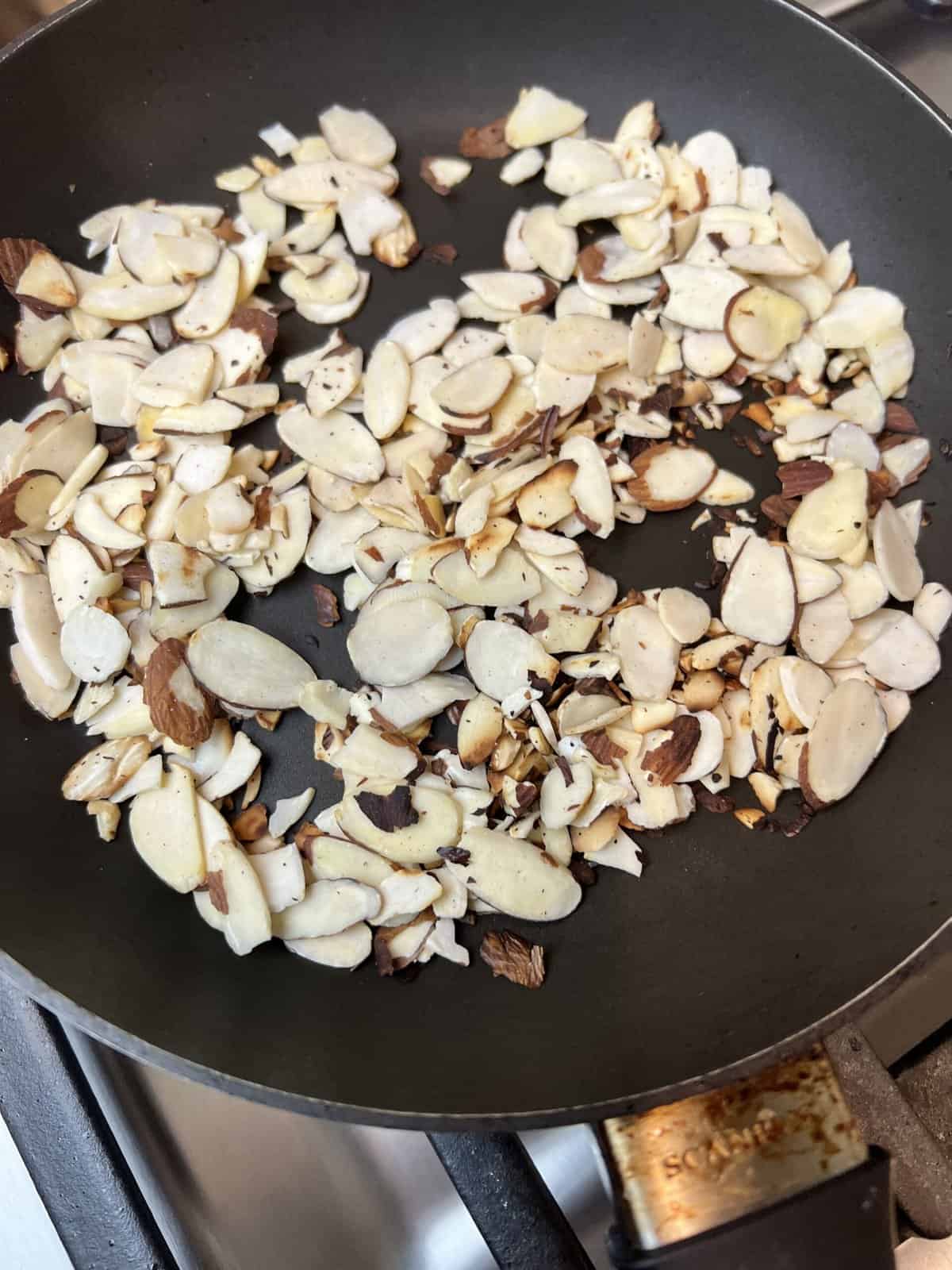 Step 1 - Dry roast some sliced almonds. These will roast very quickly since they're thinly sliced so be attentive at this stage.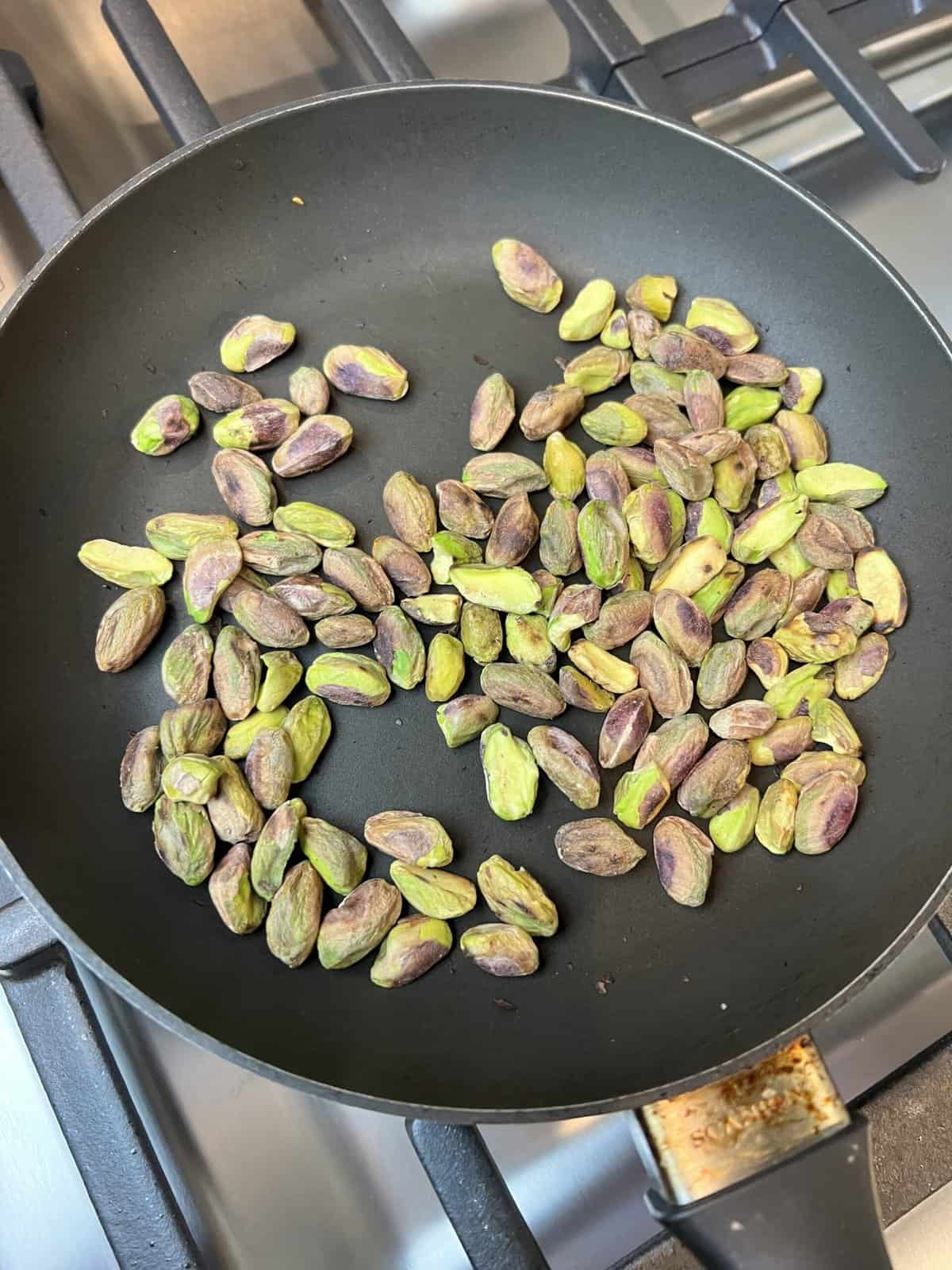 Step 2 - Dry roast the salted pistachios next. As soon as they're a light brown and smell toasted, remove them from the pan.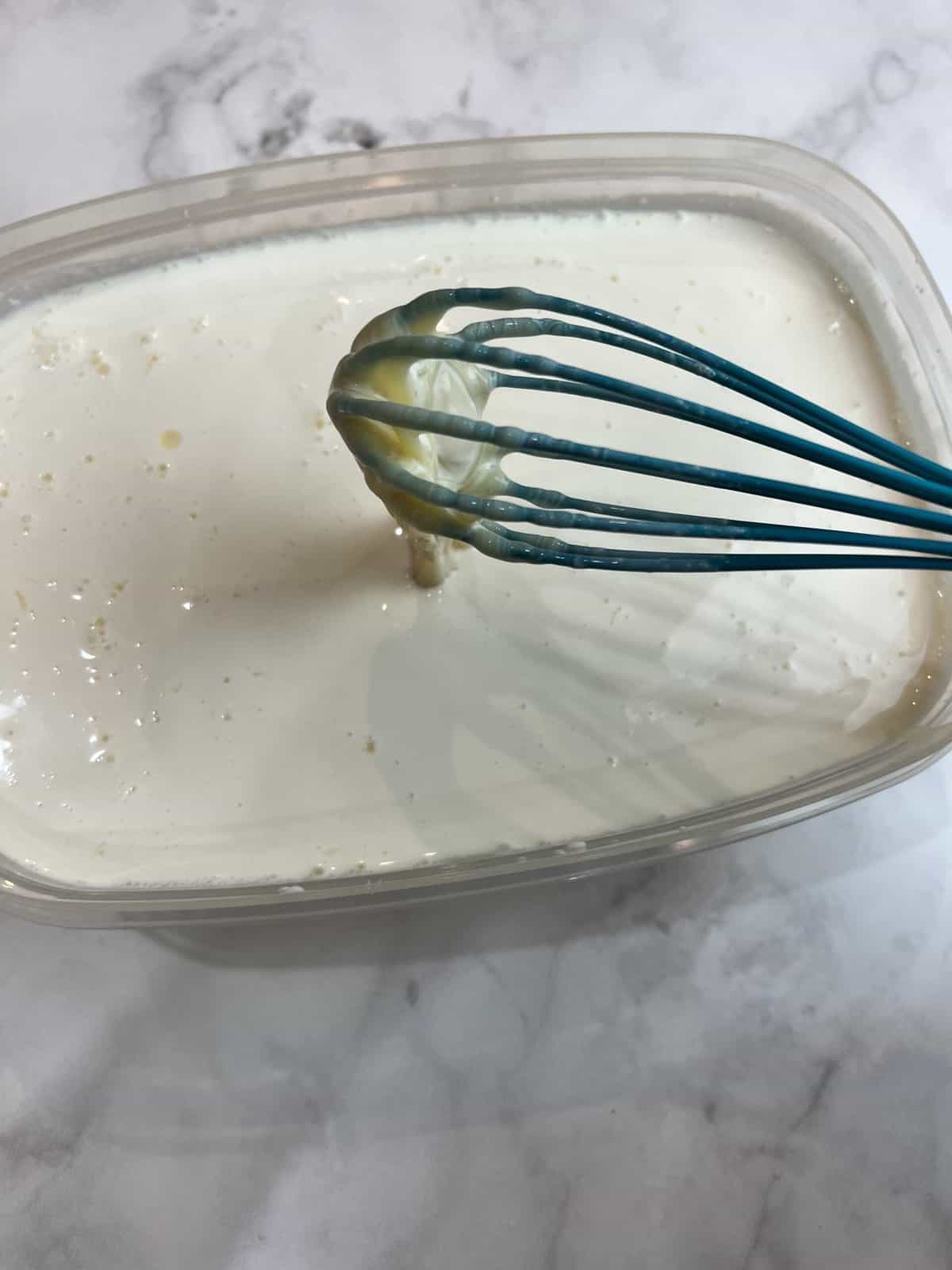 Step 3 - Pour the evaporated milk, heavy whipping cream, and condensed milk into a container and mix well using a whisk.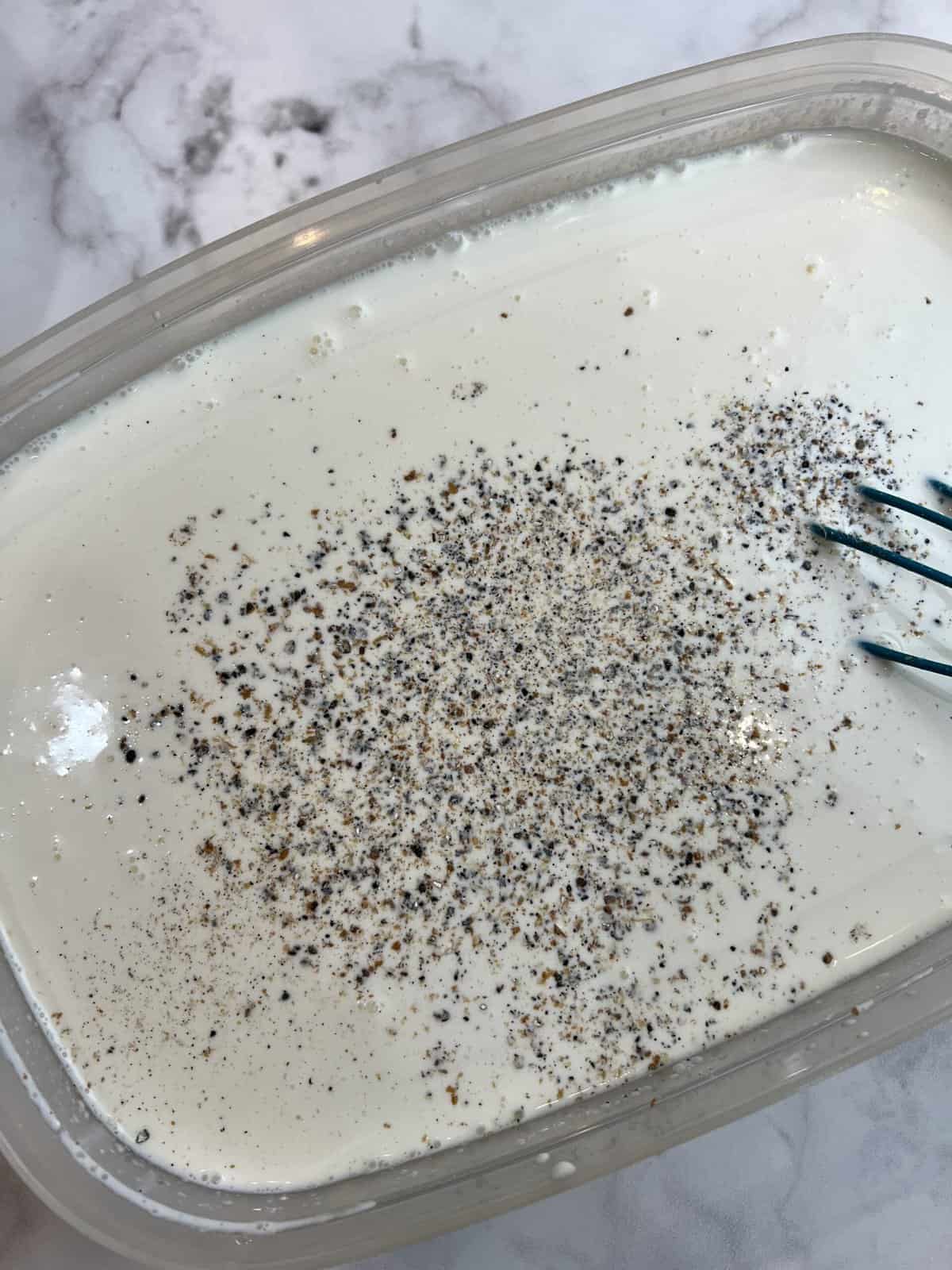 Step 4 - Remove the husk from your cardamom pods and coarsely crush the seeds to release flavor. Add them to the Kulfi mixture.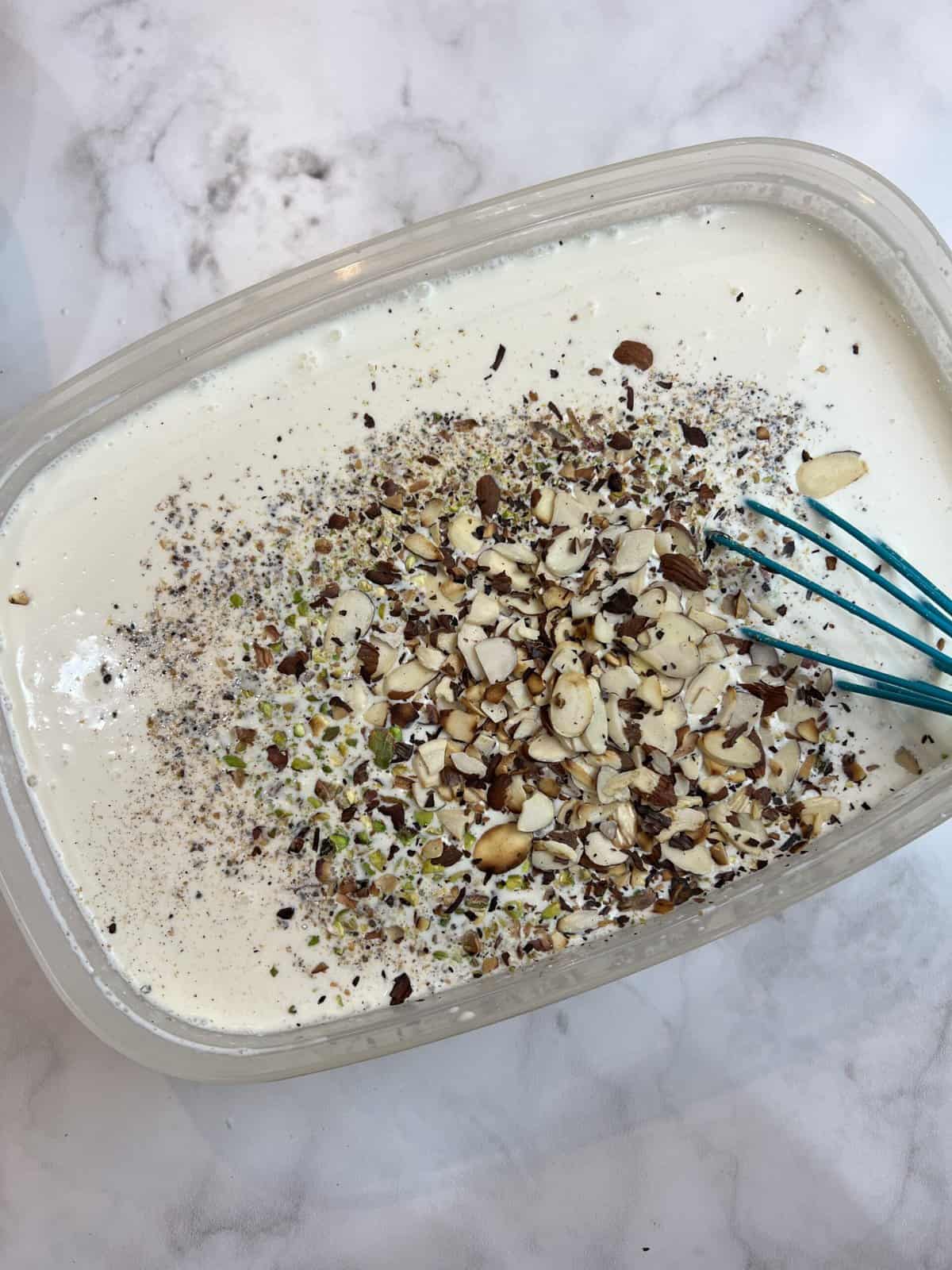 Step 5 - Add in all the nuts, and stir to mix.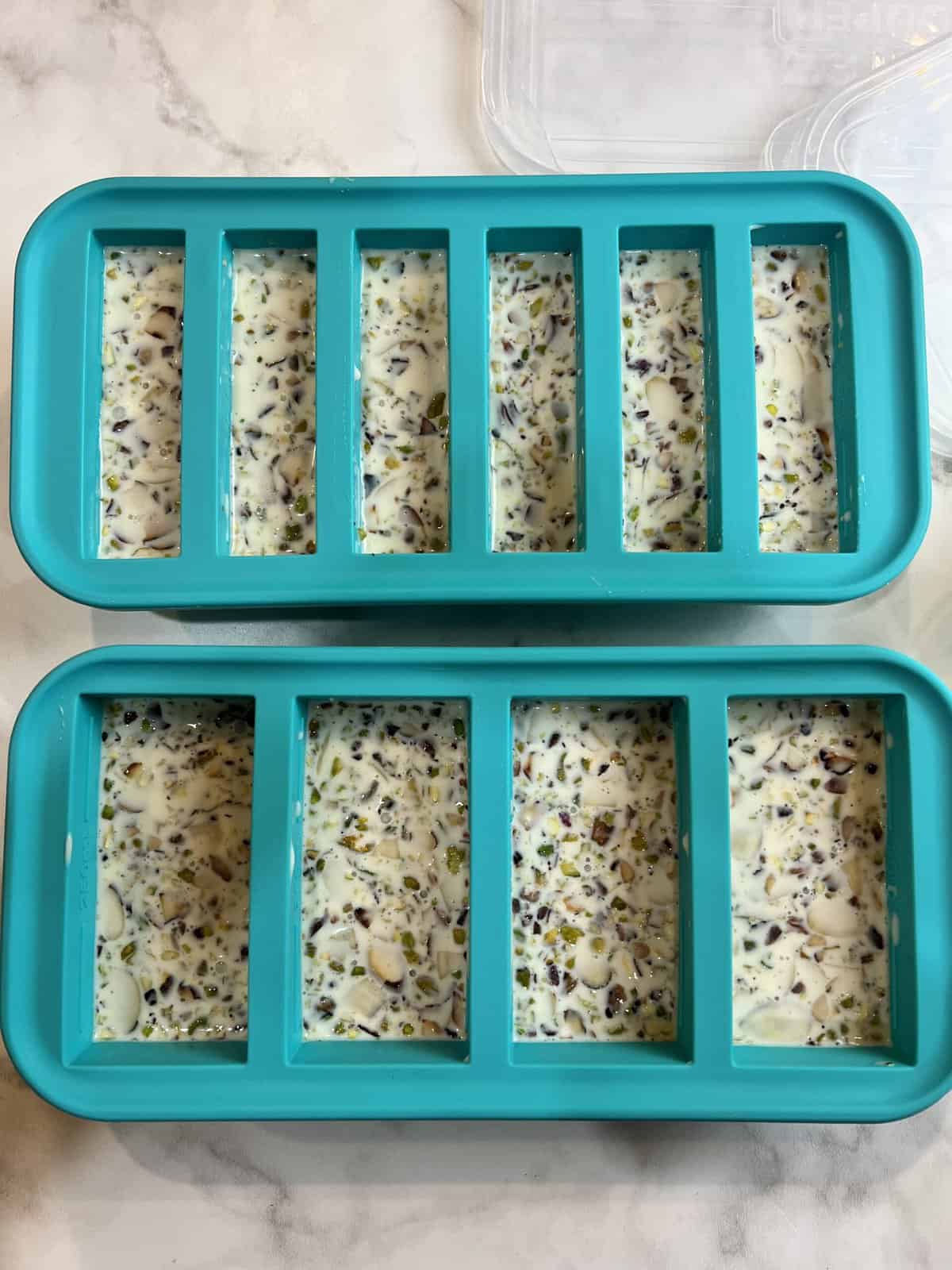 Step 6 - Pour the kulfi into your chilled containers. I love using these souper cubes to freeze my kulfi. I use 2 different sizes so I have 2 different sized portions.
Expert tips
Use salted pistachios - I always use salted nuts in my desserts like this Sooji ka Halwa to help enhance the other flavors. If you use plain pistachios, then I suggest you add a pinch of salt to your Kulfi.
Chill your container in the freezer - I always Chill the container I plan to use to freeze the kulfi in. A minimum of 6 hours is required, but the longer it chills, the better your Kulfi will freeze. I usually put mine in a day ahead and just leave it there overnight.
Place plastic wrap on the surface of the kulfi - Once your kulfi is in the container you plan to freeze it in, take some plastic wrap and place it directly on the surface of the mixture. This prevents air from getting in and the result is fewer crystals and a creamier texture.
Cover your container with an air-tight lid - Traditionally the kulfi is frozen in a metal container. This is a better thermal conductor than plastic and helps the ice cream freeze more quickly. In the absence of a metal container, use a container with an airtight lid. It will take the ice cream longer to freeze, but it will prevent air from getting in and result in a creamier Kulfi.
Mix the kulfi after 6 hours - This one last step ensures that the Kulfi isn't icy. After 6 hours, remove the kulfi from the freezer. You will notice that the nuts have settled to the bottom and that the ice cream is only partially frozen. Mixing it will create a thick and smooth mixture that is at a uniform temperature while also helping to distribute the nuts more evenly.
Recipe FAQS
Why does kulfi melt slower than ice cream?
The texture of kulfi is denser than traditional ice cream, causing it to melt slower.
How long will the Kulfi last in my freezer?
I usually store the kulfi for 6 weeks maximum. Since it has no preservatives and contains dairy products, it is likely to go bad after that period.
What are the most popular flavors of Kulfi?
Kesar(saffron), mango, and rose are amongst the most popular flavors in Kulfi. This Kulfi is also used as a base for a popular chilled and layered dessert called Falooda.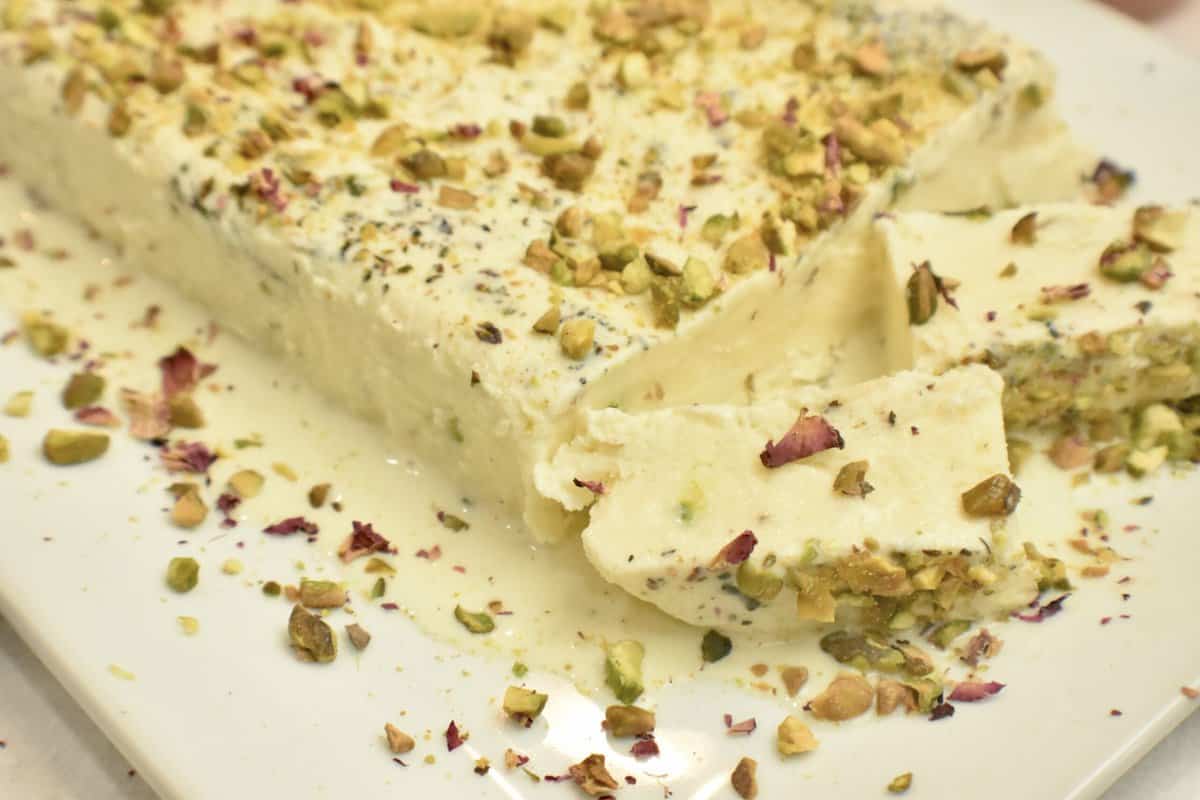 Other Pakistani desserts you may like
Hope you decide to try this recipe! Please don't forget to leave a rating and comment below! If you take a picture then tag me on Instagram! Thank You!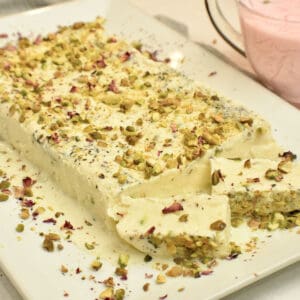 Quick Kulfi Recipe (Pakistani Ice Cream)
This quick kulfi recipe (Pakistani Ice Cream) is a popular South Asian frozen dessert made with milk, cream, sugar, cardamom and nuts.
Ingredients
10

whole cardamom

(see notes)

¼

cup

salted pistachios

(see notes)

¼

cup

sliced almonds

1

can

evaporated milk

(12 oz.)

1

can

sweetened condensed milk

(14 oz.)

1

pint

heavy whipping cream

(16 oz.)

2

tbsp.

edible dried rose petals
Instructions
Crush the cardamom using a mortar and pestle. Remove and discard the husk and coarsely grind the seeds.

Dry roast the sliced almonds in a preheated nonstick pan to a light brown.

Dry roast the pistachios next and then coarsely chop them (see notes)

Pour the heavy whipping cream, condensed milk, and evaporated milk into a large Tupperware container and whisk until you have a uniform consistency.

Add in the crushed cardamom, toasted almonds and chopped and toasted pistachios.

Place a piece of plastic wrap right on the surface of the mixture, then place the lid on the container, and put the Kulfi in the freezer. (see notes)

After 6 hours, remove the container from the fridge and uncover it. The ice cream should be frozen around the edges and still liquid in the center. Remix it so that the temperature equalizes. (see notes)

Replace the plastic wrap and lid just like before and return it to the freezer.

The kulfi will be completely ready to eat the next morning (12 hours).

Plate the kulfi, garnish it with some dried edible rose petals, and enjoy. (see notes)
Notes
Cardamom - I always prefer to use whole cardamom for all my recipes and highly recommend it for this Kulfi. However, if you have trouble sourcing it, substitute the ten pods with ½ a teaspoon of cardamom powder. Pistachios - I always use whole salted pistachios. The salt in the pistachios adds the equivalent of a pinch of salt, which you'll find in many desserts. This salt helps balance this decadent dessert. I have a manual nut grinder that I use to chop my pistachios. If you don't have one, add the nuts to a Ziploc bag, seal it tightly, and use a rolling pin to break your nuts into coarse pieces. Freezing the kulfi - This is the most crucial step in making the kulfi if you want to prevent it from crystallizing. The plastic wrap on the surface of the ice cream mixture prevents air from getting to it. This air is what causes ice crystals to form. After 6 hours, stirring helps the mixture return to a uniform temperature and creamy consistency. The stirring also helps evenly distribute all the nuts and cardamom as they sink to the bottom of your container.
Nutrition
Serving:
1
person
Calories:
466
kcal
Carbohydrates:
36
g
Protein:
10
g
Fat:
32
g
Saturated Fat:
19
g
Polyunsaturated Fat:
2
g
Monounsaturated Fat:
9
g
Cholesterol:
96
mg
Sodium:
126
mg
Potassium:
462
mg
Fiber:
1
g
Sugar:
34
g
Vitamin A:
1117
IU
Vitamin C:
3
mg
Calcium:
317
mg
Iron:
1
mg