This traditional Sheer Khurma (Vermicelli Kheer) Recipe is an absolute must for Muslims across the world on Eid. Prepared with a combination of milk, cream, sugar, nuts, and very fine wheat vermicelli this sweet defines the celebration that marks the end of Ramadan.
Eid day always starts and ends with desserts. In addition to the Sheer Khurma, most households also have gulab jamun and milk barfi to snack on all day.
Jump to:
Why you'll love this recipe
Delicious - One spoonful of this Kheer recipe and you'll be smitten! Everyone I've ever cooked for is!
Easy-to-source ingredients - Everything on the ingredient list is a supermarket staple and the vermicelli is super easy to source through Amazon.
Quick & easy recipe - This Vermicelli Kheer comes together in just 45 minutes from start to finish.
Make-ahead recipe - Since sheer khurma is traditionally served chilled, it's a perfect make-ahead dessert, freeing up time for other things on the day of the celebration.
The ingredients
Most Pakistani desserts, such as Quick Kulfi, mango kulfi, and carrot halwa include some version of milk, cream sugar, cardamom, and nuts. This Sheer Khurma is no different.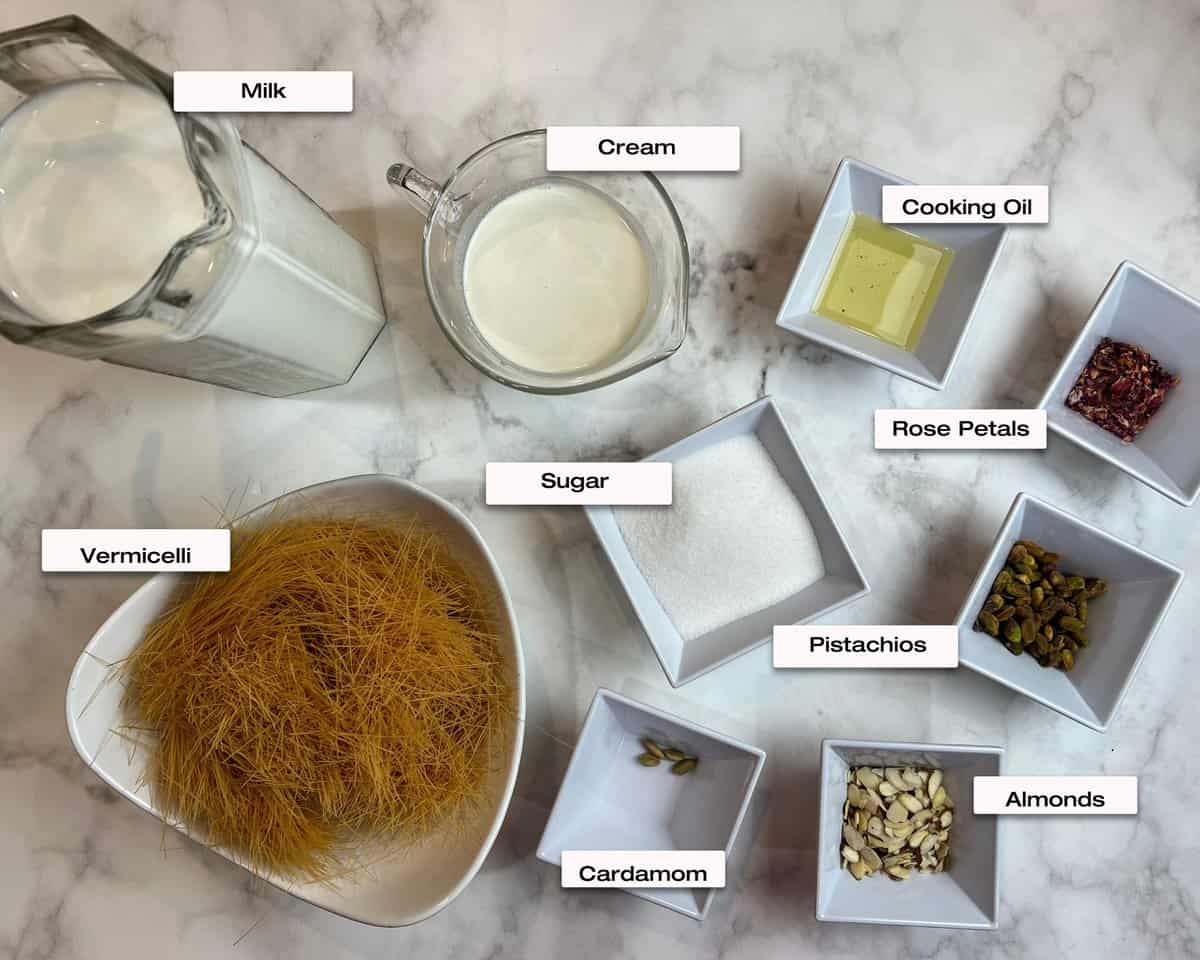 Milk - Full-fat cow's milk works best for Sheer Khurma.
Cream - I always use heavy whipping cream to add some richness to the Vermicelli Kheer.
Vermicelli - The vermicelli for this kheer is very fine and is made of wheat. It is available at all South Asian specialty stores as well as on Amazon.
Sugar - Use plain white granulated sugar for this recipe.
Oil - Most Pakistani desserts are made with Ghee, but regular cooking oil, such as canola or avocado can also be used.
Cardamom - Always take the whole cardamom, peel it, and crush the seeds to release the aroma.
Almonds - I use sliced almonds for my dessert, roasting them first for added depth of flavor.
Pistachios - Plain salted pistachios are my favorite for sheer khurma. The salt balances out the rich, sweet taste and the result is absolutely perfect!
Rose Petals - A little sprinkle of dried rose petals are a traditional garnish for South Asian desserts on special occasions.
For the complete list of ingredients with measurements plus recipe instructions, please see the recipe card at the bottom of this post.
Substitutes & variations
Add some dates - Kheer cooked with dates as per the ancient method is delicious. Just make sure to adjust the amount of sugar if you go this route.
Garnish with some silver leaf - Pakistani desserts are often garnished with silver leaf on special occasions. This can be added instead of, or in addition to, the rose petals.
Step-by-step instructions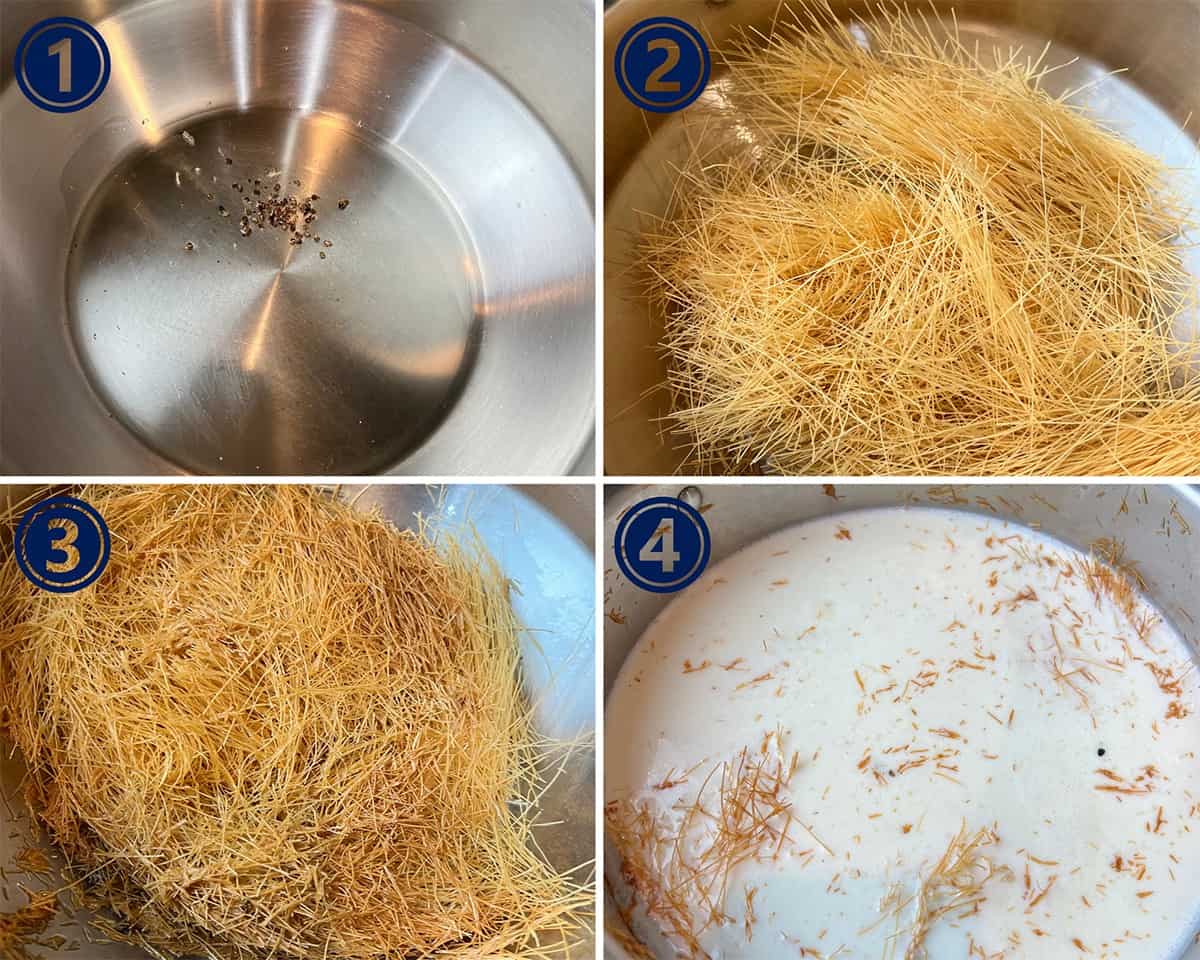 Step 1: Heat some oil and saute the crushed cardamom seeds in it till you can smell their deliciously nutty aroma.
Step 2: Break the vermicelli into pieces by hand and add them to the pot and roast before adding in any liquid. Stir constantly to get an even roast.
Step 3: Cook till the vermicelli is a nice caramel color.
Step 4: Add in the milk, a little at a time, to avoid it splattering and possibly burning you.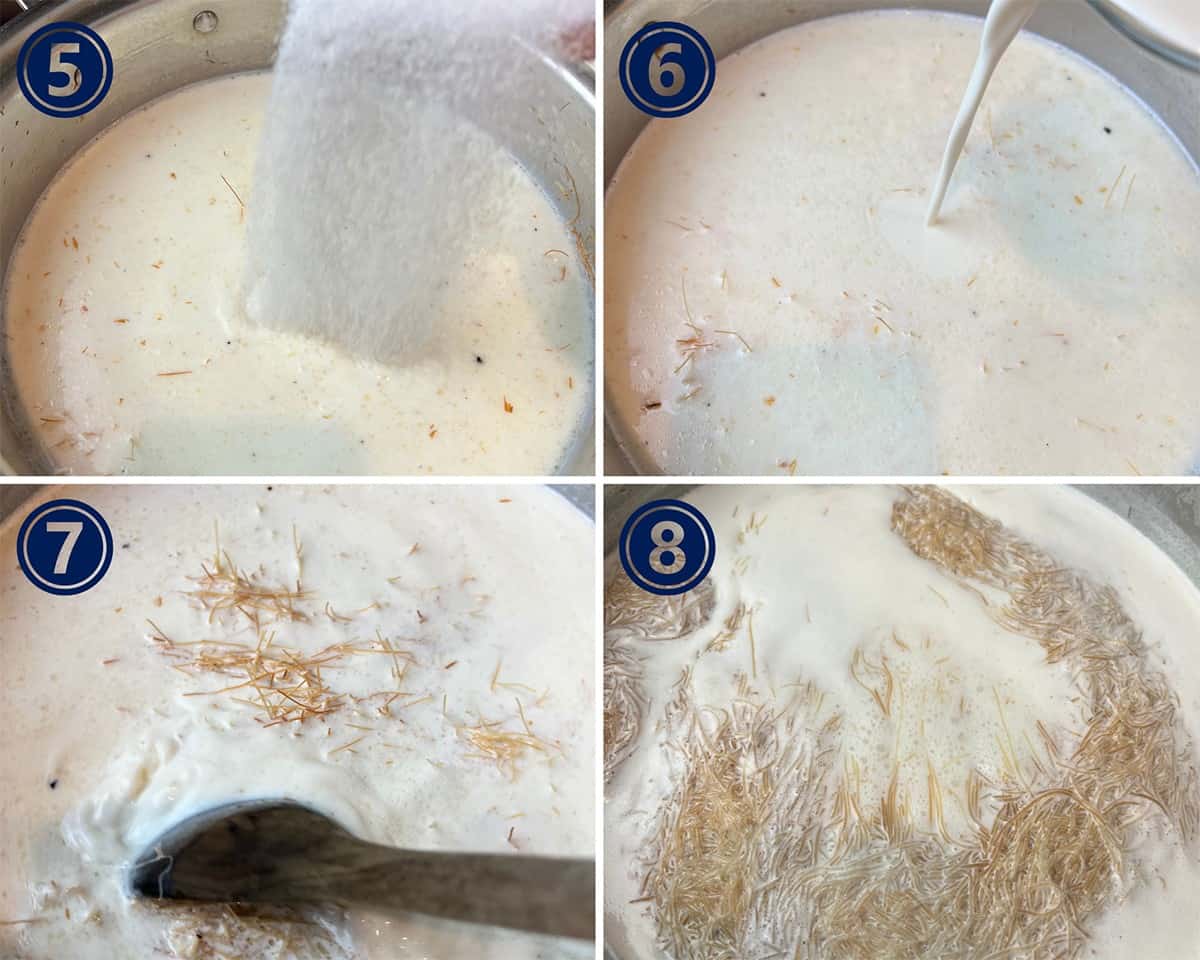 Step 5: Next, add the sugar and cook the mixture for a few minutes to allow the sugar to dissolve.
Step 6: Then add in the heavy whipping cream and stir to mix everything.
Step 7: Let the mixture come to a boil, stirring intermittently.
Step 8: Once the Sheer Khurma is boiling, reduce the heat to a gentle simmer.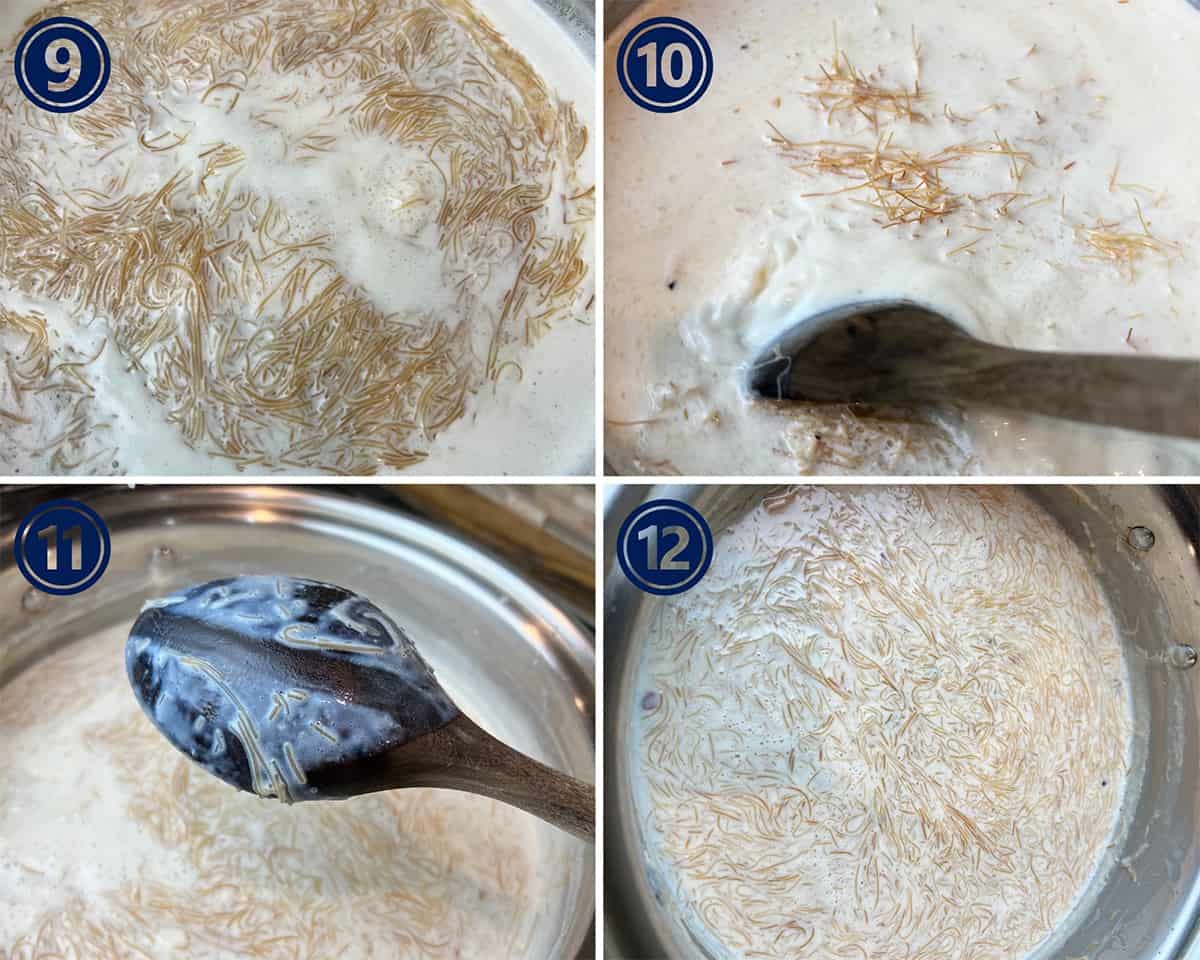 Step 9: Cook the mixture for about 30 minutes.
Step 10: Continue to check every 10 minutes or so to avoid the kheer from getting too thick.
Step 11: As soon as the seviyan coat the spoon shut the stove off.
Step 12: let the mixture cool slightly before the next step.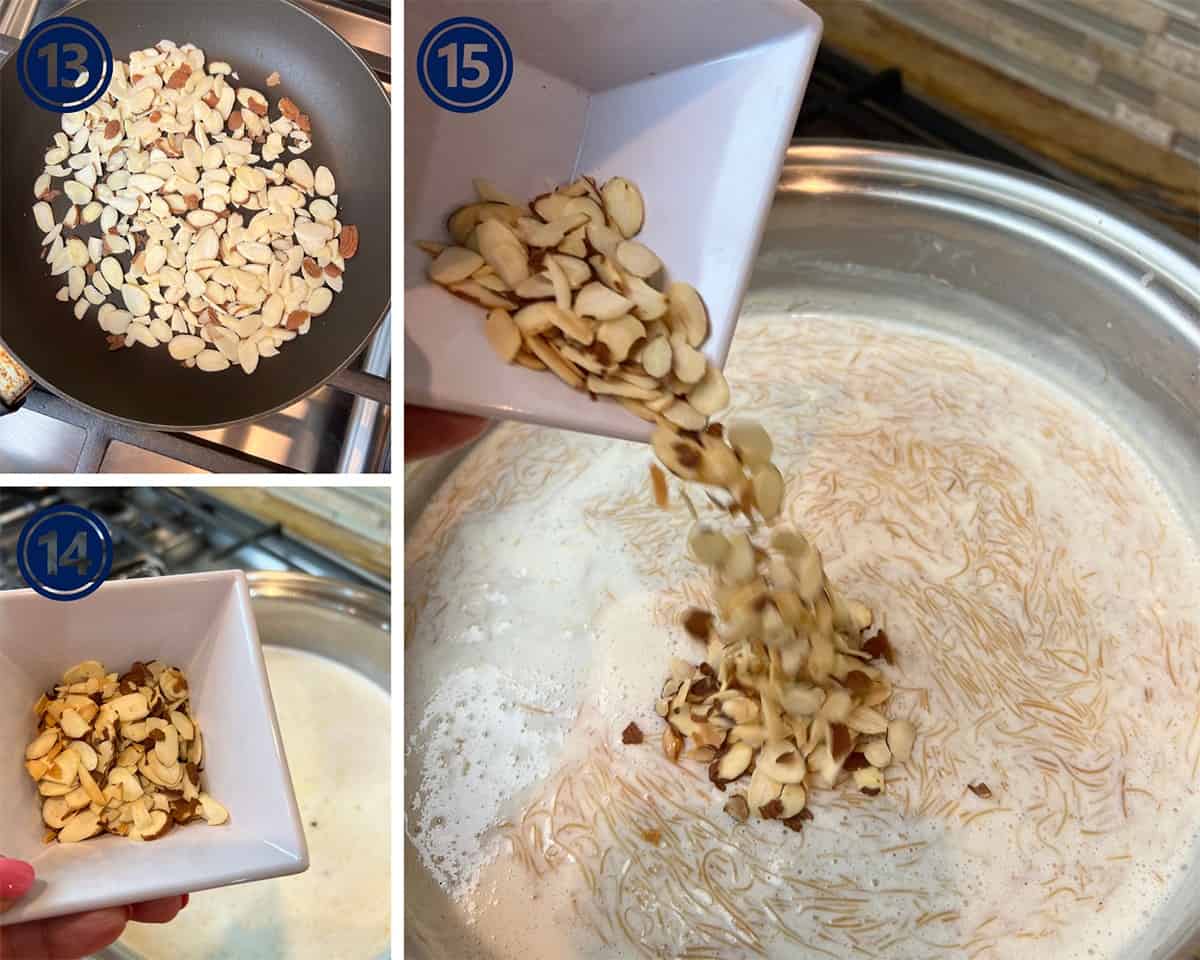 Step 13: Take a small nonstick frying pan and preheat it to toast the almonds.
Step 14: As soon as the almonds turn a light brown, remove them from the stove.
Step 15: Add them to the slightly cooled kheer, stir and pour the mixture into a serving bowl to cool down and then garnish with the pistachios and rose petals.
Expert Tips
Don't add nuts to hot kheer - Wait till the Sheer Khurma is half-cooled before adding your nuts for maximum flavor. Adding them too early can make them soggy.
Cool Kheer before refrigerating - Always wait till the Vermicelli Kheer is completely at room temperature before refrigerating. To avoid a film forming on the surface, cover your bowl with plastic wrap and let the plastic rest gently on the surface of your dessert.
Recipe FAQS
What is the origin of Sheer Khurma?
In ancient Saudi Arabia, leftover Ramadan dates were soaked in milk overnight to prepare a dessert for the morning of Eid. This original version of Sheer Khurma changed and evolved as Islam spread to other regions with the Persians likely adding the nuts to this recipe as they are indigenous to that area.
Can I freeze my Vermicelli Kheer?
Yes, you can freeze Kheer, but make sure to use an airtight container. Also, when you defrost it, you may need to add some milk to fix the consistency a little bit.
How do I store my Sheer Khurma?
Sheer Khurma can be kept in the fridge in an airtight container for up to 3-4 days.
My Kheer is too thick, how can I fix it?
It's very easy to fix Kheer that's too thick. For every 2 cups of Kheer take 1 cup of milk, the seeds of 1 cardamom pod, and ¼ cup of sugar. Boil everything together in a saucepan and when it reaches boiling point, reduce to a simmer and mix the thickened kheer with it. Cook for about 15-20 minutes on low heat and then turn the heat off. Pour the mixture into a dish, loosely cover it, and let it come to room temperature.
Other desserts you may like
This Eid try my easy chicken korma and raisin and pine nut pulao along with some easy raita and kachumber salad for a perfect lunch or dinner!
Hope you decide to try this recipe! Please don't forget to leave a rating and comment below! If you take a picture then tag me on Instagram! Thank You!
Sheer Khurma (Vermicelli Kheer) Recipe
This Sheer Khurma (Vermicelli Kheer) Recipe, is made with cardamom-infused milk, cream, sugar, and vermicelli and garnished with nuts.
Ingredients
¼

cup

cooking oil

6

pods

cardamom

⅔

cup

vermicelli

(see notes)

½

gallon

milk

½

pint

heavy whipping cream

1 ½

cup

sugar

¼

cup

almonds

¼

cup

pistachios

2

tbsp

dried rose petals

(optional)
Instructions
Break open the cardamom pod, remove the seeds, discard the husk, and crush the seeds.

Heat the cooking oil and saute the cardamom for a minute to release the aroma.

Break the vermicelli into slightly smaller pieces and add it to the pot to roast it slightly.

Once the vermicelli is a nice caramel color, add the milk, cream, and sugar and stir to mix (see notes).

Bring the mixture to a boil and then reduce the heat to medium and let the kheer simmer and thicken.

Stir occasionally and adjust the heat as necessary.

Once the spoon comes out coated with the mixture the sheer khurma is ready.

Cool for about 30 minutes and then add in some sliced almonds.

Wait till the kheer is at room temperature and then chill it in the fridge.

Garnish it with chopped pistachios and rose petals before serving.
Notes
The Vermicelli - The vermicelli used in this recipe is not of the pasta variety you may be familiar with. Pakistani Vermicelli is as thin as a strand of hair, dark brown, and brittle until cooked. It can be found in South Asian specialty stores or on www.amazon.com.
The Rose Petals - These are optional, pistachios alone will do the trick if you can't source these. Silver leaf is also used to decorate Pakistani deserts and is an option.
Roasting The Vermicelli - The only tricky part in this entire process is roasting the vermicelli. It must be roasted till it's even brown. The oil must be heated well and the vermicelli must be turned constantly to ensure this. Otherwise, it will burn in spots and the Kheer will have a burnt and smoky taste.
The Consistency - The kheer thickens more as it cools down. The trick is to turn the stove off as soon as the spoon is coated with the mixture. As it cools down it will thicken considerably and the end result will be perfect.
Nutrition
Serving:
1
cup
Calories:
498
kcal
Carbohydrates:
52
g
Protein:
10
g
Fat:
29
g
Saturated Fat:
12
g
Polyunsaturated Fat:
4
g
Monounsaturated Fat:
11
g
Trans Fat:
0.03
g
Cholesterol:
62
mg
Sodium:
99
mg
Potassium:
462
mg
Fiber:
1
g
Sugar:
50
g
Vitamin A:
845
IU
Vitamin C:
0.5
mg
Calcium:
329
mg
Iron:
0.4
mg