Falooda (Pakistani Ice Cream Dessert) is an easy and delicious gluten-free summer treat that takes just 10 minutes to assemble. A cross between a sundae and a milkshake, this dessert originated in Persia as Faloodeh. Today, Falooda is a popular street food all over Pakistan and India and the perfect antidote to the excessive summer heat in the region.
Red jelly, basil seeds, and vermicelli are layered in a tall serving glass. This is followed by a drizzle of rose syrup and a scoop of Kulfi or plain ice cream. Chilled half and half and some chopped pistachios finish the delicious chilled dessert.
Jump to:
Why you'll love this recipe
A perfect summer dessert - This ice-cold South Asian dessert is one of the most refreshing things you're likely to try. The flavors, aromatics, and textures play together to make each sip and bite of the falooda delightful.
A super easy recipe - This is a super easy recipe to put together. The only real "cooking" involved is soaking the rice noodles and basil seeds.
Showstopper - The layered ingredients and shades of color in the Falooda make it a beautiful dessert to serve to your guests.
Perfect after a spicy meal - There's nothing better than a glass full of Falooda after a plate of spicy Mutton Biryani, Nihari, or Tawa Fry Beef Keema.
Lots of recipe variations - Small changes to a few ingredients can help change the flavor and adapt this ice cream dessert recipe to various dietary needs.
The ingredients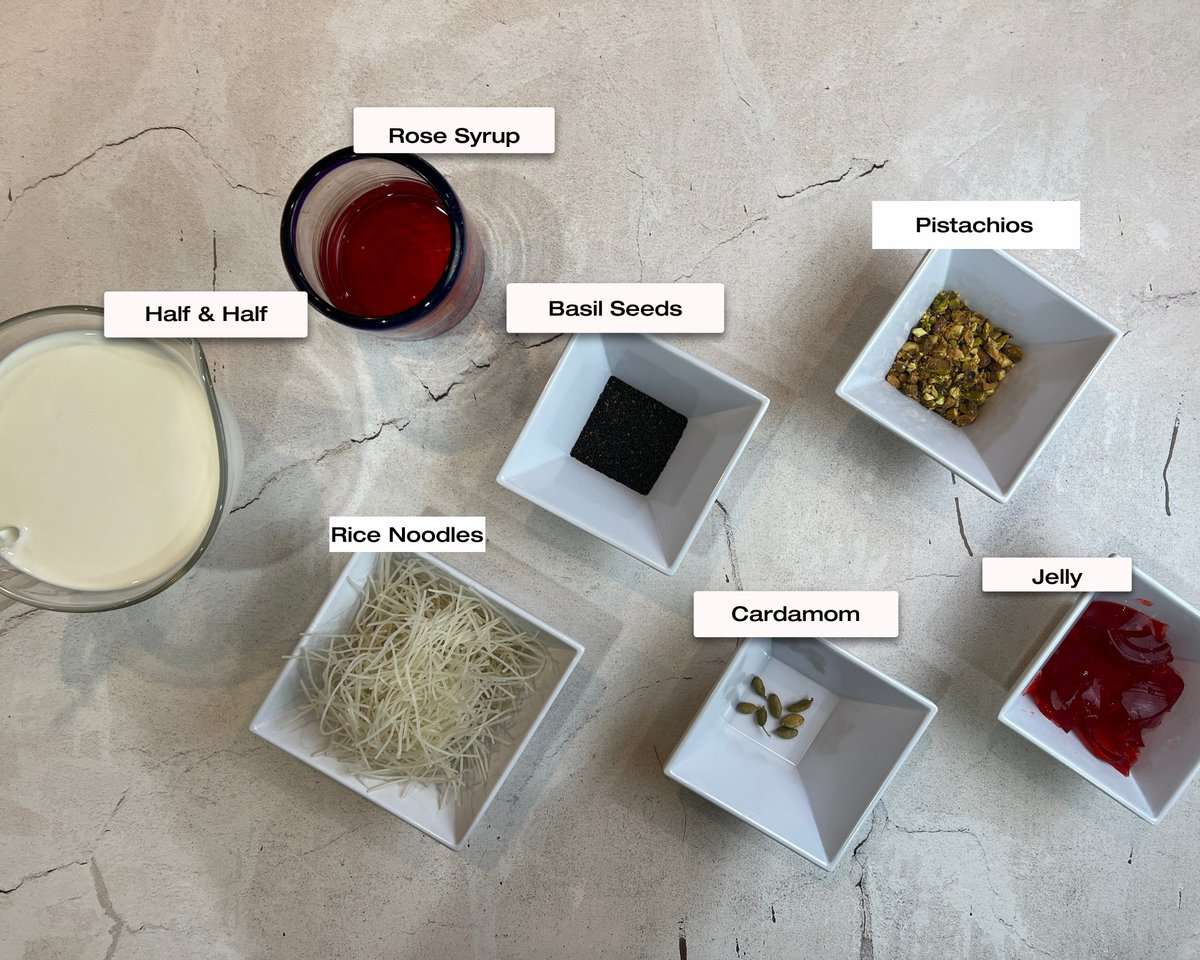 Half & Half - Some people use full-fat milk for their Falooda, but I prefer half and half for its richer flavor.
Rose syrup - Rose syrup is an essential ingredient for this Falooda recipe. It can be sourced through Amazon or a South Asian store.
Basil seeds - Basil seeds look like chia seeds but have a slightly fruity taste and are not as gelatinous. They work best for this recipe.
Rice noodles - Traditional Falooda noodles are usually made from cornstarch. Although these are easy to find at South Asian stores or on Amazon, I use superfine rice noodles. These taste just as good, are easier to source and keep the dessert gluten-free.
Red jelly - Ready to use red jelly from Snack Pack is Kosher, Halal, Vegan, and Gluten Free. It's available in all grocery stores and is so convenient and a huge time saver in dessert preparation!
Cardamom - If I'm adding Kulfi to my Falooda then I don't feel the need to add cardamom. But if I use regular ice cream, then I like to add some freshly crushed cardamom seeds or some cardamom powder to my Falooda.
Pistachios - I like to use salted pistachios as a garnish for my dessert. The little bit of salt helps balance the sweet rose syrup and the other rich ingredients.
Please see the recipe card at the bottom of this post for the complete list of ingredients with measurements plus recipe instructions.
Substitutions & variations
Try different Noodles - There are 3 options to choose from for the Falooda noodles. The traditional cornstarch ones, rice noodles, or thin wheat vermicelli. You can use whatever is more easily accessible.
Substitute the basil seeds - Chia seeds make a good substitute for basil seeds. The flavor isn't as fruity and chia tastes a little more gelatinous but in a pinch, they work.
Substitute the rose syrup - Can't access rose syrup? Take store-bought strawberry syrup and add some rose water/extract to it. Use no more than ¼ tsp per 1 cup of syrup as too much can be overwhelming.
Use different ice cream flavors - I like the traditional Falooda with Kulfi and rose syrup, but there are plenty of other options. Just use different ice cream and syrup flavors to create your own variations.
Add some sugar to the liquid base- I find that the rose syrup makes my Falooda sweet enough for me. However, if you feel the need you can always add some sugar to the half and half
Step-by-step instructions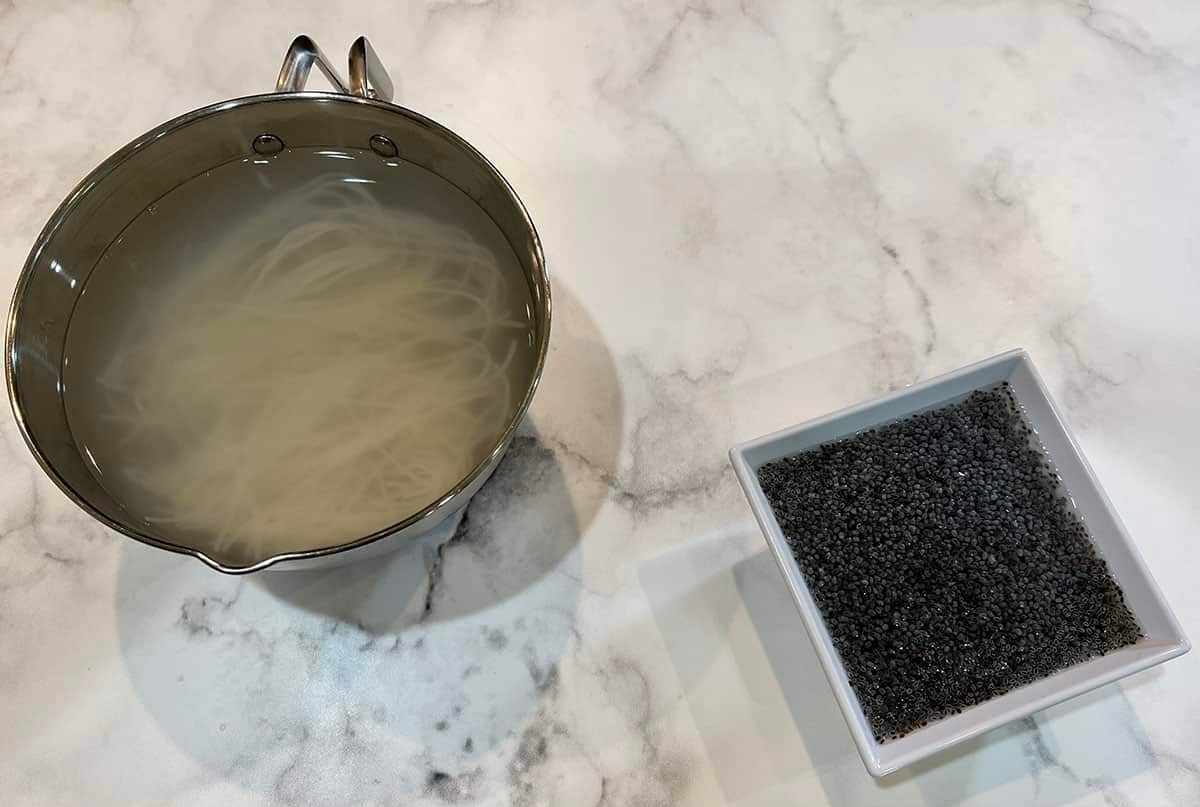 Step 1 - Soak 1 cup of the rice noodles in 2 cups of hot-boiled water for 10-15 minutes. Soak the basil seeds in room-temperature water for 15 minutes, till they are nice and plump.
Step 2 - Get a tall glass and start layering the Falooda. Add the red jelly first, keeping in mind that there are more ingredients to add. The quantity you add will depend on the size of the serving glass you're using.
Step 3 - Add the soaked basil seeds next. They should be soft and almost gray in color by this time.
Step 4 - Next, add in the softened rice noodles (or one of the other options if you opted for them). Make sure to break them into small pieces to make it easier to eat them.
Step 5 - Next is a drizzle of rose syrup, followed by the Kulfi. The half-and-half goes in last, followed by a garnish of the pistachios.
Step 6 - The rose syrup adds flavor, and aroma while creating beautiful swirls of pink that help highlight all the layers and textures in the Falooda.
Expert Tips
Always Resoak any leftover rice noodles - Anytime I reuse leftover rice noodles from the fridge for my Falooda, I resoak them in hot water. The cold temperature makes them a little hard and chewy and resoaking them in hot water restores their texture.
Cut the noodles into small pieces after soaking them - Traditional Falooda noodles come packaged in small pieces. If you're using rice noodles, they need to be cut so they're easier to eat. The easiest way to do this is to soak them first and then use a clean pair of kitchen scissors to cut them.
Use basil seeds for best results - Basil seeds work best for this recipe and if you can source them easily I highly recommend it. If you're concerned about having a full bag of leftover basil seeds, Healthline.com has some great ideas on how to use them. I personally love to add them to my juice recipes like my Fresh homemade mango juice. They add a delicious taste and texture to all beverages.
Make sure to chill everything well - Chilli the serving glasses and all of your ingredients before you start to assemble the dessert. It takes some time to layer and plate the Falooda and this one step will keep everything nice and cold right to the end.
Recipe FAQS
Are there any other flavors of the Falooda besides rose?
Rose-flavored Kulfi is the traditional version, but other popular variations are saffron, mango, strawberry, and even chocolate!
Can I make a Vegan version of Falooda?
Absolutely! Just use vegan ice cream, almond, oat, or coconut milk instead of the half-and-half and vegan rose syrup!
What is Royal Falooda?
Royal falooda is a version of the traditional dessert that has fresh or canned fruit added to it.
How long can I store the Falooda after I make it?
It's best to consume your Falooda within 48 hours. Chilled dairy products don't have a very long fridge life.
Other dessert recipes you may like
I hope you decide to try this recipe! Please don't forget to leave a rating and comment below! If you take a picture, then tag me on Instagram! Thank You!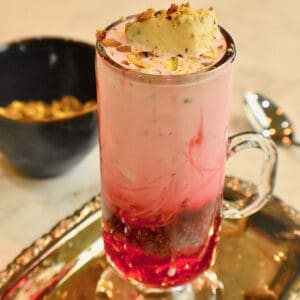 Falooda (Pakistani Ice Cream Dessert)
Falooda (Pakistani Ice Cream Dessert) is a layered dessert made with jelly, basil seeds, vermicelli, kulfi, and rose-flavored half and half.
Ingredients
1

cup

red jelly

(see notes)

2

tbsp

basil seeds

(see notes)

1

cup

rice noodles

(see notes)

½

cup

rose syrup

(see notes)

4

scoops

kulfi

(see notes)

2

cups

half-and-half

(see notes)

2

tbsp

chopped pistachios

4

whole

cardamom

(optional)
Instructions
Break the rice noodles into small pieces and put them in a medium-sized bowl (see notes).

Boil 3 cups of water and pour it over the noodles. Stir to make sure the noodles aren't sticking to each other and set aside for 15 minutes.

Soak the basil seeds in 2 cups of room-temperature water and wait 15 minutes for the seeds to expand.

Take four chilled serving glasses and put ¼ cup of the red jelly in each one.

Strain the soaked basil seeds to remove excess water and add an equal portion to each glass on top of the jelly.

Add in the strained and softened rice noodles next.

Drizzle the red-colored rose syrup over the noodles.

Top these with a scoop of the Kulfi (see notes).

Pour ½ a cup of the half-and-half into each glass.

Garnish with the chopped pistachios and serve.
Notes
Red Jelly - You can buy a packet of jelly crystals and make it yourself or buy some ready-made. Snack Pack is Kosher, Halal, Vegetarian, Vegan, and Gluten Free.
Basil Seeds - I recommend sourcing basil seeds for the best results. If that isn't possible, then chia seeds make a good substitute.
Rice Noodles - Although traditional Falooda noodles are made from cornstarch, rice noodles are easier to source and work just as well. Break up the rice noodles into small pieces so the dessert is easier to eat. I usually use a clean pair of kitchen scissors and cut them into pieces after soaking them. This is much easier than breaking them when they're still hard.
Rose Syrup - Many types of rose syrups are available in stores, but the most authentic one is called "Rooh Afza." It's readily available on Amazon and is always the one I use.
Kulfi - I make my own super easy Kulfi (recipe on the blog) and use it in my Falooda. However, you can use plain ice cream if that seems too much work.
Half and Half - I prefer half-and-half instead of milk for my recipe. The amount given above is approximate, and you may need more or less depending on the size of your serving glass.
Cardamom - I like to add freshly crushed cardamom seeds to my Falooda if I use store-bought ice cream instead of Kulfi. It gives it a more authentic taste. ¼ tsp of cardamom powder can be used as a substitute if needed.
The Dessert glasses - Tall glasses work best for serving the Falooda, so the beautiful layers and colors can be seen. The quantities in this recipe are based on using an eight-ounce glass. If your glasses are a different size you may need to adjust the quantities a little bit.
Nutrition
Serving:
1
serving
Calories:
910
kcal
Carbohydrates:
163
g
Protein:
10
g
Fat:
25
g
Saturated Fat:
13
g
Polyunsaturated Fat:
3
g
Monounsaturated Fat:
7
g
Trans Fat:
0.01
g
Cholesterol:
71
mg
Sodium:
287
mg
Potassium:
464
mg
Fiber:
5
g
Sugar:
91
g
Vitamin A:
725
IU
Vitamin C:
9
mg
Calcium:
289
mg
Iron:
3
mg