This Tamarind Chutney Recipe (4-ingredient) is my shortcut version of one of South Asia's most popular condiments. Sweet and sour, with a hint of spice, you've probably been served this imli ki chutney with a potato samosa at your local Indian restaurant.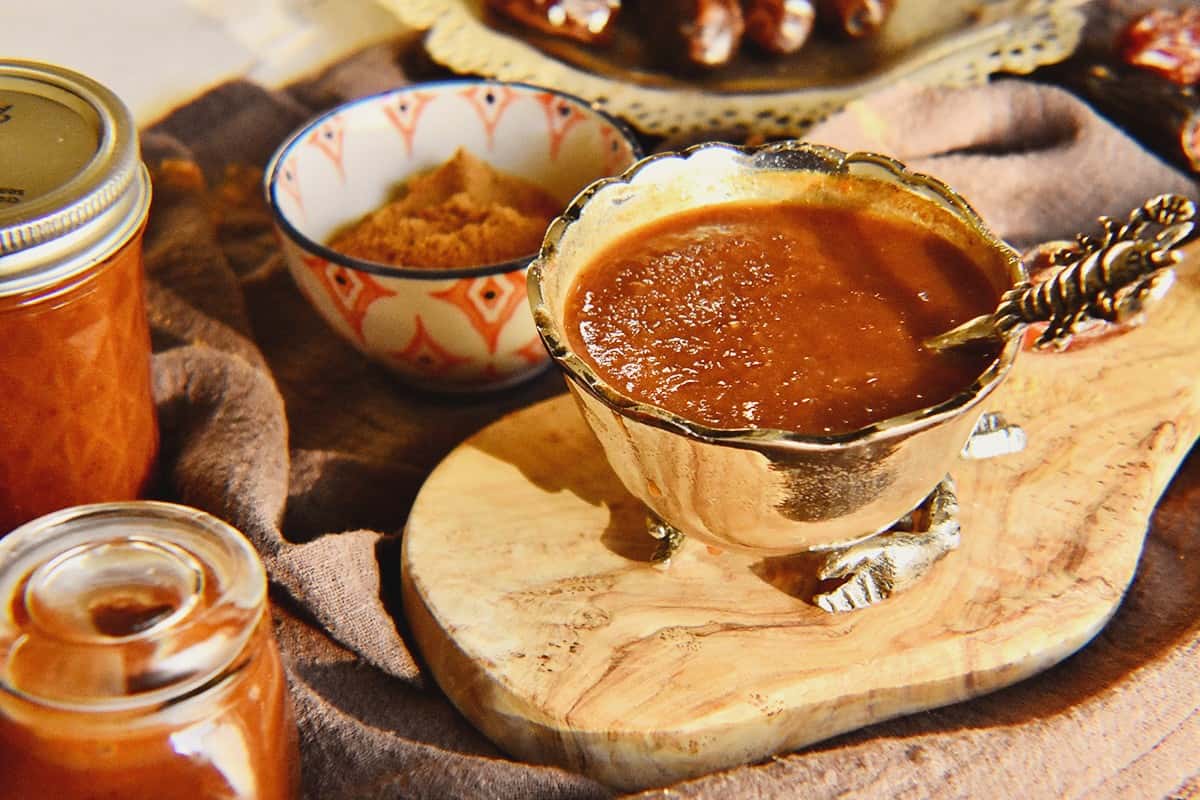 With this super quick and easy recipe, you can always have a homemade batch of this tamarind dipping sauce in your fridge. In my house, we eat it like ketchup, with all our favorite snacks, like easy aloo pakora, seekh kebab and chicken tikka boti.
Tamarind is popular in both South Asian and East Asian cooking. Used as a souring agent in curries like Hyderabadi bagara baingan, recipes like Pad Thai, and drinks such as sweet tamarind juice, its uses are plenty.
Available easily and in various forms, such as pods, seedless blocks, paste, and concentrate, the trick is to know what kind of tamarind you need for which recipe. For the purpose of this recipe, to keep things quick and simple, I use tamarind concentrate.
Jump to:
Why you'll love this recipe
Addictive - Once you taste this chutney, you'll want to use it on almost everything!
Versatile - The tamarind sauce pairs well with so many things that having a bottle (or 2) on hand is always great.
Diet-friendly - This is the perfect condiment for anyone on a vegan and gluten-free diet.
Easy to batch - This chutney is easy to make in bulk with minimal extra effort. This and a long freezer life make it perfect in my books.
Ingredient notes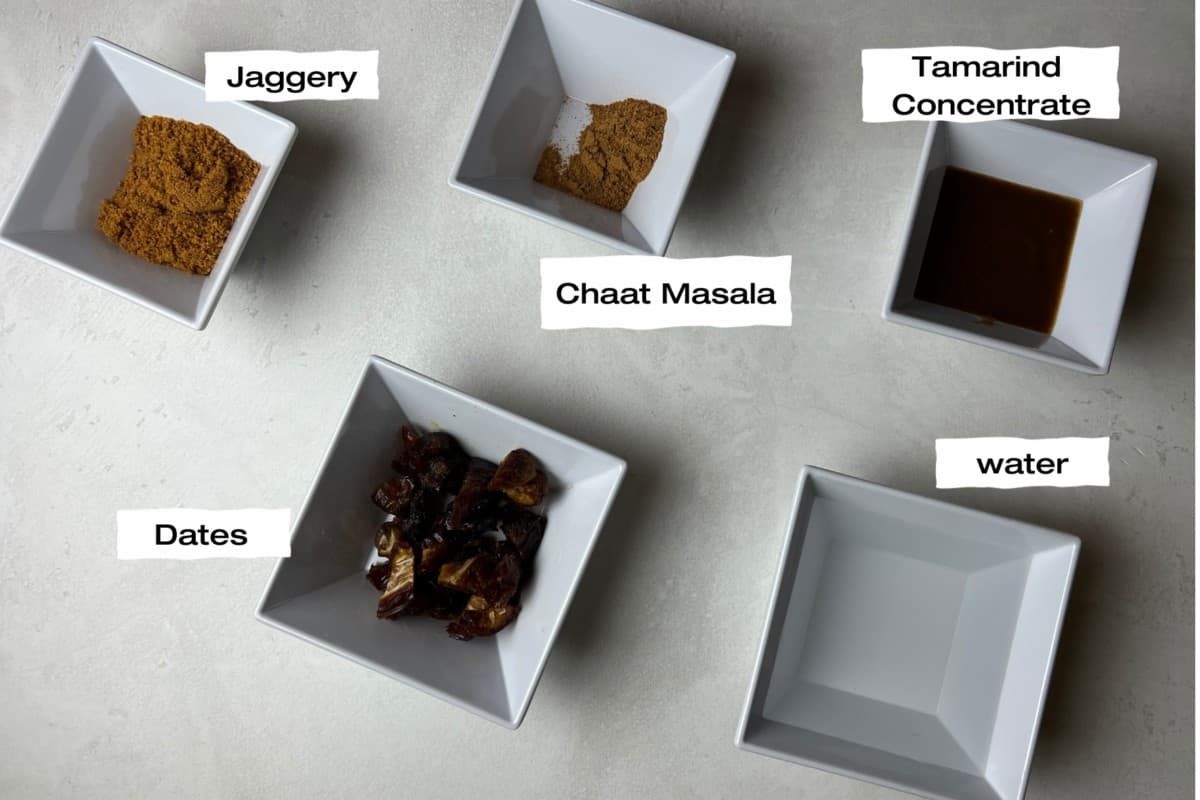 Tamarind concentrate - This is a thick dark paste made from tamarind fruit and is what makes this recipe so quick and easy. While I love to make my tamarind chutney from scratch, this is a quick alternative when you don't have time. Make sure to use concentrate for this recipe for best results.
Medjool dates - There are many options for sweetening the chutney, but for this recipe, dates are essential. Apart from adding a hint of caramel, the dates help to thicken the chutney to a perfect consistency.
Jaggery - Jaggery, also known as 'gur,' is an unrefined sugar made from sugar cane or palm. Similar to brown sugar in texture but a little less sweet, it comes in solid and powdered form. For the purpose of this recipe, I've used the powdered version.
Chaat Masala - This is a traditional South Asian spice blend used with many snacks and condiments. The main ingredients are cumin, dried mango powder, ginger powder, chili powder, and black salt. There are many varieties available, but Karachikitchenfoods sells a personal favorite.
Please see the recipe card at the bottom of this post for the complete list of ingredients with measurements plus recipe instructions.
Substitutions & variations
Try alternate sweeteners - While the Medjool dates and jaggery are perfect for this recipe, many other options are available. Use ½ cup of monk fruit sweetener for a sugar-free option. Brown sugar, white sugar, and palm sugar are also good options to consider. The chutney may not be as thick with these options, but the taste will still be perfect.
Use a different tamarind - If you can't find the concentrate, use wet seedless tamarind, raw tamarind in a pod, or a seedless tamarind block. This will require a longer prep and cooking time but will deliver on taste.
Change up the spices - Make your own spice blend using ½ tsp ginger powder, ½ tsp cumin, ½ tsp red chili powder, ½ tsp black salt, ½ tsp amchur, and ½ tsp crushed fennel seeds.
Step-by-step instructions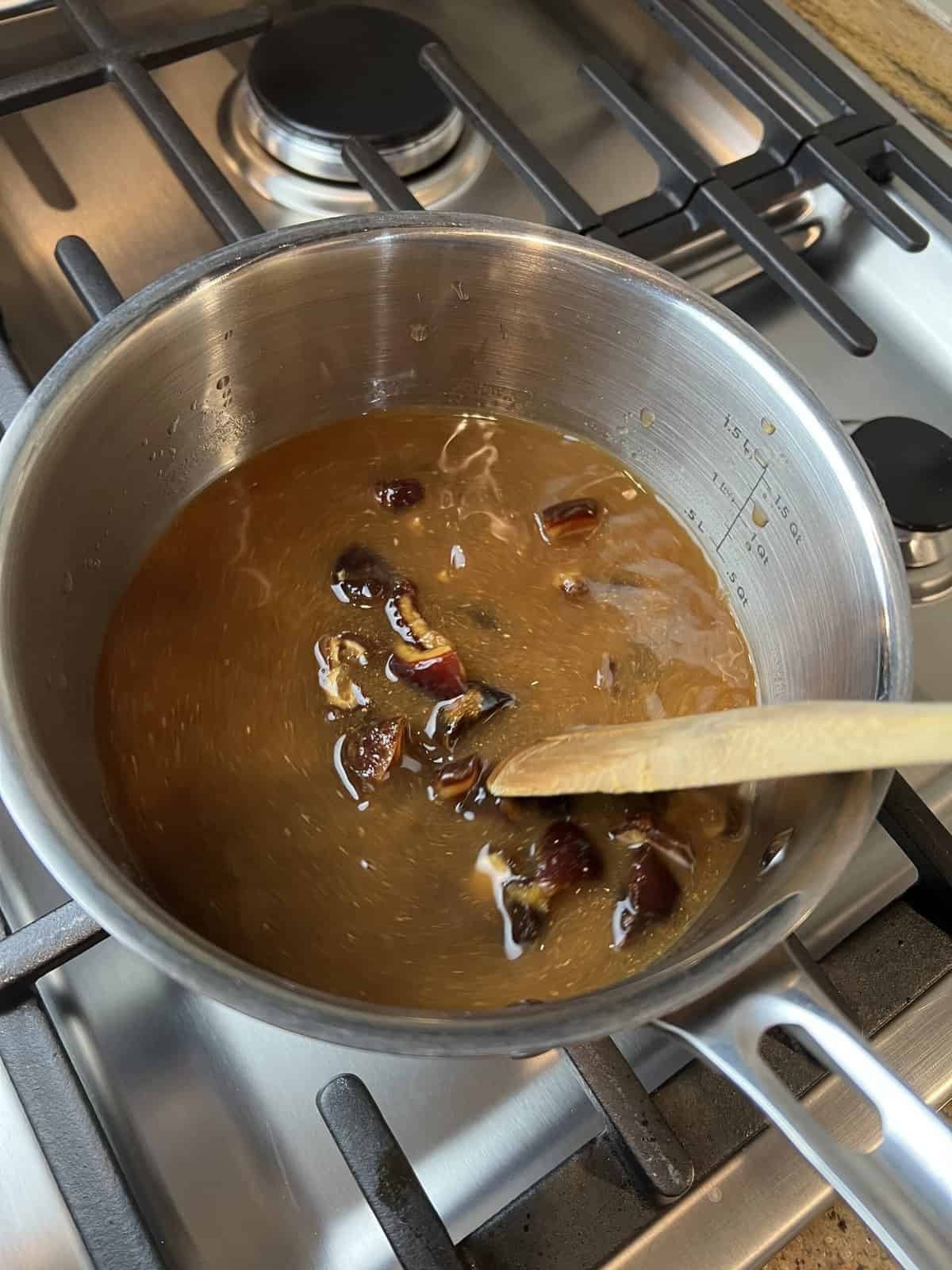 Step 1 - Deseed and chop all of the dates to will help them cook faster.
Step 2 - Boil the dates, water, tamarind concentrate, jaggery, and chaat masala in a saucepan for 20 minutes.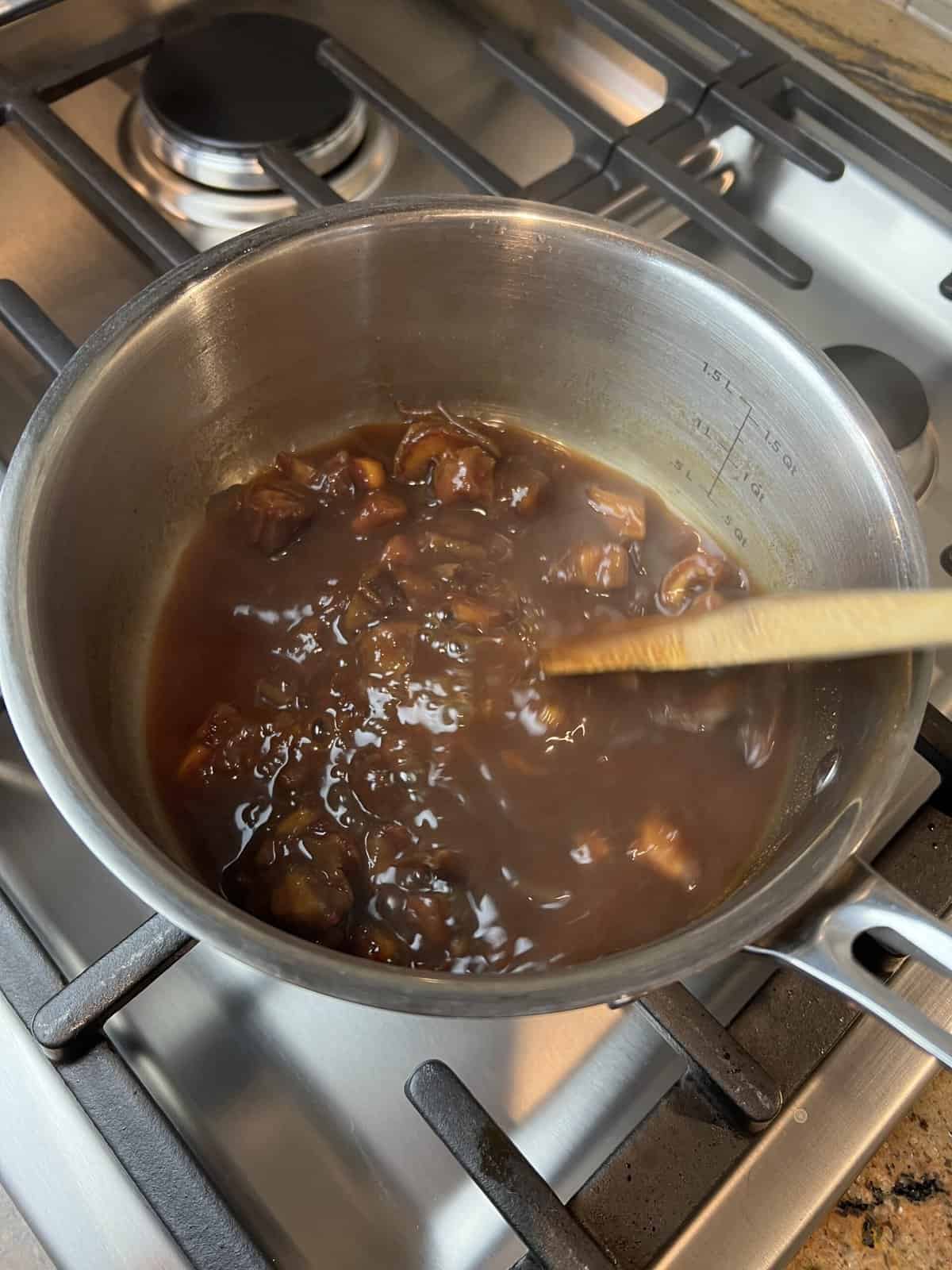 Step 3 - Once the dates have softened and the jaggery has dissolved, puree the chutney. I use an immersion blender, but a regular blender, wet grinder, or food processor are all options.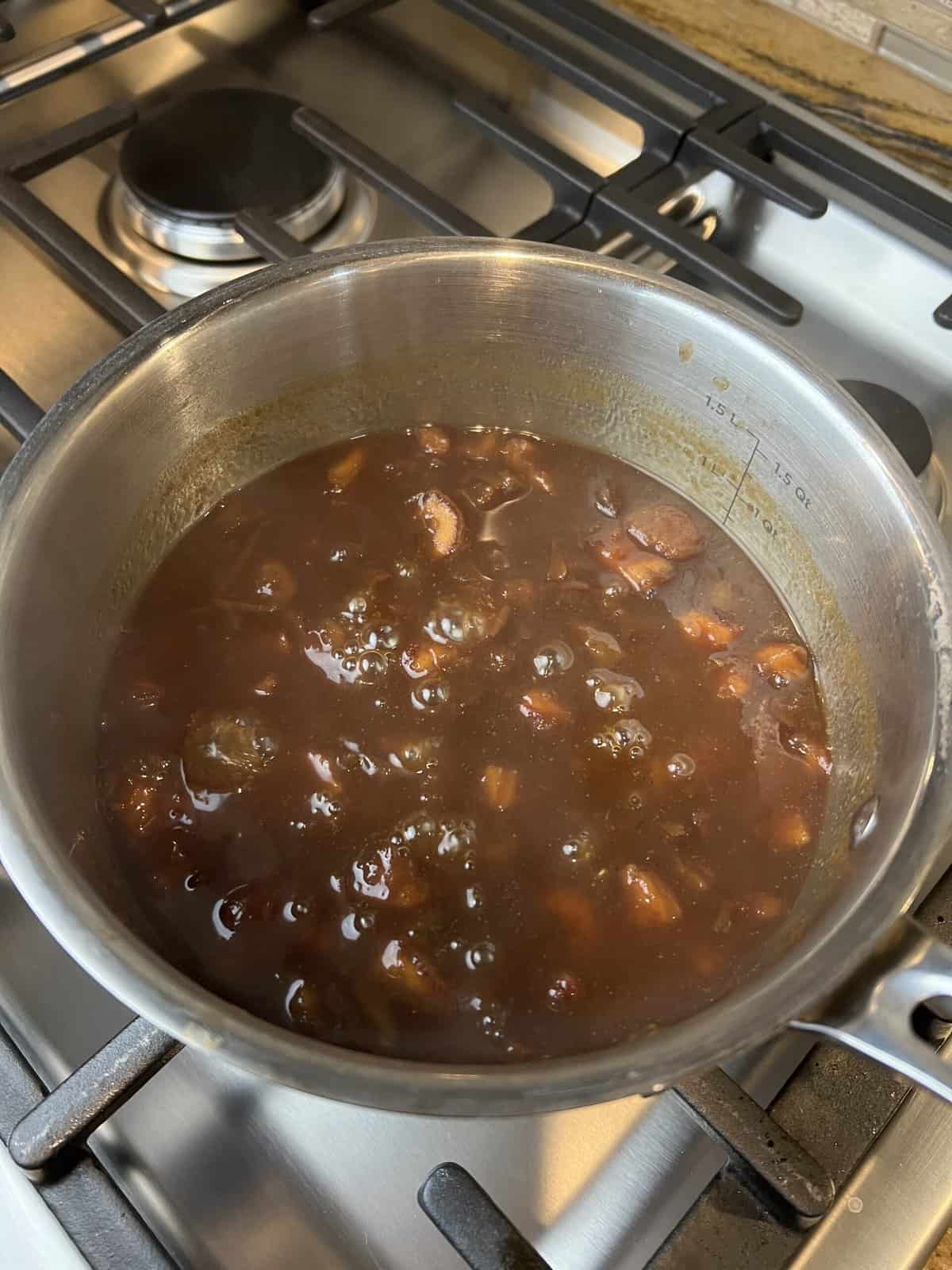 Step 4 - Check and adjust the sweetener, spices, and water after you grind the chutney. Pour the prepared sauce into a sterilized jar, seal, and bring to room temperature before refrigerating.
Expert Tips
Don't overcook the chutney - The chutney will thicken after it cools, so don't overcook it. As soon as it coats the spoon, consider it ready. The final consistency you're looking for is similar to molasses.
Adjust the water to fix the consistency - If the chutney is too thick, add a few tablespoons of water at a time and stir. Repeat these steps till you reach the desired consistency.
Sterilize the jars - In order to store your tamarind chutney without any risk of contamination, use this complete guide to canning issued by the USDA.
Recipe FAQS
My chutney is too thin, is there a way to fix it after it's cooled?
Return the chutney to a saucepan, bring it to a boil, and simmer it till it thickens to your desired consistency.
Is Thai tamarind the same as Indian Tamarind?
Indian tamarind concentrate is a lot stronger than the Thai equivalent. If you're using a Thai brand, you will most likely need to adjust the amount of sweetener in your recipe.
How can I store my tamarind chutney?
Cooked tamarind chutney can be stored in a sterilized jar in the fridge for up to 4 weeks and in an airtight container in your freezer for up to 6 months.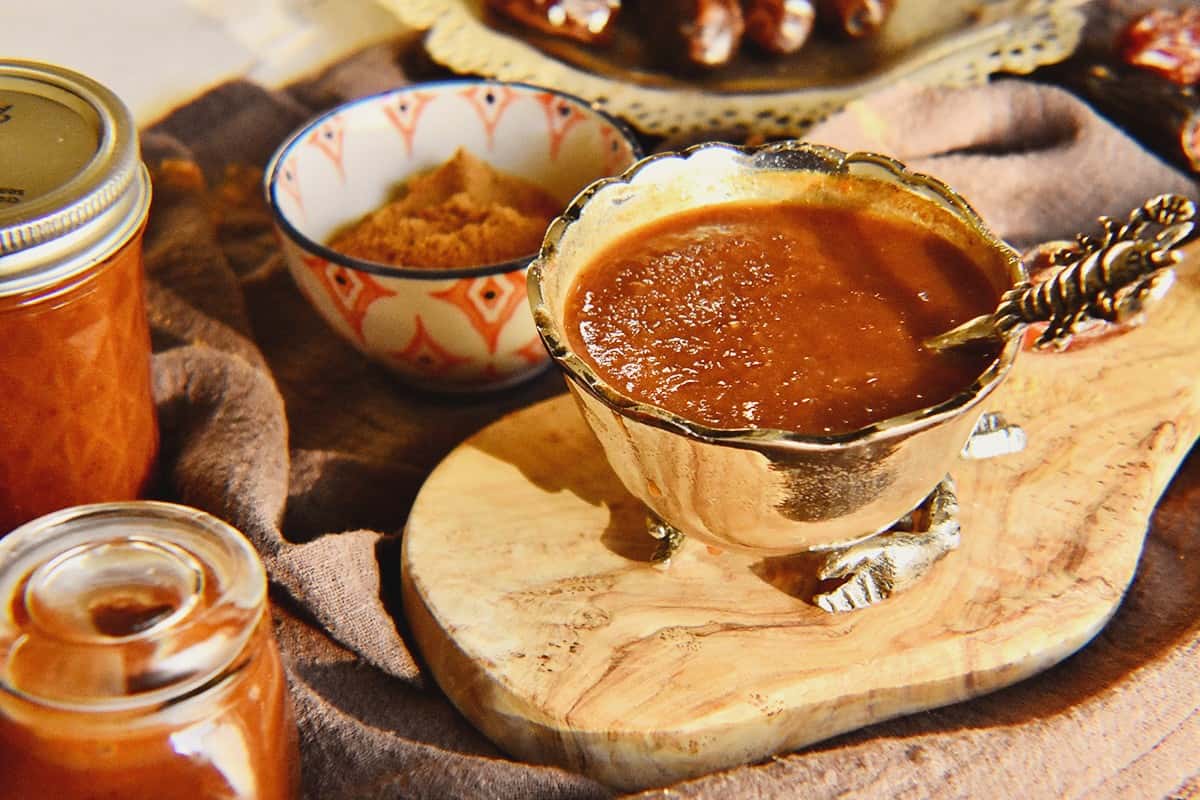 Other recipes you may like
I hope you decide to try this recipe! Please don't forget to leave a rating and comment below! If you take a picture, then tag me on Instagram! Thank You!
Tamarind Chutney Recipe (4-ingredient)
A popular sweet and sour South Asian condiment, this Tamarind Chutney Recipe (4-ingredient) is ready for all your snacks in just 20 minutes.
Ingredients
12

tbsp

tamarind concentrate

(see notes)

1

cup

Medjool dates

(see notes)

2

cups

water

6

tbsp

jaggery

(see notes)

3

tbsp

chaat masala

(see notes)
Instructions
Chop the dates and take the pits out.

Mix the dates, tamarind concentrate, chaat masala, and water, and bring everything to a boil.

Reduce the heat to low and simmer for 10 minutes until the dates soften and the mixture thickens. (see notes)

Use an immersion blender to blend all of the ingredients into a smooth paste.

Pour into a sterilized jar and cool. (see notes)
Notes
Tamarind - Make sure to use concentrate and not a different type of tamarind, as this will affect the final taste and texture of the recipe.
Medjool dates - Softer than regular dates, these work best in this recipe. If you decide to use regular dates, you must soak them for a few hours and then create a paste using a blender.
Jaggery - I've used powdered jaggery or gur for this recipe. Palm sugar is the closest substitute, but brown sugar can also be used in a pinch.
Chat masala - I use chat masala for this recipe as it contains all the spices typically added to tamarind chutney.
Adjust water and spices - Once the chutney has been cooked and pureed, adjust the water, jaggery and spices to suit your personal taste.
Cool completely - I usually stop cooking my chutney when it coats my spoon. It thickens considerably once it's completely cool, and I prefer to wait and make any adjustments.
Nutrition
Serving:
1
tablespoons
Calories:
39
kcal
Carbohydrates:
10
g
Protein:
0.3
g
Fat:
0.1
g
Saturated Fat:
0.02
g
Polyunsaturated Fat:
0.003
g
Monounsaturated Fat:
0.01
g
Sodium:
3
mg
Potassium:
70
mg
Fiber:
1
g
Sugar:
8
g
Vitamin A:
9
IU
Vitamin C:
0.2
mg
Calcium:
9
mg
Iron:
0.2
mg