I know Tamarind is an ingredient most people associate with curries, chutneys and dipping sauces but this sweet tamarind juice recipe is love at first sip! Sweet, sour, spicy and smoky...the combination of flavors will tickle the palate and the delicious rim of spicy sugar will tease the eye!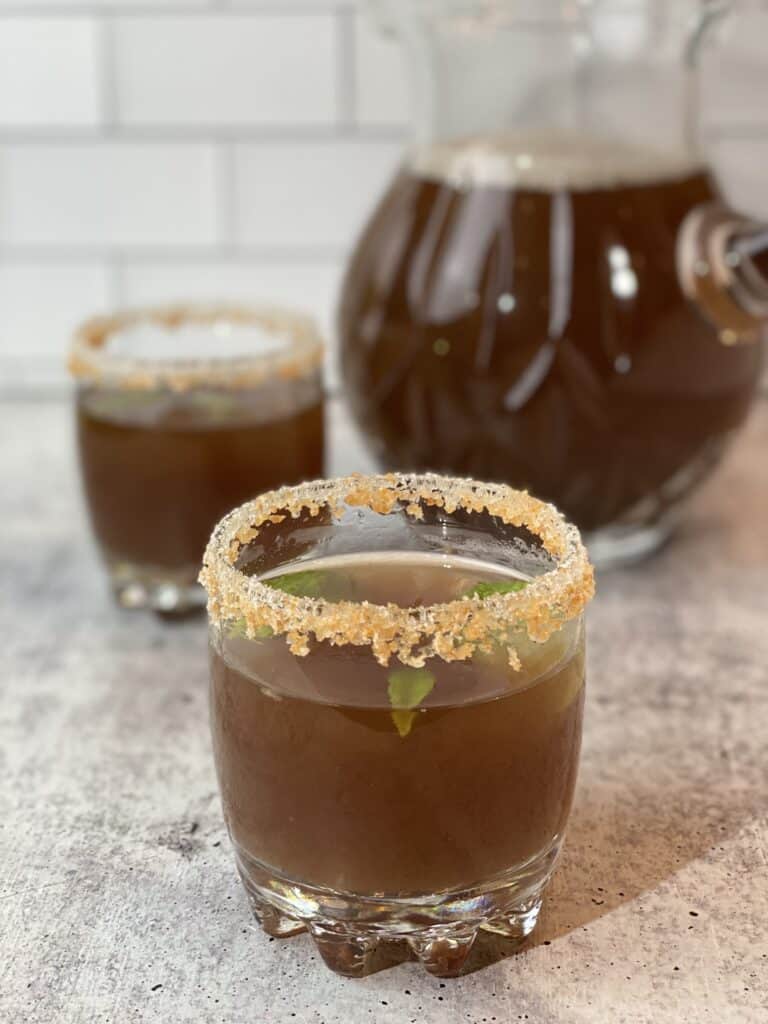 Mouth puckering tamarind is deseeded and combined with a simple syrup to create the delicious juice base. Roasted and freshly ground cumin adds some mellow notes to the concoction and sliced ginger helps enhance the tamarind flavor.
Quite unlike my tamarind dipping sauce and sugar free imli tamarind chutney recipes, this juice has a much milder taste due to the added water and other mix ins.
It tastes especially delicious when paired with savory snacks like aloo samosa, aloo pakora or chicken pakora.
Jump to:
Why you'll love this recipe
Something new to try - Tired of the same old beverages? this juice is a nice change from the usual lemonade and sweet tea we all love in the summer. You and your friends (if you decide to serve it at your next summer BBQ) are going to love it!
Refreshing in the heat - This juice is especially refreshing during the summer months and per tradition, is believed to have cooling properties. This is why it's especially popular as a drink to consume when opening a fast in Ramadan.
Healthy for you - Tamarind pulp contains many vitamins and minerals, which make it a wonderful addition to your diet. Per bbcgoodfood, the benefits range from fighting cancer, diabetes and heart disease to being a cooling drink that can act as a laxative.
Lasts for days - Since the tamarind is cooked with the sugar it can last in your fridge for days. Sugar is a well known preservative used when canning and freezing. This allows the juice to be batch made and stored for long periods.
Ingredient notes
Tamarind - Traditionally the juice is made with fresh tamarind pods. However, since it can be difficult to source the quantity needed for the juice and the process of removing the shells and seeds can be cumbersome, I use a block of tamarind.
Sugar - Regular table sugar is perfect to prepare the simple syrup.
Salt - I use regular table salt for this recipe.
Ginger - Peeled and sliced fresh ginger root adds a lot of flavor to this juice.
Cumin - For best results use roasted and ground cumin seeds.
lemon - A small piece of lemon is all you'll need to help create the sugar and salt rim.
habanero cane sugar - You can buy this blend from a specialty store (mentioned in the recipe notes) or experiment with another flavored sugar.
sriracha sea salt - You can source this from a specialty store, or use a substitute .
See my recipe card below for a complete list of the ingredients with measurements.
Substitutions and variations
Switch out the sugar - Swap out the white sugar for brown, stevia or even monk fruit based on your dietary needs.
Mint - A few mint leaves add another layer of flavor and a delicious aroma to the tamarind juice.
Make your own blend for the rim - Take some chili lime salt (I like Trader Joe's but any brand will work), mix it with some regular sugar and you'll have an easy homemade salt/sugar rim!
Step by step recipe instructions
Place the block of tamarind in some water and bring it to a boil.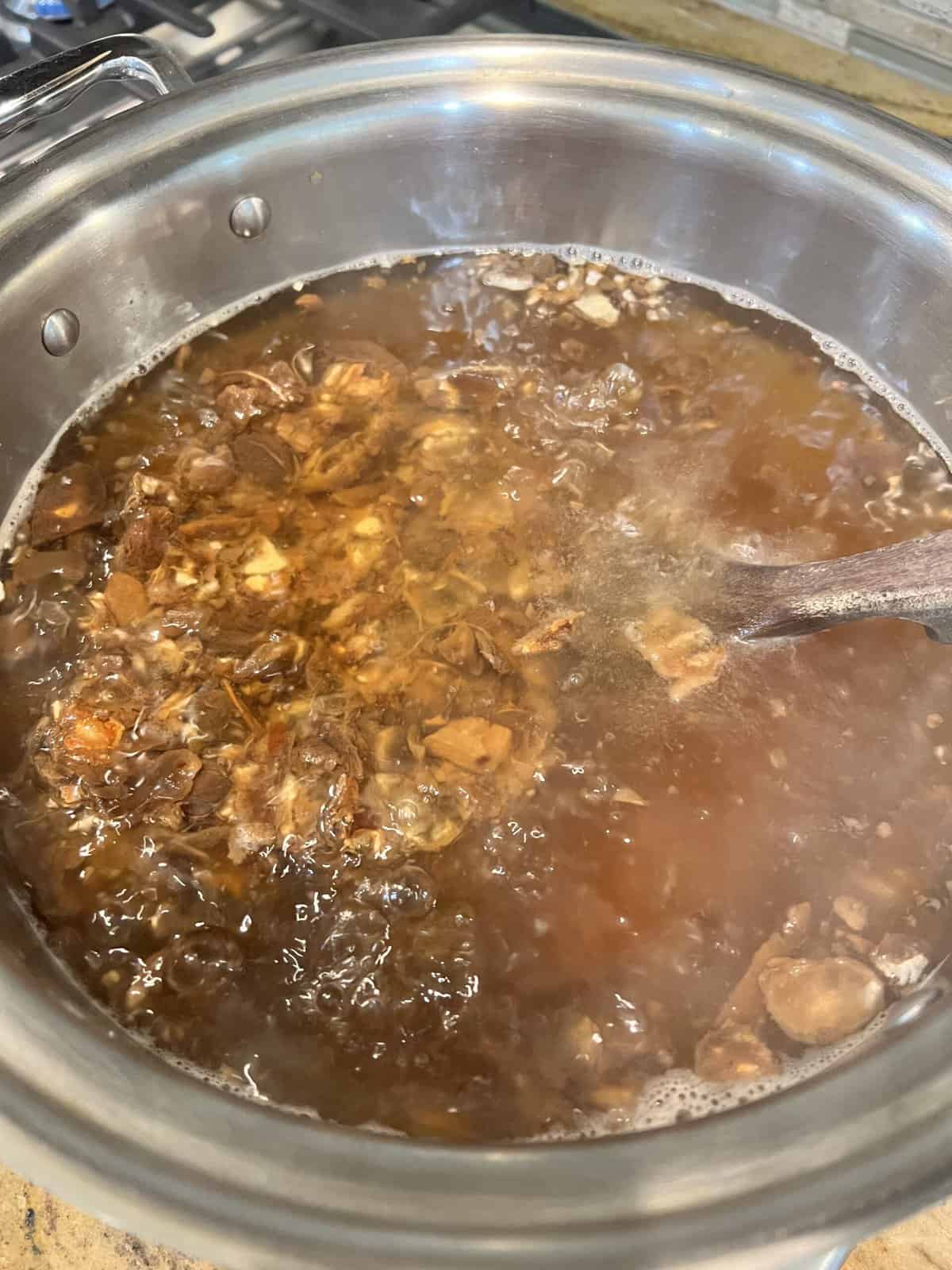 2. Turn the stove off after 1 boil and let the tamarind soak and loosen up in the water.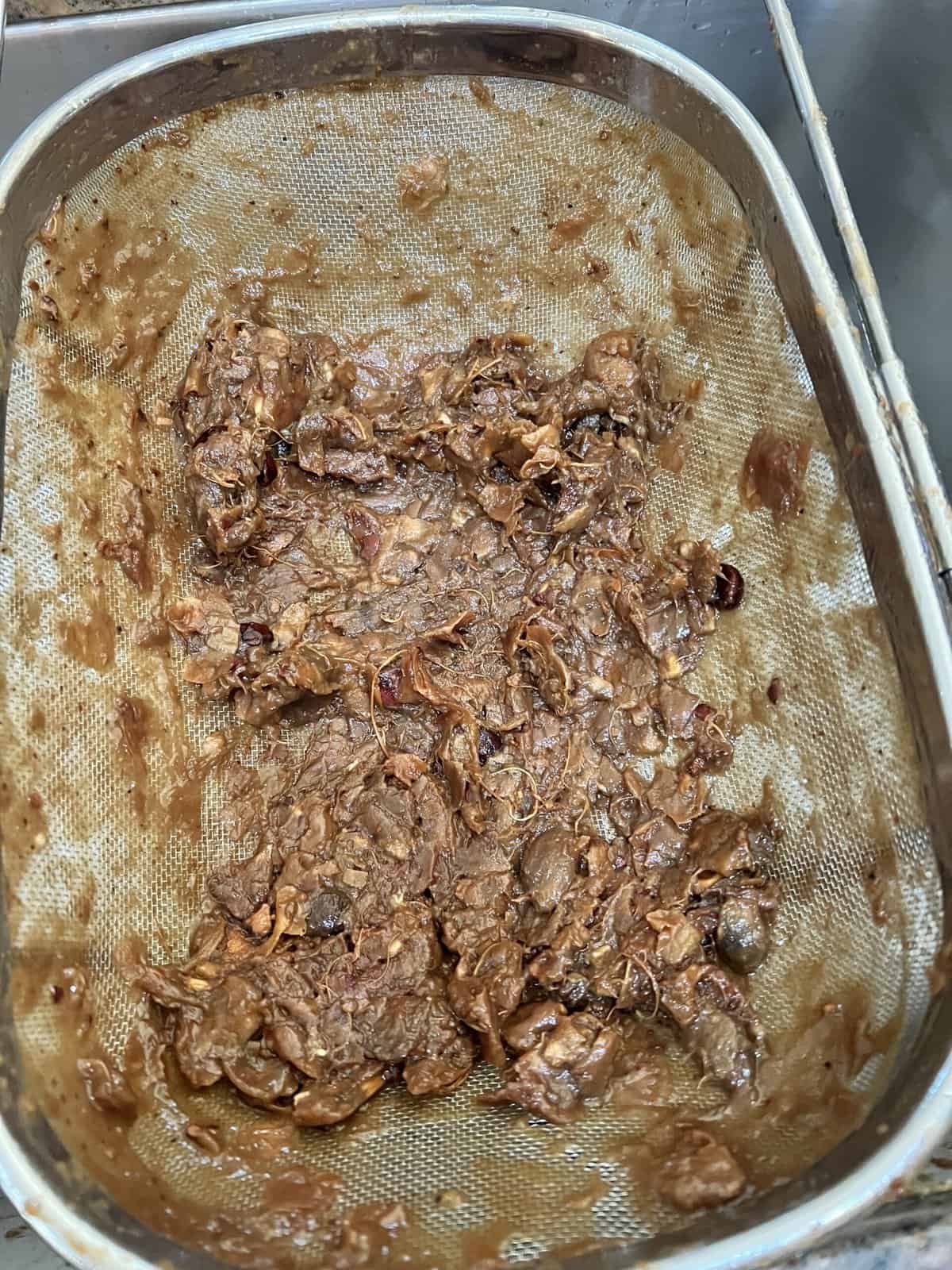 3. Strain the pulp, using a sieve to remove any seeds and fibre.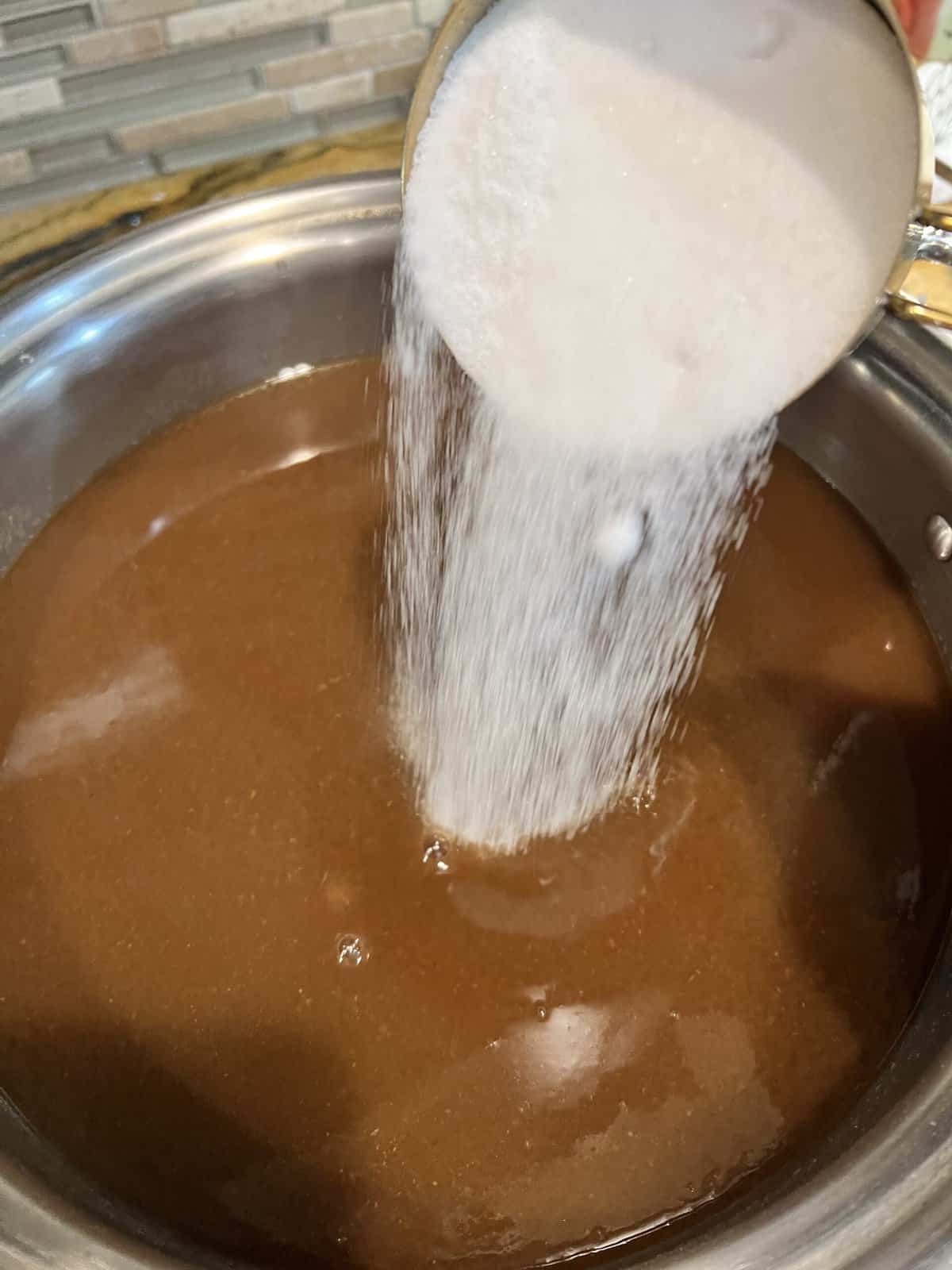 4. Add the sugar, salt and ginger to the strained concentrate.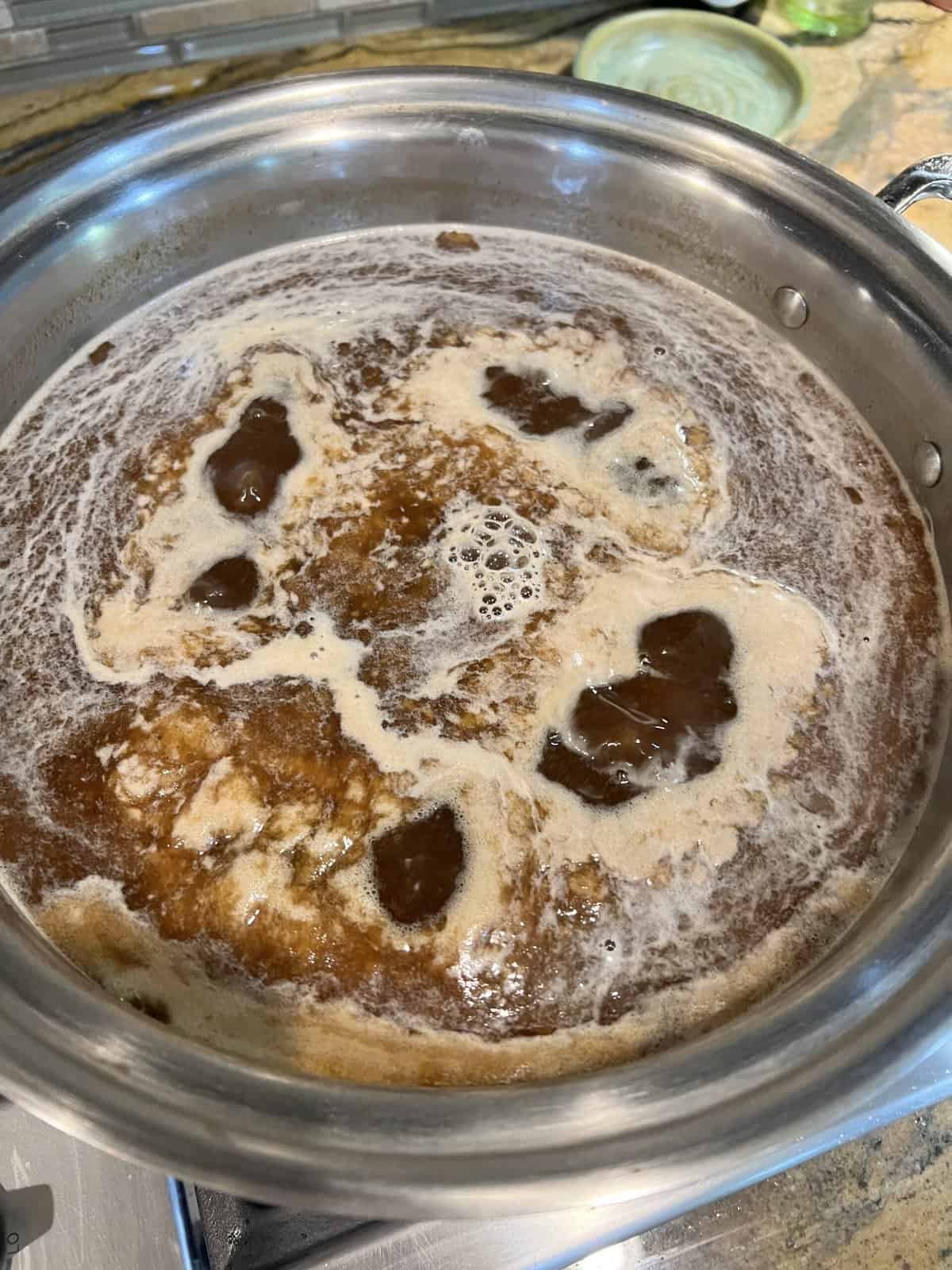 5. Bring this mixture to a boil and cook for 10 -15 minutes.
6. Dry roast the cumin seeds in a pan just till they're lightly roasted.
7. grind the cumin in a spice grinder.
8. Stir the cumin into the concentrate and let the mixture cool to room temperature before refrigerating.
Chill the juice completely before serving. At the time of serving you may need to dilute it a little with some water based on taste preference.
Rim the glasses using a lemon and a blend of habanero cane sugar and sriracha sea salt, pour in the juice and enjoy.
Expert tips
The type of tamarind you use to make the juice has a huge impact on the final result. Although the juice is traditionally made with fresh pods, I find that a block of tamarind works best. The compressed block has so much tamarind in it that it really packs in a lot of flavor! Plus, it's a lot less work and effort!
Recipe FAQS
What does the tamarind juice taste like?
The tamarind juice is sweet and sour with a hint of smokiness from the cumin. Additional layers of flavor can be added depending on the other ingredients you use, such as ginger, mint or the spiced sugar and salt.
Where can I buy tamarind?
Tamarind is available at all Asian stores such as Indian, Pakistani, Middle Eastern, Vietnamese and so forth. You can also order it off Amazon.
Can I use tamarind paste or concentrate?
I wouldn't suggest using tamarind paste or concentrate for this recipe. One reason is that many of them have additives and preservatives. The other reason is that it isn't as concentrated as the block and the resulting juice will taste bland.
How do I store the juice?
Typically tamarind juice will last upto 6 days in the fridge in an airtight container. However, with my method, because I cook it with sugar, which acts like a preservative, it can last upto 10-14 days.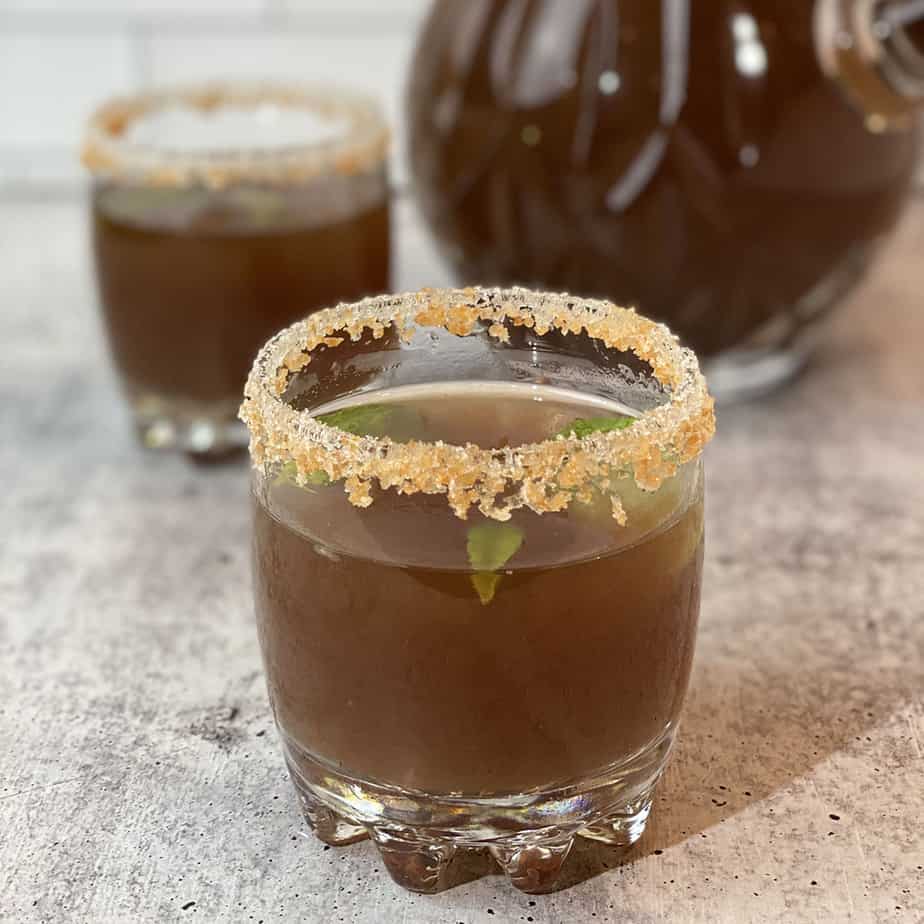 Other recipes you may enjoy that contain tamarind
Please don't forget to leave a rating and comment below! If you take a picture then please tag me on instagram ! Thank You!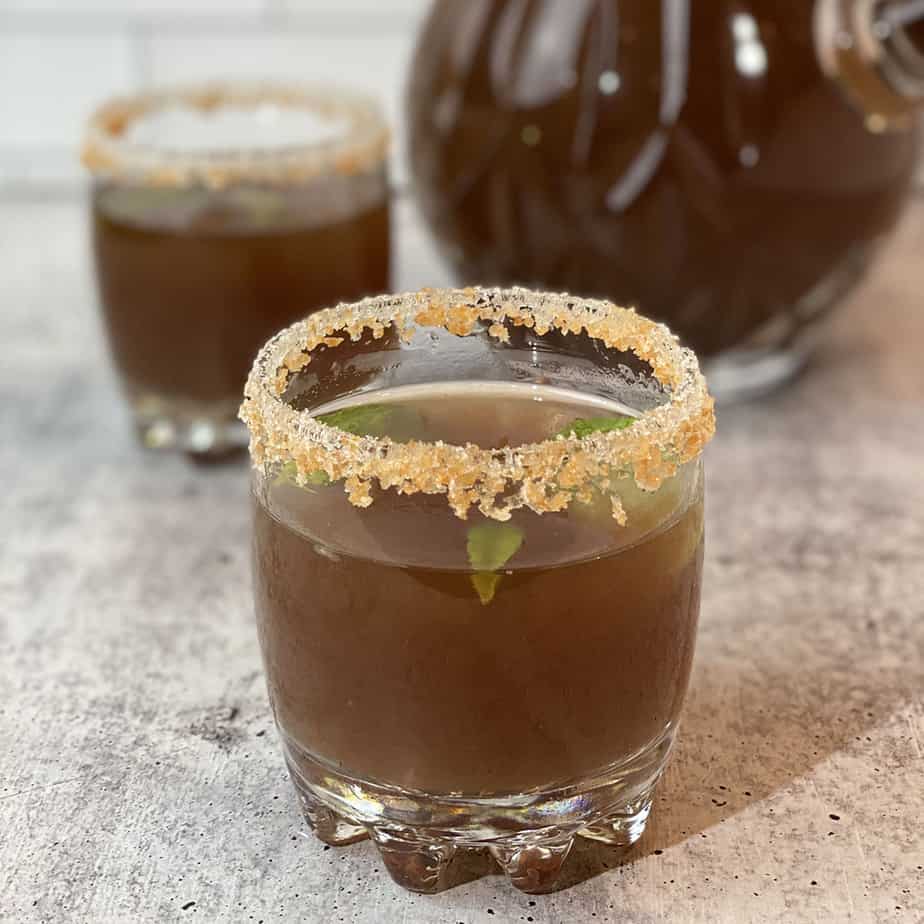 Sweet Tamarind Juice Recipe
This sweet tamarind juice recipe is sweet and sour, with a hint of smokiness from the freshly ground cumin...the perfect summer treat.
Ingredients
½

cup

tamarind

2

cups

sugar

8

cups

water

½

tsp

salt

1

tsp

ground cumin

(see notes)

½

inch

piece ginger
Glass Rim Garnish
1

lemon

2

tbsp

habanero cane sugar

(see notes)

2

tbsp

sriracha sea salt

(see notes)
Instructions
Place the tamarind in 2 cups water and bring to a boil.

Turn the stove off after you reach the first boil and let the tamarind soak for 2 hours

Strain the tamarind using a fine mesh strainer, removing any pits. (see notes)

Peel and thinly slice ginger.

Add 2 cups of water, sugar, salt and ginger to this mixture.

Bring the juice to a boil and simmer for 10-15 minutes.

Roast and grind the cumin and add it in.

Add in the remaining 4 cups of water before serving. (see notes)
Glass Rim Garnish
place the sugar and salt in a shallow plate and mix well.

use the lemon to wet the glass rim. (see notes)

Dip in the salt and sugar mixture.

Set aside for a minute to dry the rim completely before pouring your beverage.
Notes
The cumin - Fresh roasted and ground cumin is essential and doesn't take long to make. You can even prep some and bottle it to add to your beverages and chutneys.
Straining the tamarind - When you're straining the tamarind for the juice it has to be clear of all the fiber. I keep a jug of water on hand and use small amounts if necessary to help the process, at times straining the tamarind more than once helps to get the desired results.
Adding the water - You can add the 4 cups of water right away and have the juice ready to go OR prepare the concentrate and store it in the fridge, adding the water later.
The rim -When you rub the lemon around the rim, slightly tilt the glass at a 45 degree angle to prevent the juice from running down the sides of the glass
The garnishing salts -I purchased the habanero cane sugar and sriracha sea salt from spiceandteamerchants.com and decided to rim my glass with a combination of the two. A few other options to try are:

Black Salt
Tajin
Trader Joe's Chili Lime Seasoning
Nutrition
Serving:
1
g
Calories:
233
kcal
Carbohydrates:
60
g
Protein:
1
g
Fat:
0.3
g
Saturated Fat:
0.05
g
Polyunsaturated Fat:
0.03
g
Monounsaturated Fat:
0.1
g
Sodium:
163
mg
Potassium:
119
mg
Fiber:
1
g
Sugar:
56
g
Vitamin A:
11
IU
Vitamin C:
8
mg
Calcium:
25
mg
Iron:
1
mg