Yes! You read it correctly! How To Make Tamarind Juice! I know Tamarind is an ingredient most people associate with curries, chutneys and dipping sauces but it makes the most delightful beverage. Try this recipe! You will love it!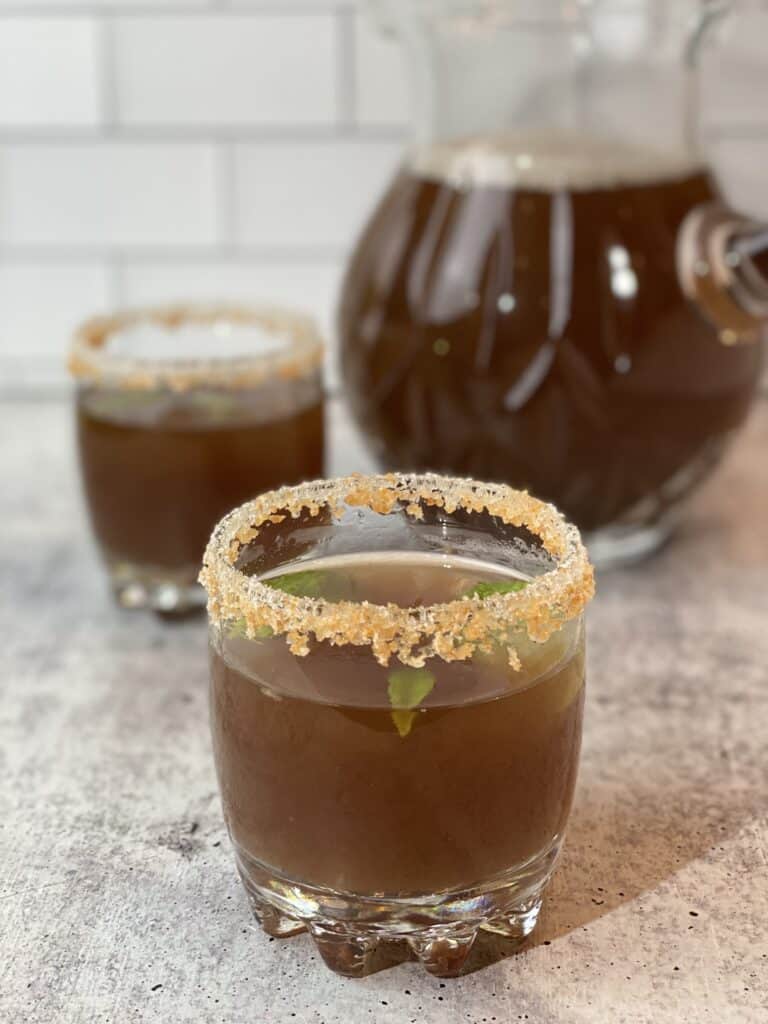 What Is Tamarind ?
Although I've talked in detail about Tamarind in my tamarind dipping sauce and sugar free imli tamarind chutney recipes, a brief description may be necessary for those who aren't familiar with it. Dubbed with the name "Tamar Hindi"(Indian date) by the Persian and Arabs, this fruit tastes nothing like a date.
The Tamarind tree bears fruit shaped like a pod, with a hard outer shell and seeds surrounded by a soft and sticky pulp. While the texture of the pulp is like that of a date, the taste is extremely sour. For more information on Tamarind and its many uses head thespruceeats.
My Story
I was first introduced to this delightful beverage by my friend Saima. After years of living in Jeddah, she had acquired a taste for this Middle Eastern beverage. After one sip at her house I was in love! My husband is also a fan of this juice. His childhood home had a huge tamarind tree and my mother in law would make huge batches of this juice all summer long. Cleaning the tamarind is a bit tedious but come Ramadan I like to make an annual effort to make this. Each sip is a trip down memory lane.
Why Drink Tamarind Juice?
The tamarind pulp contains many vitamins and minerals, which make it a wonderful addition to your diet. The benefits range from fighting cancer, diabetes and heart disease to being a cooling drink that can act as a laxative and anti septic. It's especially refreshing during the summer months and is a wonderful drink to consume when opening a fast in Ramadan.
The Recipe
Making the juice is fairly simple once you have the pulp soaked and strained into a pulp. I usually boil the tamarind with water to help loosen the pulp. After letting the pulp soak for a while, I strain it to remove all the seeds and fiber.
The remaining paste is then boiled with water and sugar till the sugar melts. Once all of the ingredients are well blended, the cumin is roasted, ground and added to the juice. Once chilled I serve the juice in glasses that are rimmed in a blend of habanero cane sugar and sriracha sea salt (SEE NOTES).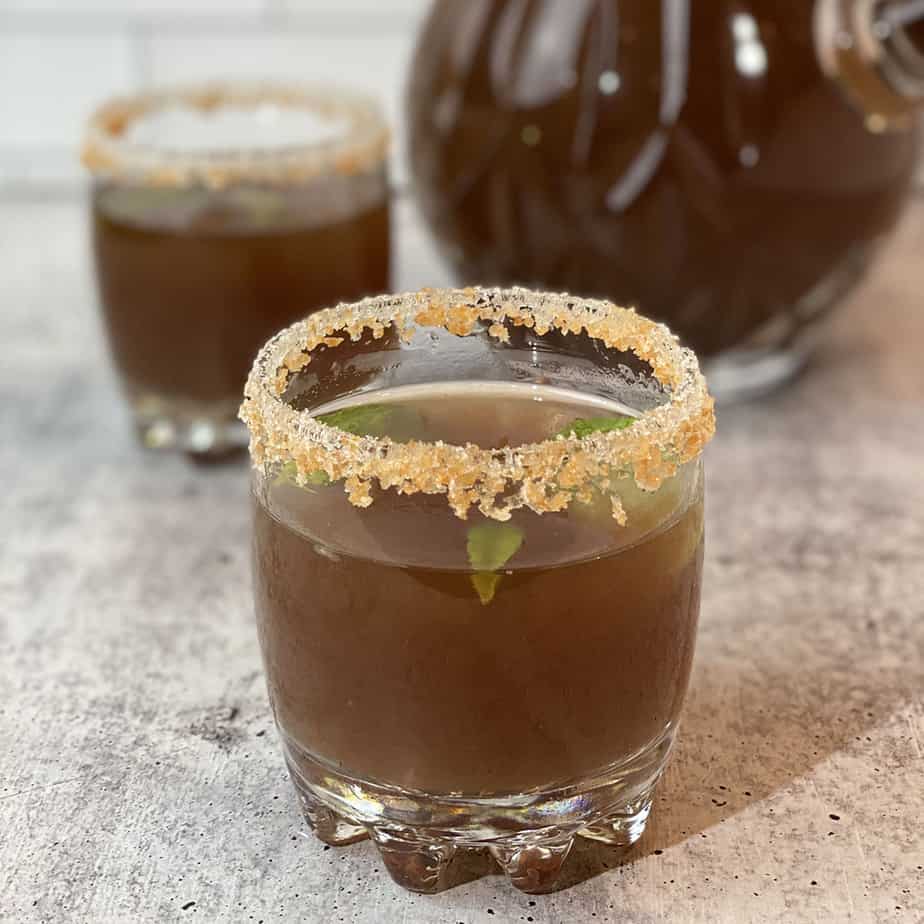 How To Make Tamarind Juice
Learn How To Make Tamarind Juice with this easy recipe. Sweet and sour with a touch of cumin it's sure to tickle your palate!
Print Recipe
Ingredients
½

cup

tamarind

2

cups

sugar

8

cups

water

½

tsp

salt

1

tsp

ground cumin

(SEE NOTES)

½

inch

piece ginger
Glass Rim Garnish
1

lemon

2

tbsp

habanero cane sugar

2

tbsp

sriracha sea salt
Instructions
Place the tamarind in 2 cups water and bring to a boil

Turn the stove off after you reach the first boil and let the tamarind soak for 2 hours

Prepare a simple syrup by boiling 2 cups water and 2 cups sugar till all of the sugar is dissolved

Strain the tamarind using a fine mesh strainer, removing any pits and fiber (SEE NOTES)

Dry roast and grind the cumin

Peel and thinly slice ginger

Mix the strained tamarind, simple syrup and ginger and bring to a boil and turn the stove off (SEE NOTES)

Add in the cumin and remaining 4 cups of water
Glass Rim Garnish
place the sugar and salt in a shallow plate and mix well

use the lemon to wet the glass rim (SEE NOTES)

Dip in the salt and sugar mixture

Set aside for a minute to dry the rim completely before pouring your beverage°
Notes
Fresh roasted and ground cumin is essential and doesn't take long to make. You can even prep some and bottle for your beverages or chutneys. Try it once and you'll see why the powdered cumin just won't work.
When you're straining the tamarind for the juice it has to be clear of all fiber. I keep a jug of water on hand and use small amounts if necessary to help the process, at times straining the tamarind more than once to get the desired results.
When you rub the lemon around the rim, slightly tilt the glass at a 45 degree angle to prevent the juice from running down the sides of the glass
Nutrition
Serving:
1
g
Calories:
232
kcal
Carbohydrates:
60
g
Protein:
1
g
Fat:
1
g
Saturated Fat:
1
g
Sodium:
163
mg
Potassium:
107
mg
Fiber:
1
g
Sugar:
58
g
Vitamin A:
12
IU
Vitamin C:
1
mg
Calcium:
24
mg
Iron:
1
mg
NOTES:
I purchased the habanero cane sugar and sriracha sea salt from spiceandteamerchants.com and decided to rim my glass with a combination of the two. A few other options to try are:
Black Salt
Tajin
Trader Joe's Chili Lime Seasoning Blend