These Korean Ground Beef Bowls (With Gochujang) take 30 minutes to prepare from start to finish and are a family favorite. This recipe is a modification of the Korean Ground beef and Rice bowls by mykoreanitchen.com. Perfect for busy weeknights, they pack the same unique flavor of Korean Bulgogi, but come together in a lot less time!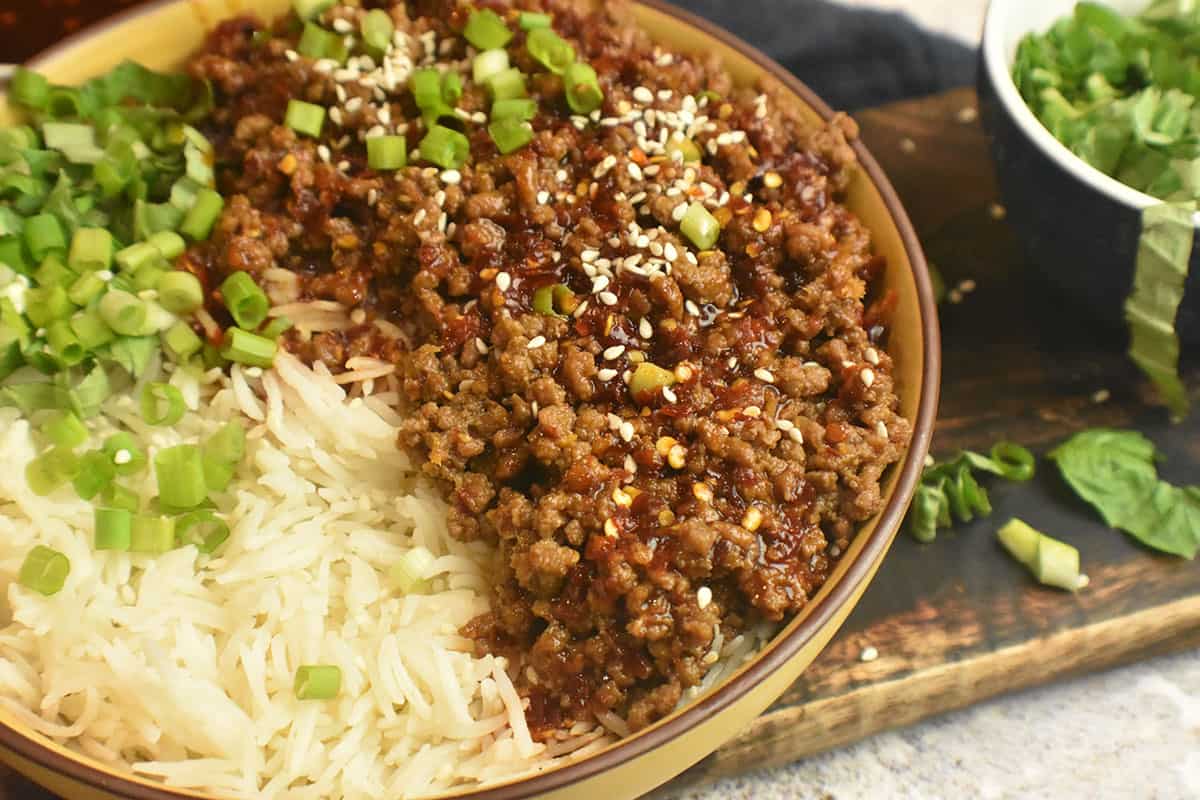 If my family isn't eating Pakistani food, then you're likely to find us with a plate full of Korean, Thai, or Vietnamese fare. It probably goes back to our love for Indo-Chinese food, such as this Indo-Chinese-chili-chicken, Authentic (Indo-Chinese)hot & sour soup, and Authentic Chinese chicken & corn soup.
I love this Korean Inspired Ground beef Bowl with plain Basmati rice or my Japanese garlic-fried rice. The options for customizing this recipe are limitless. Read on and learn more about all of them!
Jump to:
Why you'll love this recipe
Quick & easy recipe - Making traditional bulgogi is time-consuming as it requires a long marinating time and lots of prep. This version of the recipe comes together in under 30 minutes, just like my pan-seared Tilapia with tamarind sauce.
More affordable than traditional bulgogi - Ground beef is a much cheaper option than the traditional rib-eye, sirloin, or tenderloin used for the bulgogi recipe.
Healthier than traditional bulgogi - Extra-lean ground beef makes this recipe a much lighter version of the traditional one.
Perfect for meal prep - This is a great recipe for meal prep. Easy and healthy, you can double it up and it will still take only 30 minutes.
Ingredients
The beef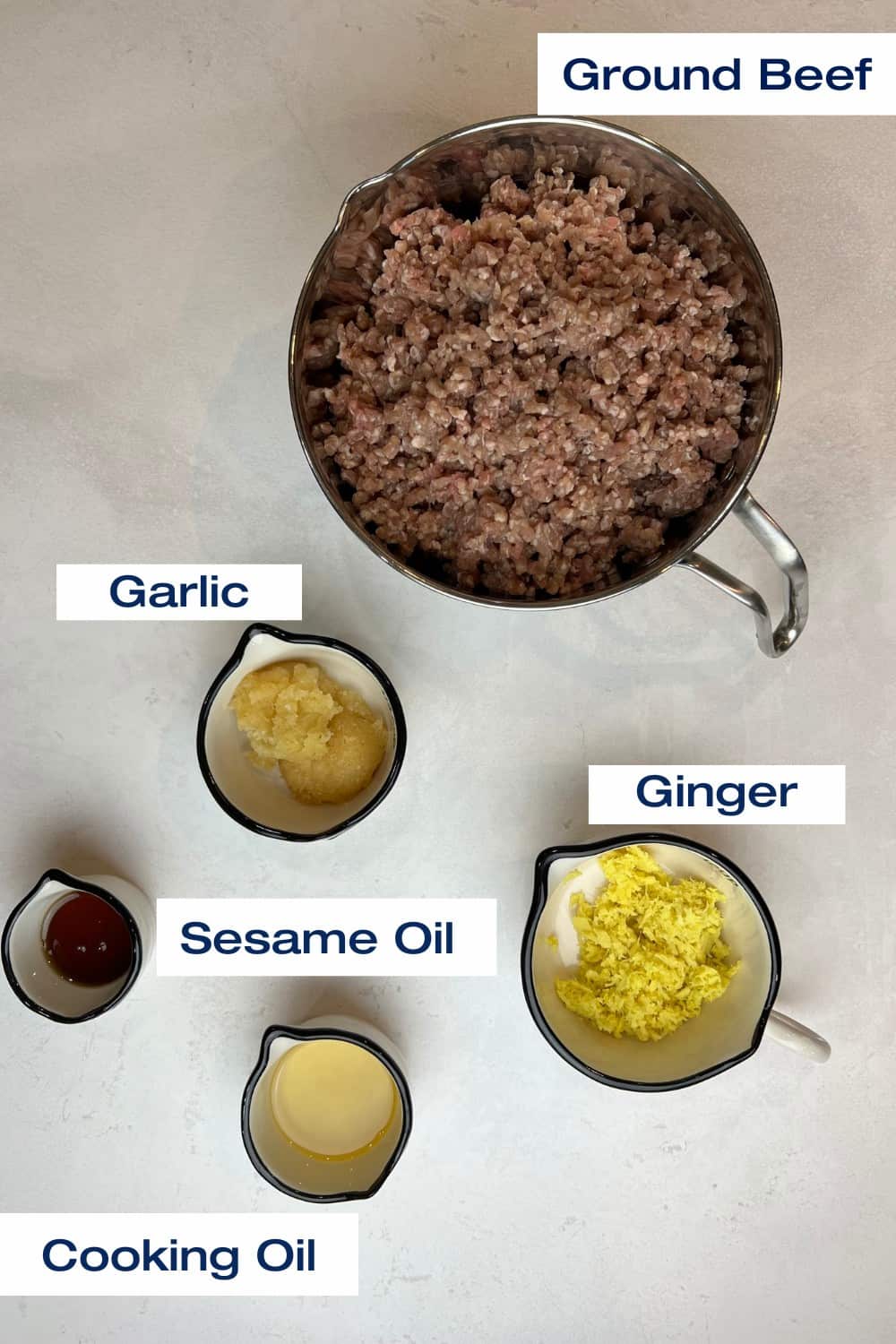 Traditional Korean Beef used for Bulgogi bowls is a rare beef from Cattle called Hanwoo. Here in the US Tenderloin, Sirloin or Ribeye are the meats of choice when cooking the dish. All are expensive options, especially with current meat prices, and more complex to cook. This is where my Korean Ground Beef Bowl recipe for one of the easiest meals you'll ever cook comes in!
Extra Lean Ground Beef - I like to use 85% fat-free beef for my bowls.
Sesame Oil - Any dark toasted sesame oil available at your local supermarket is good to use. This oil adds a lot of flavor to the beef.
Cooking Oil - Too much sesame oil can be a bit intense so I add some Avocado Oil for extra volume. Any oil that tolerates high heat, such as Canola or Sunflower, is good.
Garlic - I make my own fresh garlic paste in batches to use in all my cooking but store-bought garlic paste is acceptable.
Ginger - Fresh ginger is recommended for this recipe. I peel mine and crush it using a mortar and pestle but you can grate it too.
The marinade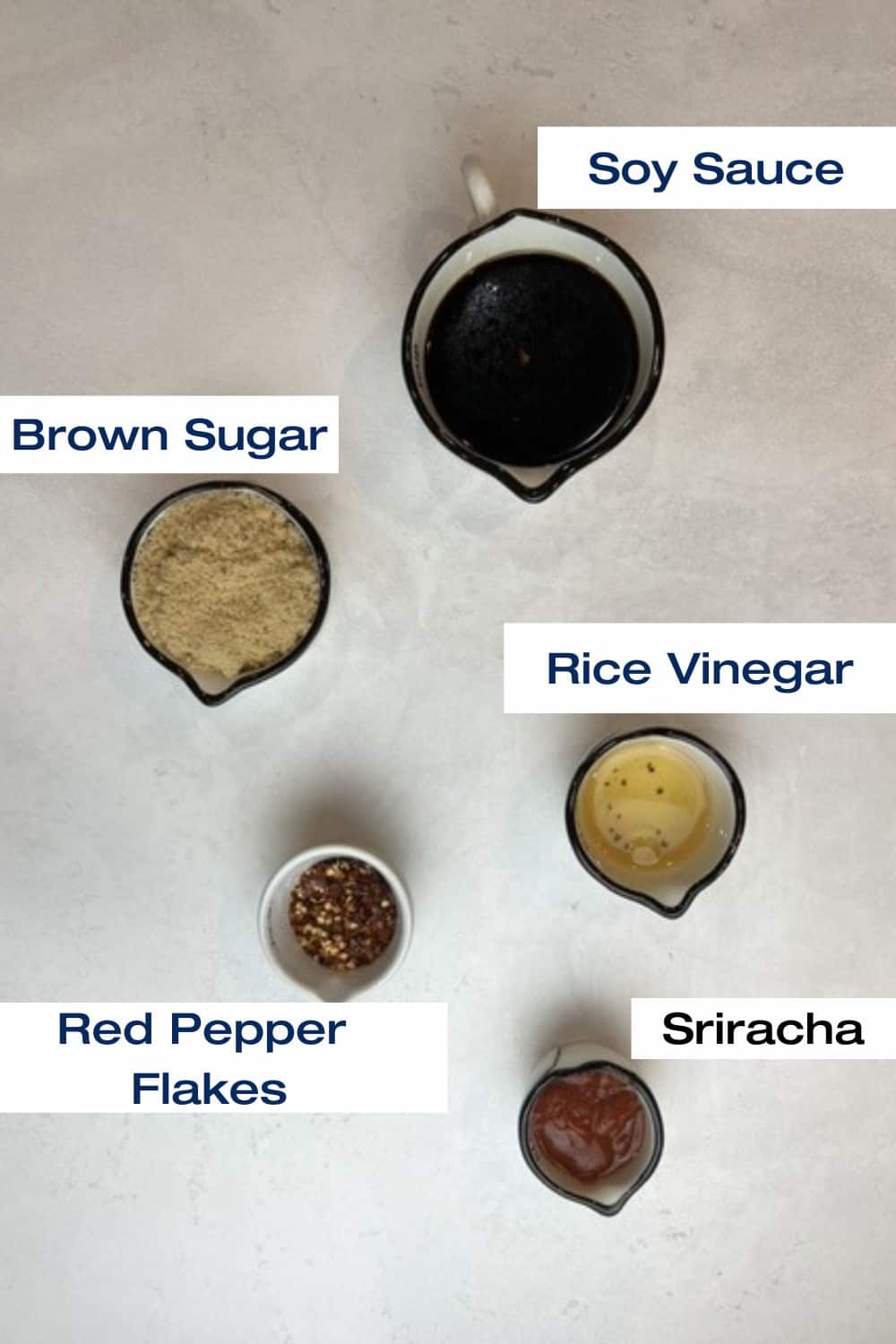 The marinade used in these Korean Beef Bowls follows the general principles of Korean cooking by using a combination of fermented and unfermented ingredients.
Soy Sauce - I use regular soy sauce but there are variations mentioned below for those with dietary restrictions.
Brown Sugar - The recipe works best with dark brown sugar but if for some reason this is unavailable then light brown sugar works just as well.
Rice Vinegar - I like to use seasoned rice vinegar for extra flavor. If you can't find any at your local store, plain rice vinegar will do.
Sriracha - This is my favorite seasoning for many recipes and my marinade wouldn't be complete without it.
Red Pepper Flakes - This is not an essential ingredient to add but since I'm used to spicy food I like to add some to my marinade.
The garnishes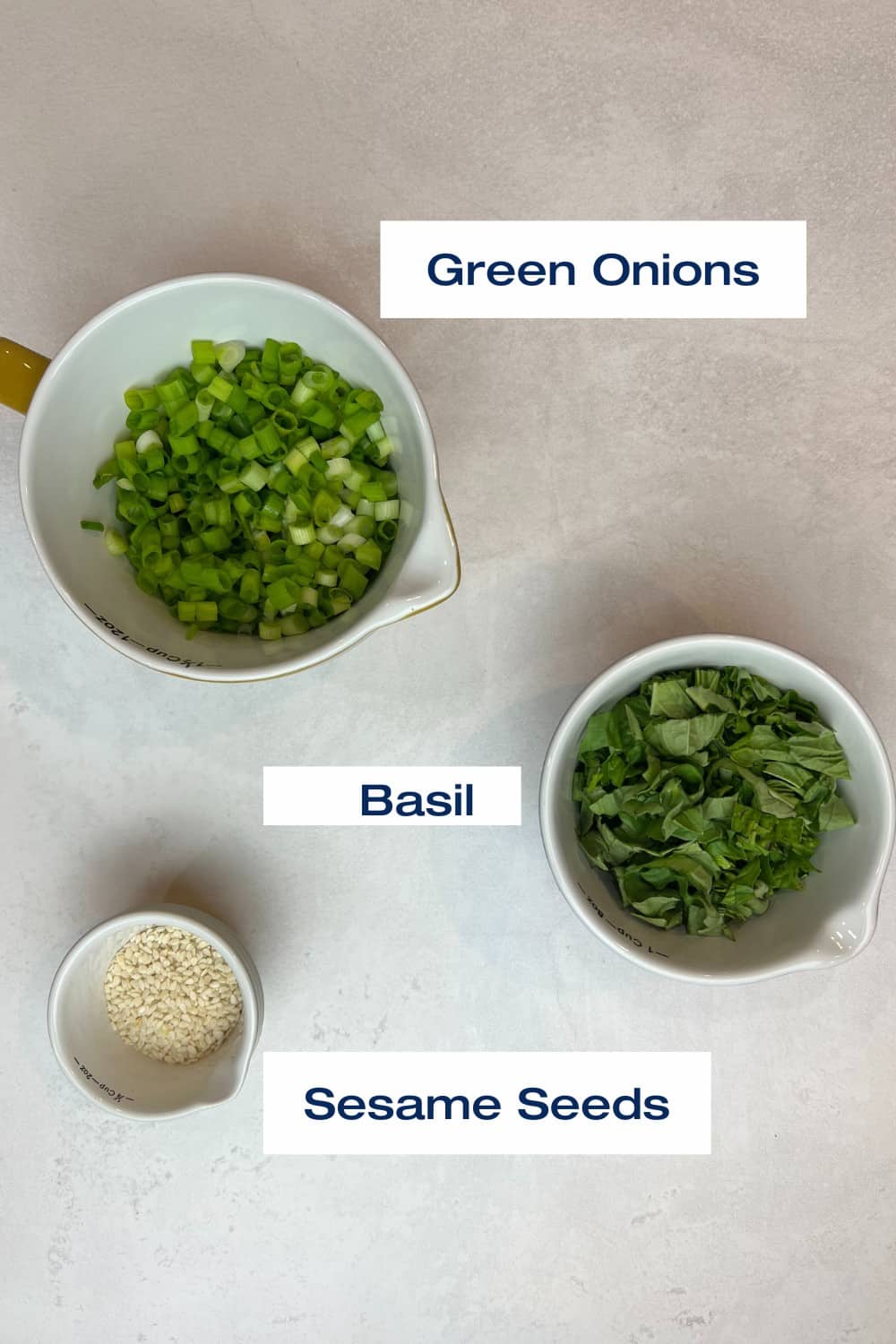 Traditionally, a Korean meal comprises Rice, Vegetables, some form of meat, and a few sides, the most famous and well-known of which is Kimchi. To keep my Korean Ground Beef Recipe quick and easy I stick to the simple garnishes below, but there are many other options.
Basil - I love the aroma and taste of basil in my Korean ground beef bowls.
Green Onions - Green onions take these bowls from a simple weeknight meal to a great recipe!
Sesame Seeds - These add a perfect finish and a delicious crunchy texture to Korean Bowls. The best part in my opinion!
The Gochujang sauce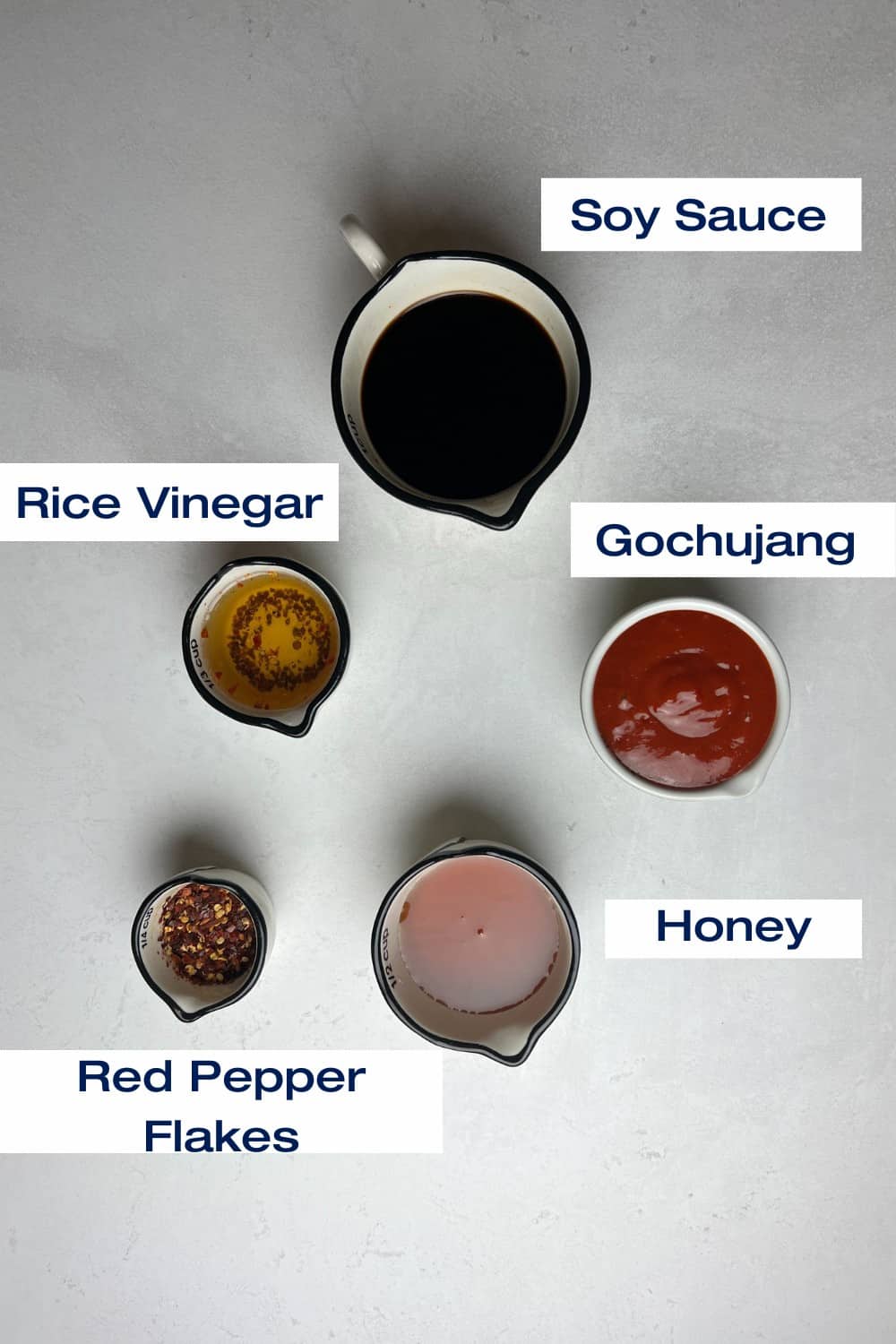 Gochujang Paste - This is Fermented Red Chili Paste and is available at Asian grocery stores. An intrinsic part of Korean cooking, it adds much flavor to any Korean Inspired dish.
Soy Sauce - I like to take the gochujang and add some soy sauce to it for that umami flavor.
Red Pepper Flakes - Once again, I can never have enough spices in my food! Feel free to eliminate this ingredient or use less of it, depending on your palate.
Rice Vinegar - A little bit of rice vinegar helps balance the spicy, salty, and sweet taste of all the other ingredients.
Honey - The honey adds sweetness and thickens the sauce to a perfect consistency.
Substitutions & variations
Change up the vegetables - Add some carrots, cucumber, or even spinach to your bowl.
Switch up the meats - ground chicken, ground turkey, and thinly sliced and sauteed meats work very well. For vegans, try this recipe with impossible meat.
Try a different carb base - use white rice as shown or try the Korean ground beef bowl with some fried rice, garlic rice, or even some noodles as the base for your bowl.
Make this a low-carb bowl - Eliminate the Starch completely and serve the beef over some spaghetti squash or cauliflower rice for a lower-carb option. Try the bowls with only vegetables. Shred some napa cabbage, saute some Broccoli or tri-colored bell Peppers, and snap peas.
Swap the brown sugar for a healthier version - In the marinade, instead of the brown sugar try honey or swerve brown sugar.
Try the bowl with less salt - Use low-sodium Soy Sauce instead of the regular variety.
Try different garnishes - For a crunchy topping add some crushed peanuts and crispy noodles. Not in the mood to chop and cut the veggies, add some fresh microgreens.
Step-by-step instructions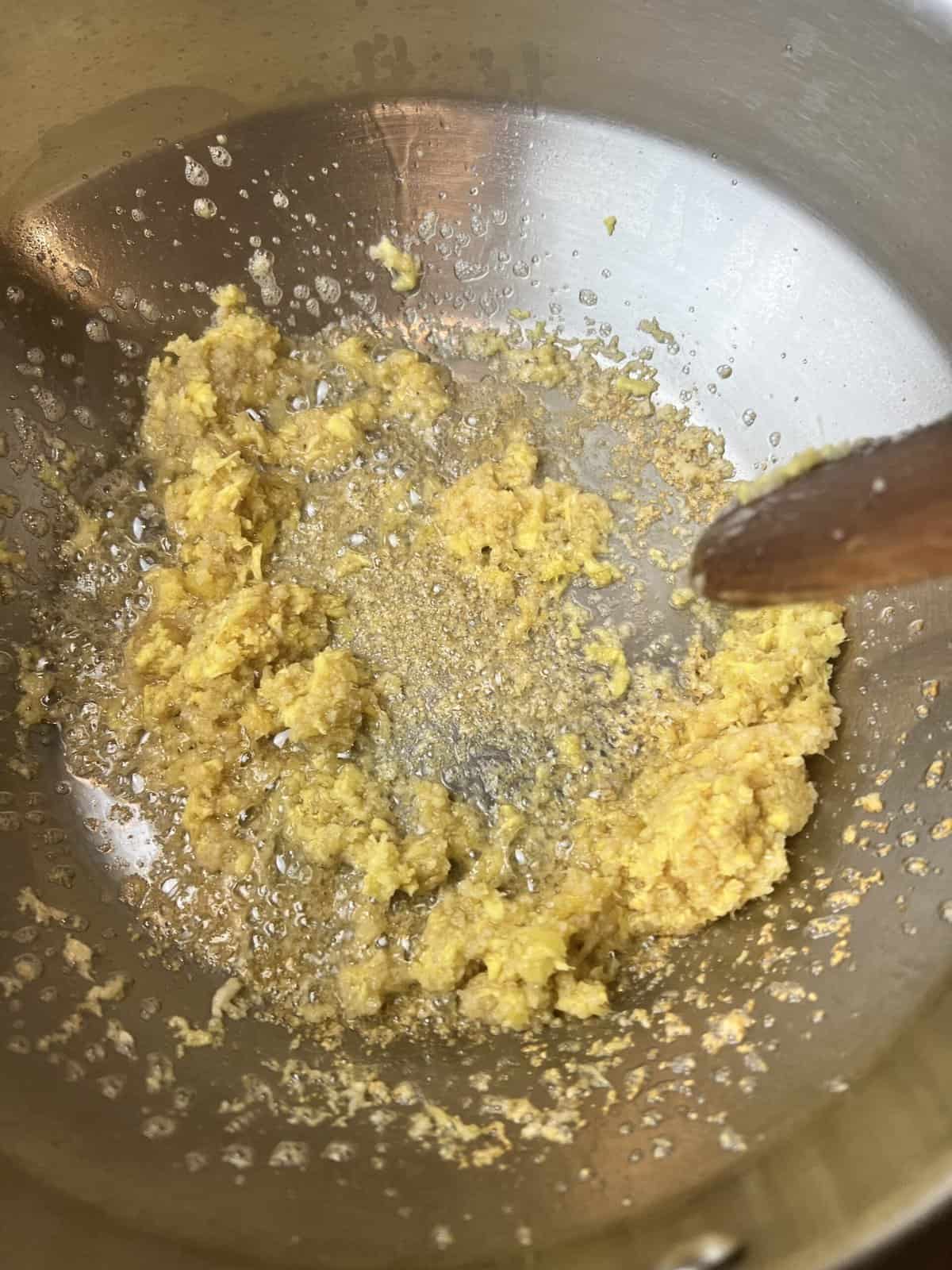 Step 1 - Combine and heat both the oils and then add the ginger and garlic paste. Saute for a minute to release the aroma.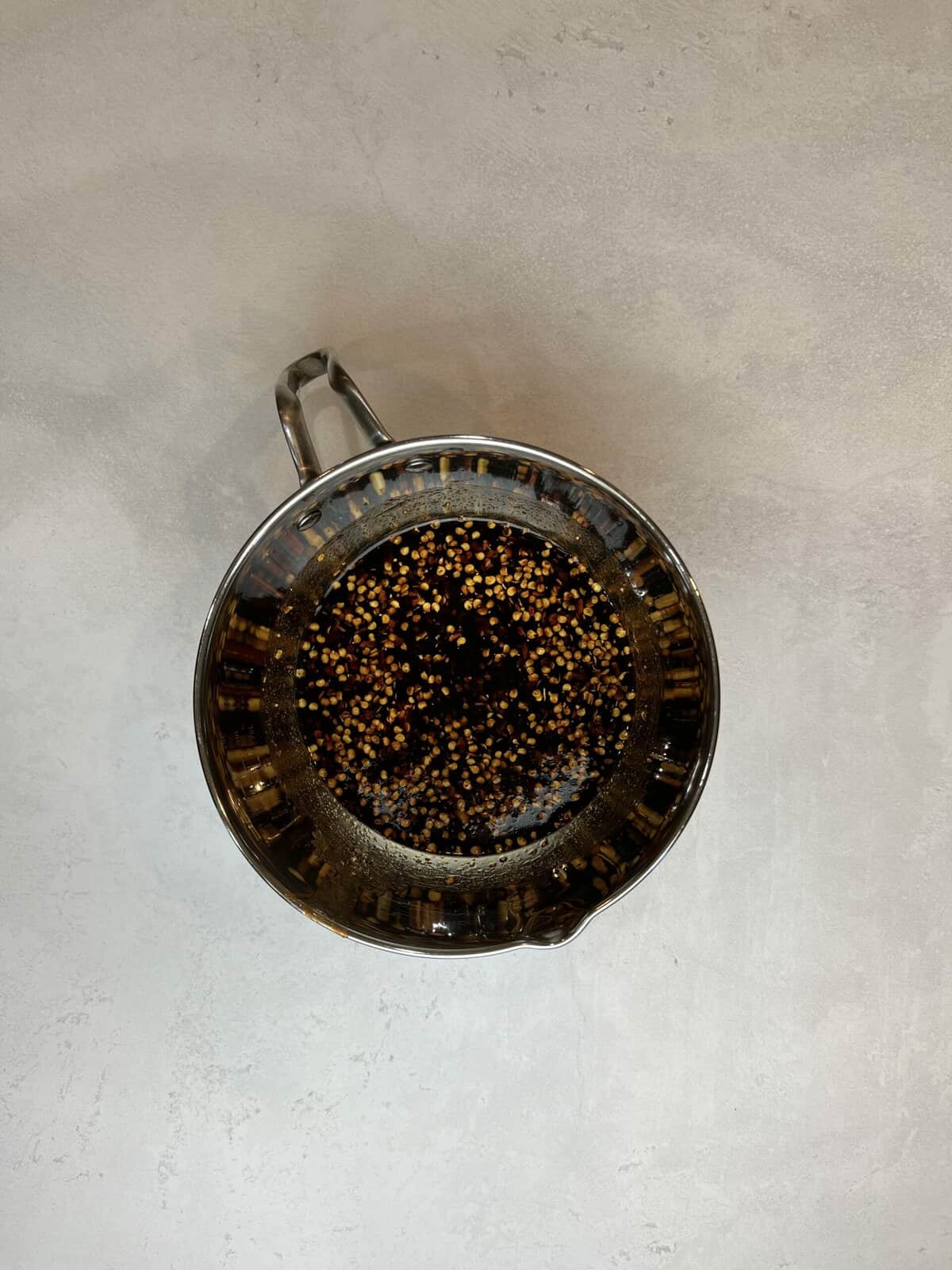 Step 3 - Mix and stir the ingredients of the marinade together in a small mixing bowl.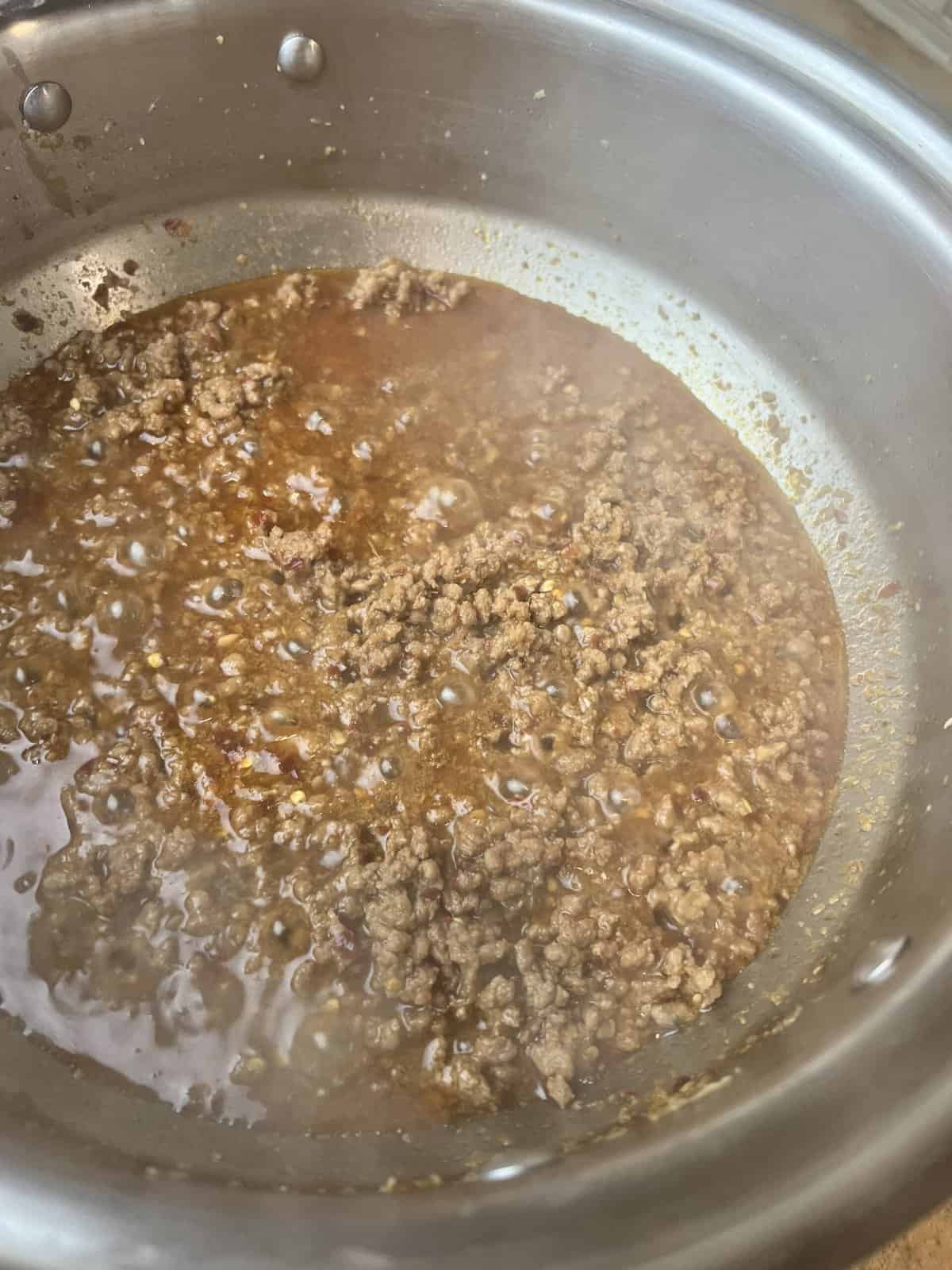 Step 5 - Uncover and cook the beef on high till all the liquid evaporates.
Step 7 - Mix all of the ingredients for the gochujang sauce in a small pan and whisk till they're well combined.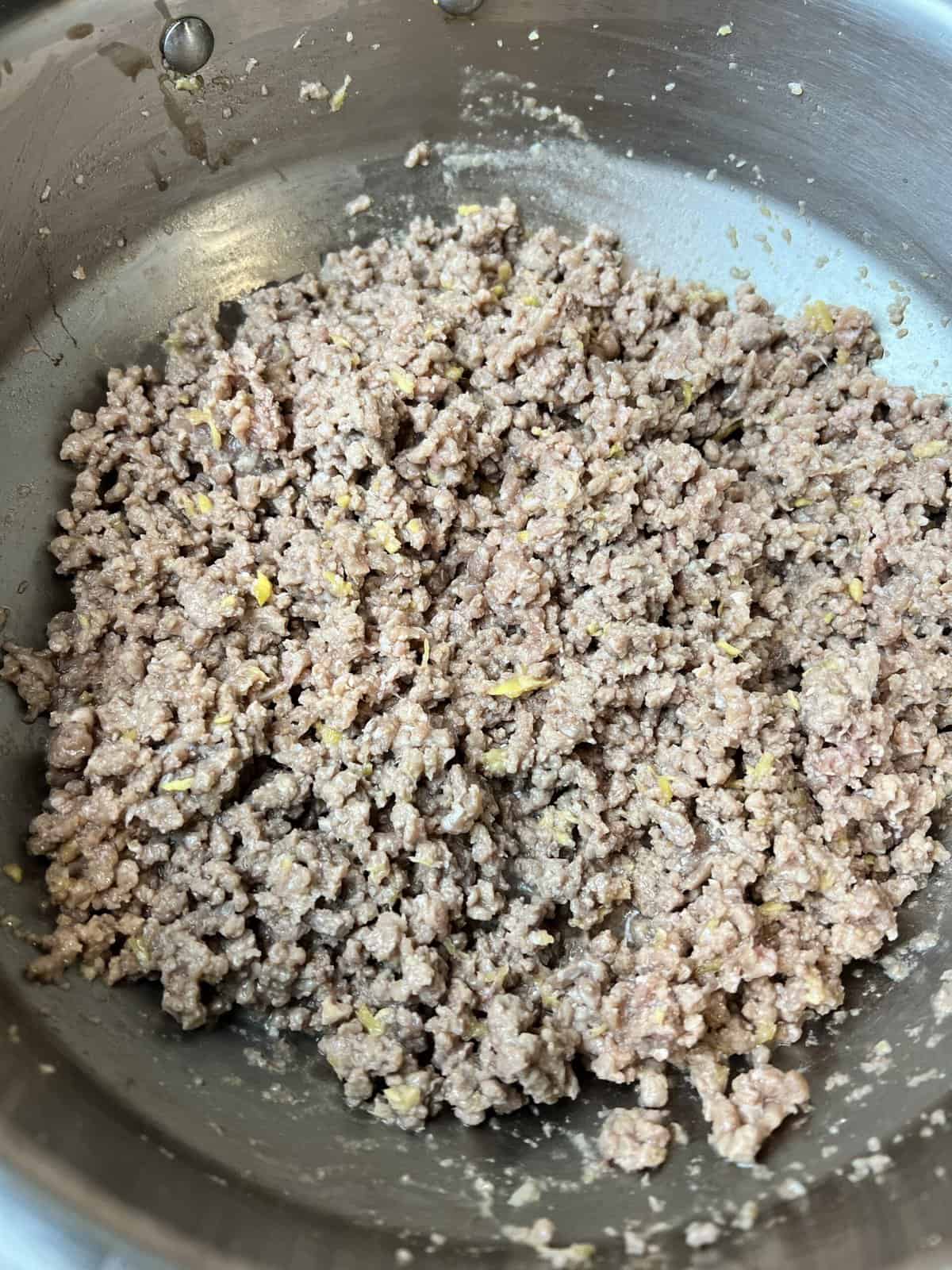 Step 2 - Add in the ground beef and saute till it's no longer pink (about 10 minutes).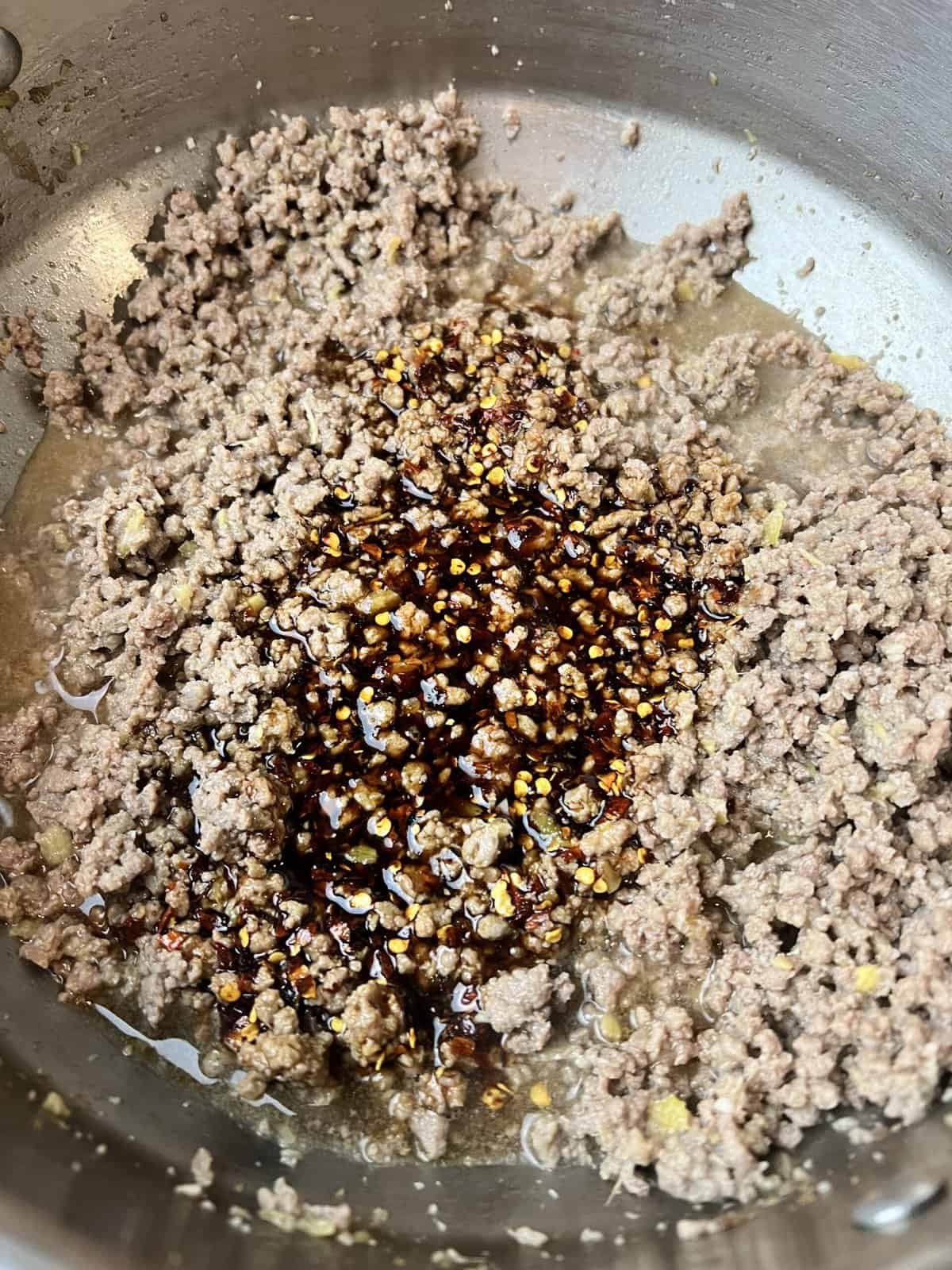 Step 4 - Add the marinade to the beef, cover, and cook on low heat for 15-20 minutes.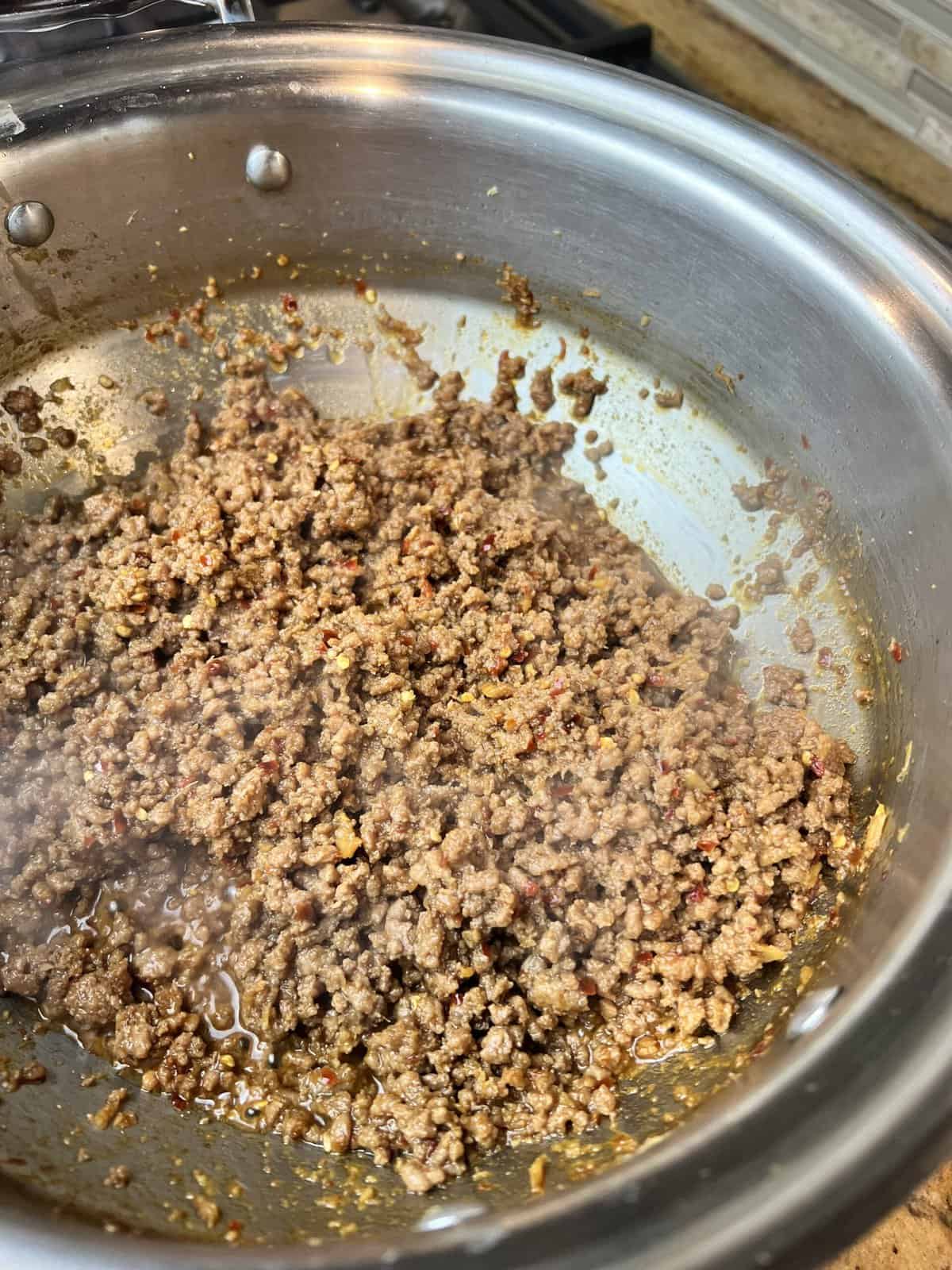 Step 6 - Saute the beef for a few minutes till the meat is medium brown.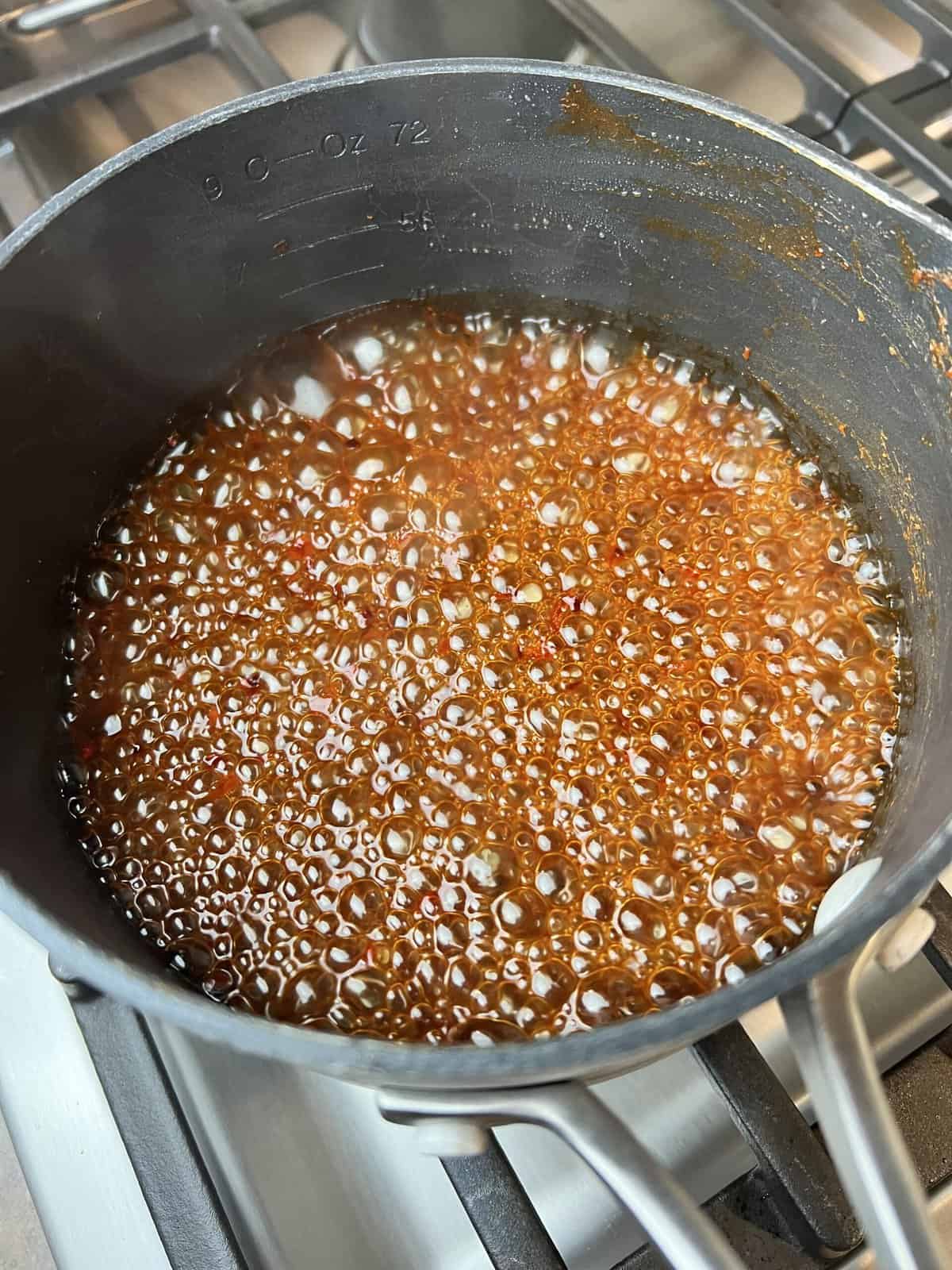 Step 8 - Bring the sauce to a boil and then simmer it on medium heat till it slightly thickens.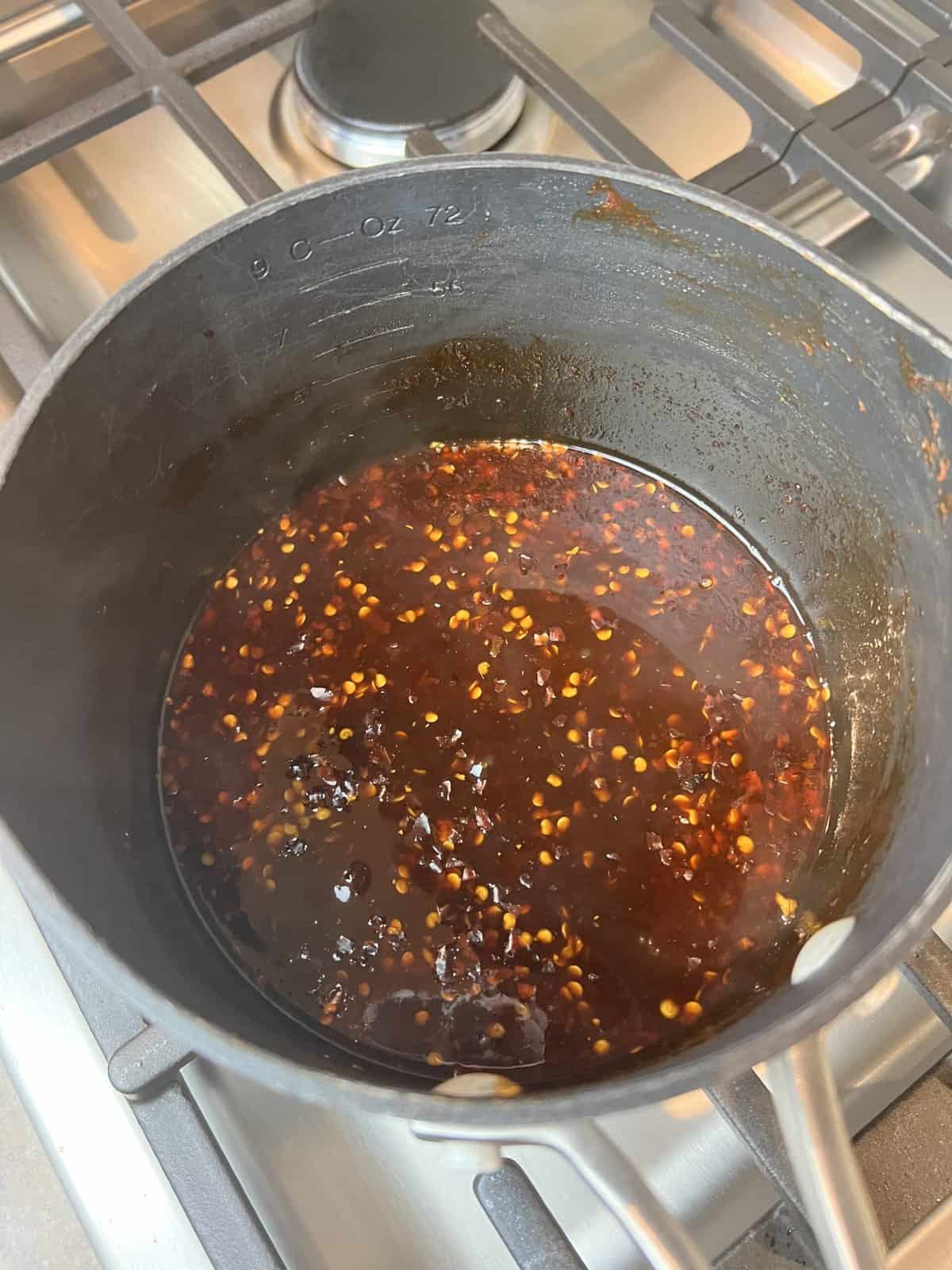 Step 9 - Drizzle the prepared sauce over your prepared Korean Beef Bowl.
Expert Tips
Repurpose your leftovers to create new meals - If you have any leftover meat after dinner is over (you probably won't) use it to make bulgogi spring rolls, bulgogi tacos (yes that's a thing), bulgogi pizza, or just fill it in lettuce and make yourself a healthy wrap for lunch the next day.
To save time, start cooking your rice, sauce, and beef simultaneously - I usually cook my rice in my Instant Pot and start on the beef and sauce at the same time, using two different burners on my stove.
For best results, use 85% lean and 15% fat beef - More fat and the meat will taste fatty and heavy. Less fat will result in dry flavorless meat.
Double up the Gochujang Sauce - It will take you the same amount of time to make extra sauce and you can use it later for stir-fries, marinades, or just as a dipping sauce.
Recipe FAQS
Can I make the bowls gluten-free?
Just substitute the soy sauce with tamari soy sauce or coconut aminos, and you're all good!
What's the best tool to cook the beef in?
Use a Wok or a pot with a heavy base and tall sides to cook the beef in. This helps conduct heat well and the tall sides make it easy to stir the beef constantly so it cooks evenly.
How do I store my Korean beef bowls?
Store your leftovers in an airtight container in the fridge for up to 3 days and in the freezer for up to 3 months.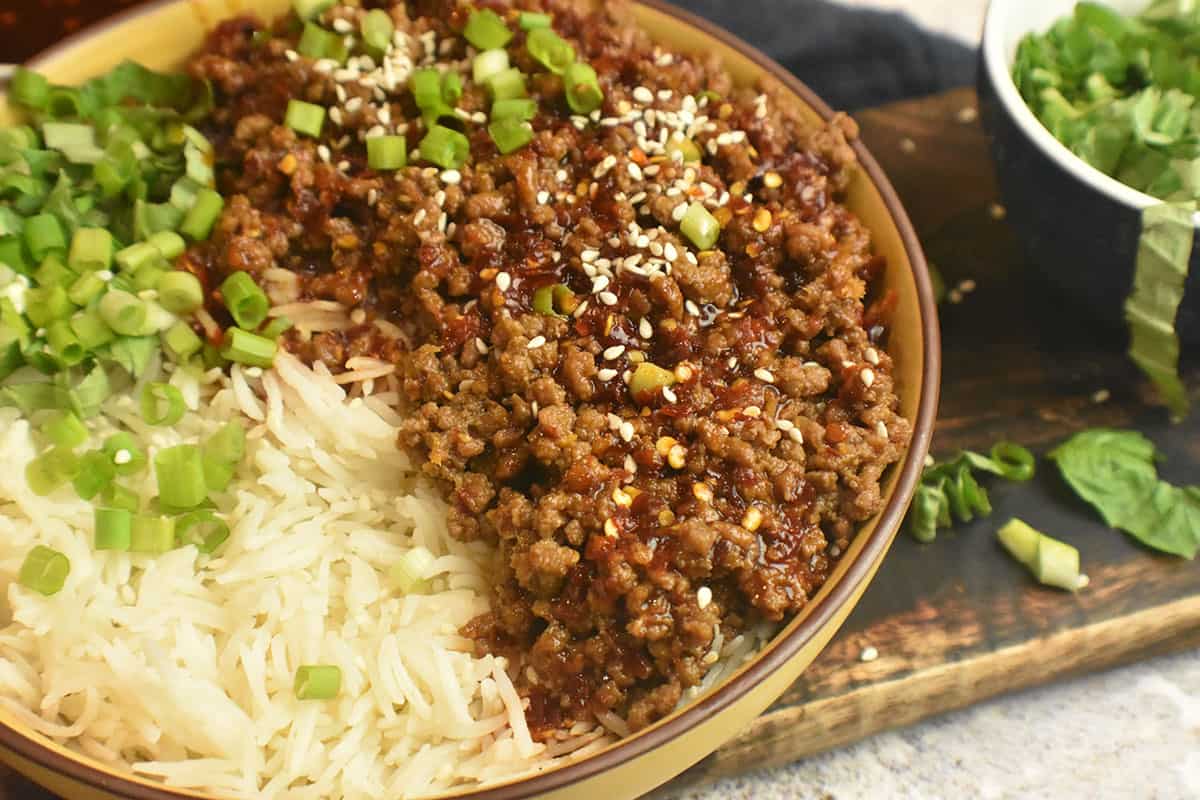 Other Beef Recipes You May Like
Hope you decide to try this recipe! Please don't forget to leave a rating and comment below! If you take a picture then tag me on Instagram! Thank You!
Korean Ground Beef Bowls (With Gochujang)
These Korean Ground Beef Bowls (With Gochujang) are an easy and affordable take on traditional Korean Beef Bulgogi.
Ingredients
Beef
1

lb

extra lean ground beef

(see notes)

½

tbsp

sesame oil

1

tbsp

avocado oil

(see notes)

1

tbsp

garlic

1

tbsp

ginger
Marinade
¼

cup

soy sauce

¼

cup

dark brown sugar

(see notes)

1

tbsp

rice vinegar

(see notes)

1

tbsp

sriracha

1

tbsp

red pepper flakes

(see notes)
Toppings
2

tbsp

basil

2

tbsp

green onions

2

tbsp

sesame seeds
Gochujang Sauce
¼

cup

gochujang sauce

¼

cup

soy sauce

1

tsp

red pepper flakes

(see notes)

2

tbsp

rice vinegar

⅛

cup

honey
Instructions
Beef Bowls
Combine and heat both oils together. (see notes)

Saute the crushed ginger and garlic for about 1 minute.

Add the ground beef, frying till it is no longer pink, cover and simmer in it's own juices for 5-10 minutes.

.Prepare the marinade while the meat is cooking.

Add the marinade after approximately 10 minutes and simmer the mixture on low heat for 15-20 minutes.

Uncover and cook on high till all the liquid evaporates, frying for a few minutes at the end till the meat is a medium to dark brown.

Plate in a bowl with some rice, garnish with the basil, green onions and sesame seeds and enjoy with some of the Gochujang Sauce.
Gochujang Sauce
Mix all of the ingredients in a saucepan.

Whisk till well combined.

Bring to a boil and then simmer till slightly thickened. (see notes)
Notes
The Beef - I like to use 85% lean beef for my Korean beef bowls. Any leaner than this and the meat will be too dry. Any more fat than 15% and the bowls will be too greasy. The Sugar - Dark brown sugar is best for this recipe, but light brown is a good alternative if you can't source it. If you want a healthier alternative, you can use honey or brown swerve sugar. The Vinegar - I like to use seasoned rice vinegar for my recipe, but plain rice vinegar will work as well. The Oil - Sesame seed oil gives a nice nutty taste to the beef but too much of it can sometimes taste overpowering. Since we're using extra lean ground beef in this recipe, we need more than just ½ tbsp of oil, so I add a little bit of regular cooking oil to the mix. Any oil that can tolerate high heat such as avocado, canola, or sunflower (to name a few) can be used. Red pepper Flakes - I like my food on the spicy side so I add some red pepper flakes to my marinade and Gochujang sauce. If you want your beef less spicy you can halve the amount or eliminate this one ingredient altogether.
Nutrition
Serving:
1
serving
Calories:
359
kcal
Carbohydrates:
32
g
Protein:
29
g
Fat:
13
g
Saturated Fat:
4
g
Polyunsaturated Fat:
3
g
Monounsaturated Fat:
6
g
Trans Fat:
0.4
g
Cholesterol:
70
mg
Sodium:
1831
mg
Potassium:
640
mg
Fiber:
2
g
Sugar:
24
g
Vitamin A:
864
IU
Vitamin C:
7
mg
Calcium:
88
mg
Iron:
5
mg